Replacement Wing Mirrors
Sorry, no results found
Unfortunately, we do not stock any Replacement Wing Mirrors that match your vehicle.
Find what's right for your vehicle
Check which battery is right for my car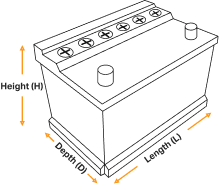 We recommend that you check both your battery size and type
A missing or mangled wing mirror is, sadly, an all too familiar occurrence on our busy roads. While annoying, replacing a wing mirror is an easy repair for the DIY mechanic.
At Halfords we stock a wide range of replacement wing-mirrors, suitable for vehicles of all shapes and sizes. Sure, they're not going to be colour-coded to your bodywork or be particularly stylish, but it's much more important that you're safe.
Drop into your local Halfords store or search the entire range online and you'll have a complete view of everything we have for sale. If you need some help, our staff are there to help you identify the right replacement wing mirror for your car. If you know what you want already, choose our Click and Collect service to have it delivered to store, or buy online with free delivery over £40 and free returns too! Spend over £99 and you can take advantage of our interest-free finance offers.
Sometimes your wing mirror can be salvaged. If you're lucky, you may just need somes replacement wing mirror glass . We've got that covered too, with over a thousand different shapes and sizes perfect for your vehicle. They're one of our most popular car accessories .