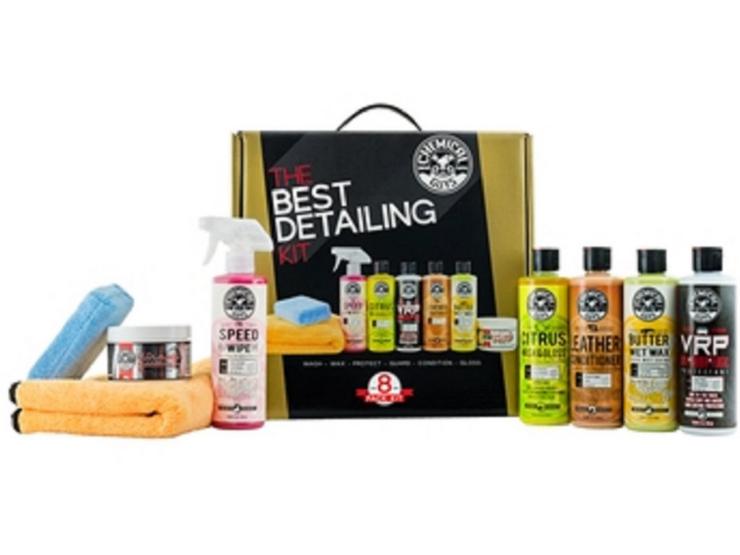 10 people are viewing now
5 purchases during last 48 hours
Cleaning Stage : Complete
Suitable For : Interior & Exterior
Chemical Guys Best Detailing Kit
The Chemical Guys Best Detailing Kit carries the essential tools to wash your car, clean and protect leather, gloss and protect wheels, and leave the paint's exterior with a phenomenal shine.
Begin the regimen by washing away layers of stuck-on dirt and filth with Citrus Wash & Gloss, using its natural citrus-cleaning power. Use the Professional Grade Premium Microfiber Towel With Silk Edges for a careful dry that will not leave paint with any scratches or swirls. Shine and protect your wheels and black trim by using a combination of VRP Super Shine Dressing, and Wheel Guard Wheel and Rim Wax against the toughest filth from the road.
Spread a coat of Butter Wet Wax by using the Blue Microfiber Applicator Pad, and you'll quickly be amazed at the deep wet shine that has now been revealed. Don't forget that it's the inside that counts; protect leather interior from fading, discoloring or cracking by providing the nourishing and restoring abilities of the Leather Conditioner. Use Speed Wipe Quick Detailer at the end of a detail to help dry the car, or in between car washes to help remove light layers of dirt, dust, or other pesky irritants that show up on a day-to-day basis.
Features & Benefits:
Chemical Guys Citrus Wash & Gloss
Chemical Guys Speed Wipe Quick Detailer
Chemical Guys Butter Wet Wax
Chemical Guys Leather Conditioner
Chemical Guys V.R.P Super Shine Dressing
Chemical Guys Wheel Guard Wheel and Rim Wax
Chemical Guys Premium Grade Microfiber Applicator
Chemical Guys Professional Grade Premium Microfiber Towel
Additional Note:
Disclaimer: Please note that the color and or packaging on accessories featured in the kit may vary from what is displayed in the image.
Hazards & Warnings
Warning: Combustible liquid
Warning: May be harmful if swallowed
Warning: May be harmful in contact with skin

Warning: Causes serious eye irritation
Warning: Causes eye irritation
Warning: May be harmful if inhaled