Turtle Wax Hybrid Solutions Pro Graphene To The Max Wax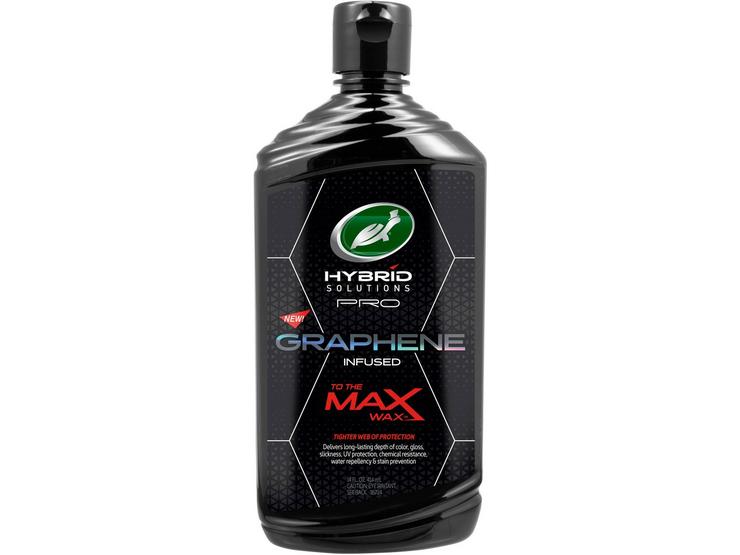 10 people are viewing now
5 purchases during last 48 hours
Turtle Wax Hybrid Solutions Pro Graphene To The Max Wax
+ Extra 10% Off When You Spend £30
on Car Cleaning and Tools
Use code: XMASPRESENT10 in basket
Cleaning Stage: Polish/Wax
Suitable For: Paintwork
Turtle Wax Hybrid Solutions Pro Graphene To The Max Wax
Ideal for professional detailers, auto enthusiasts and weekend warriors alike, the Turtle Wax Hybrid Solutions Pro Graphene To The Max Wax is a high-quality and durable liquid car wax that will help to take your detailing routine to the next level.
Turtle Wax's patent-pending graphene-infused formula delivers long-lasting depth of colour, gloss, slickness and UV protection. The car wax also contains super-hydrophobic polymers, which provides your car with months of protection against chemicals, water and stains.
The easy-on, easy-off formula can be applied by hand or by a machine polisher using a soft foam buffing pad with 3-4 dime-sized drops. Allow the product to dry to a haze on the surface before gently removing it with a clean, dry microfibre cloth. For the longest-lasting protection, allow the paint to cure for 24 hours after application.
Features & Benefits:
Adds extreme gloss, slickness and depth of colour, leaving a professional showroom shine and finish
Patent-pending graphene-infused formula creates a tighter web of protection on your vehicle's paintwork
Super-hydrophobic polymers glide on for maximum water beading, stain prevention and resistance to chemicals and harsh UV rays
Easy-on, easy-off liquid can be applied by hand or by machine
Use and Care:


1) Wash your vehicle and rinse thoroughly. Clay and polish if needed to remove embedded dirt, contaminants, scratches, & swirl marks. Use Hybrid Solutions Pro 1 & Done Compound Correct & Finish™ to remove paint imperfections before applying wax
2) Apply 3 dime sized drops to an applicator pad and spread evenly over a 2' x 2' section using an overlapping circular motion
3) Wait 2-3 minutes to allow product to dry and haze
4) Fold a fresh microfiber towel and gently wipe excess product from the car's surface using light, back-and-forth motions
5) Continue working in 2' x 2' sections until you have covered the entire surface of your car
6) To remove streaks or remaining product use a damp microfiber towel and finish by wiping with a soft dry microfiber towel
Hazards & Warnings

Warning: Causes skin irritation

Warning: Causes serious eye irritation