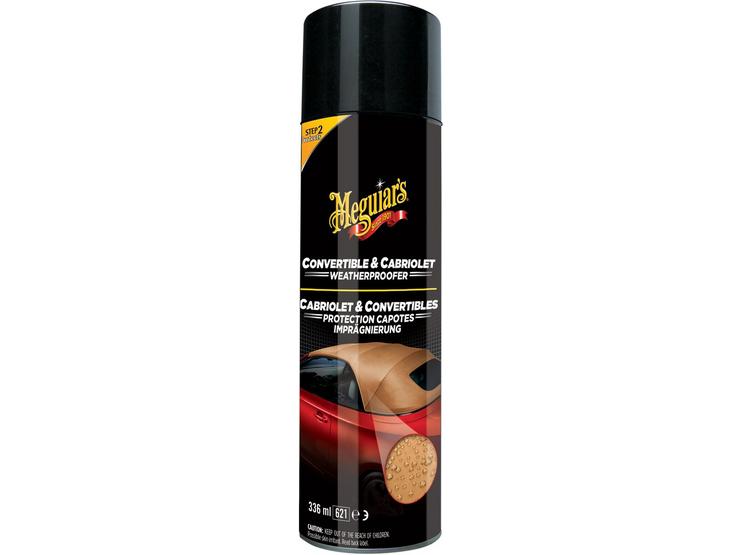 10 people are viewing now
5 purchases during last 48 hours
Cleaning Stage : Detailing
Suitable For : Convertible Roofs
Meguiars Convertible & Cabriolet Weatherproofer 326g
Protect and preserve your convertible top with the Meguiar's Convertible & Cabriolet Weatherproofer. This comprehensive formula creates a protective barrier that delivers long-lasting defence against UV rays, acid rain, bird droppings, stains and more.
Specially developed for use on canvas, cloth, mohair and vinyl tops, the Meguiar's Weatherproofer is the easy-to-use aerosol for convenience and to keep your convertible top looking like-new.
It leaves an invisible coating that repels water & stains while preventing colour fade from UV exposure.
Features & Benefits:
Step 2 after having prepped with the Meguiar's G2016EU Convertible Top Cleaner
For best results, apply two coats
Application:
1) Rinse the entire convertible top with water to remove loose debris.
2) Spray convertible top cleaner liberally and gently agitate with a wash mitt or soft brush.
3) Rinse thoroughly with water.
4) Apply to a cool and dry surface.
5) Spray liberally working a two-foot sq. area at a time until the coverage is complete.
6) Wipe off overspray from non-fabric surfaces immediately.
Hazards & Warnings

Danger: Extremely flammable aerosol
Warning: Pressurized container: may burst if heated

Warning: Causes skin irritation

Warning: May cause drowsiness or dizziness
Warning: Very toxic to aquatic life with long lasting effects
: Toxic to aquatic life with long lasting effects