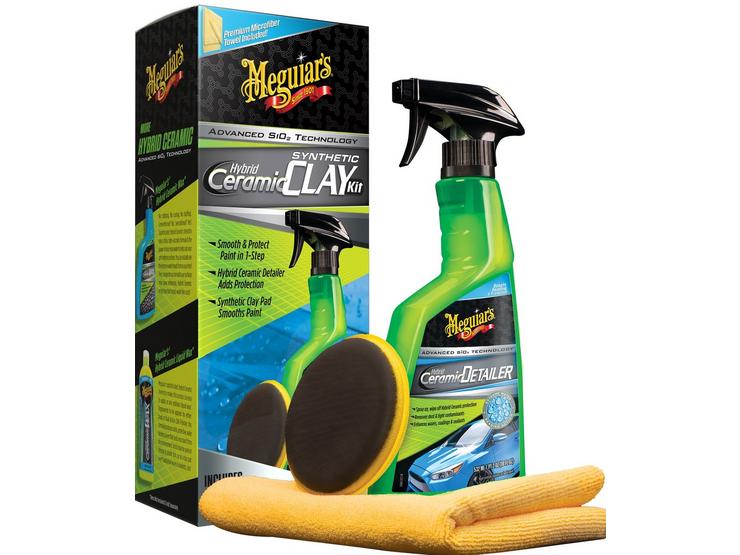 10 people are viewing now
5 purchases during last 48 hours
Bundles just for you
Cleaning Stage : Decontamination
Suitable For : Exterior
Meguiar's Hybrid Ceramic Synthetic Clay Kit
Harmful contaminants such as overspray, fallout, brake dust, tree sap, and more that bond to your paint finish prevent the paint from reflecting light and shining to its full potential.
The Meguiar's Hybrid Ceramic Clay Kit contains everything you need to restore a smooth-as-glass finish and leave behind a layer of Hybrid Ceramic Protection. The Included Synthetic Clay Pad is designed to perform like a traditional clay, but is easier to handle and can be used over and over again! Plus, it's dialed in to effectively remove bonded contaminants without hazing the paint. The Meguiar's Detailer is not only a great lubricant, allowing the Synthetic Clay Pad to glide with ease, but also leaves behind a layer of Hybrid Ceramic protection that beads water like crazy!
Features & Benefits:
Hybrid Ceramic Detailer lubricates the Synthetic Clay Pad & contains advanced Si02 Hybrid Ceramic protection
Extreme Water Beading and enhanced slickness and shine
Premium Supreme Shine Microfiber Towel included to gently remove excess detailer
Application:
1) Spray liberally.
2) Use the synthetic clay pad with fingertip pressure.
3) Wipe excess Detailer off the panel.
4) Panel is now decontaminated and further protected.