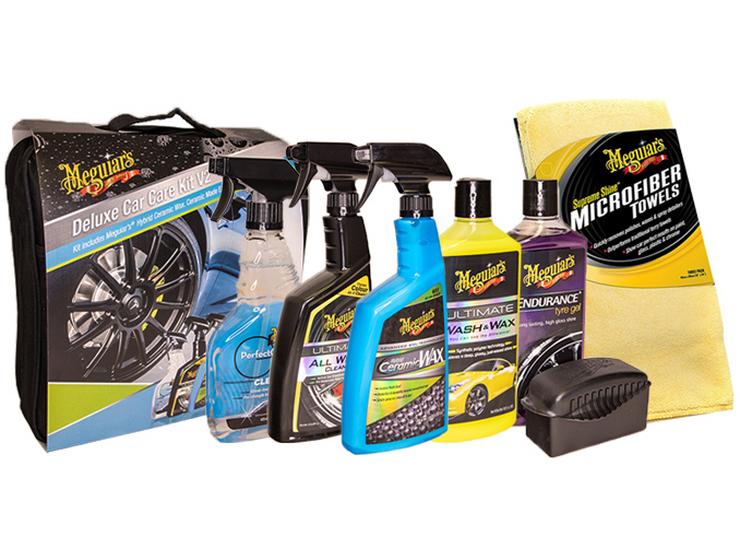 10 people are viewing now
5 purchases during last 48 hours
Cleaning Stage : Wash
Suitable For : Exterior
Meguiar's Deluxe Car Care Kit V2
Meguiar's has become the global leader in appearance car care and is proud to offer our next generation of products and accessories to serious car enthusiasts. This Meguiar's Deluxe Car Care Kit V2 helps to keep your car looking showroom sharp with seven of our best products.
Ultimate Wash & Wax 473ml:
Boost protection and shine. Ultimate Wash & Wax is the perfect way to clean and shine your car's finish in-between regular waxing, boosting your protection, glossiness and shine! Meguiar's premium carnauba wax and synthetic polymers provide protection and shine while you wash. Ultimate Wash & Wax is compatible with all Meguiar's wash and waxes.
• Hybrid carnauba/polymer wax protection
• Incredible sudsing action safely lifts dirt and grime
• Enhanced gloss and shine in one easy step
Hybrid Ceramic Wax 768ml:
With advanced Si02 hybrid technology you get hybrid ceramic protection that's so easy to use, you can actually wax your paint as you rinse off your car. There's no rubbing or buffing and there's no curing time. When done, you're left with ceramic protection and durability that lasts well beyond conventional wax and provides extreme water beading protection. It really is Ceramic made easy!
• Ceramic Made Easy!
• Protection & durability beyond conventional wax
• Simply spray on, rinse off & dry!
Supreme Shine Microfibre (x3):
Easy and fast. This incredibly plush microfibre gives amazing results. The thick, dual-sided microfibre pile absorbs three times more than traditional terry towels and the fibre structure reduces the effort needed to remove product residue. Safety edging eliminates the potential for scratching. Machine washable.
• The easiest and fastest way to remove polishes, waxes and spray detailers
• The ultimate wipe off towel for producing show car perfect results on paint, glass, plastic and chrome
Ultimate All Wheel Cleaner 768ml:
Meguiar's Ultimate All Wheel Cleaner delivers our most powerful cleaning performance that is safe for all wheel finishes, yet tough on brake dust, dirt and grime! The advanced chemistry deep-cleaning gel formula turns brake dust purple and road grime brown as it gently loosens stubborn contaminants. And since it's acid-free and pH balanced this wheel cleaner is safe and effective for ALL wheel finishes and painted brake components.
Endurance High Gloss Tyre Gel 473ml:
For rich black tyres. Never has a tyre looked so good for so long. The unique chemistry of Endurance stops tyres from turning brown and keeps them black for weeks, through snow, rain or shine.
• Tyres stay black with a rich, high gloss
• Less mess with no overspray, no drips and no more stained driveways
• Saves money by lasting longer
Tyre Dressing Applicator Pad:
For ease and accuracy. Meguiar's Tyre Dressing Applicator Pad has been ergonomically designed for ease and accuracy of product application. The soft foam pad with contoured grip keeps hands mess free and is ideal for all tyres. Includes a protective sleeve for cleaner storage.
• Ideal for use on all tyres
• Soft foam pad with contoured grip to avoid messy hands
• Protective sleeve for cleaner storage
Perfect Clarity Glass Cleaner 473ml:
For superior glass cleaning. Meguiar's Perfect Clarity Glass Cleaner comes from years of working with professional detailers to find the quickest most effective way to clean glass and mirrors. This unique formula spreads and wipes off quickly, with superior cleaning ability to tackle even the dirtiest glass. Easily removes vinyl fog residue, road grime, bird droppings and bug splatter.
• Anti Hazing formula provides long lasting clarity
• Superior cleaning against bugs, tree sap, road grime, smoker's film and bird droppings
• Safe for use on all tinted windows
Features & Benefits:
Ultimate Wash & Wax 473ml
Hybrid Ceramic Spray Wax 768ml
Supreme Shine Microfibre (x3)
Ultimate All Wheel Cleaner 768ml
Endurance High Gloss Tire Gel 473ml
Tyre Dressing Applicator Pad
Perfect Clarity Glass Cleaner 473ml
Black Meguiar's Kit Bag
Additional Note:
Warning: Harmful if swallowed
Warning: Causes skin irritation
Warning: May cause an allergic skin reaction
Warning: Causes serious eye irritation
Warning: Harmful to aquatic life with long lasting
Hazards & Warnings

Warning: Harmful if swallowed

Warning: Causes skin irritation

Warning: May cause an allergic skin reaction

Warning: Causes serious eye irritation
: Harmful to aquatic life with long lasting effects