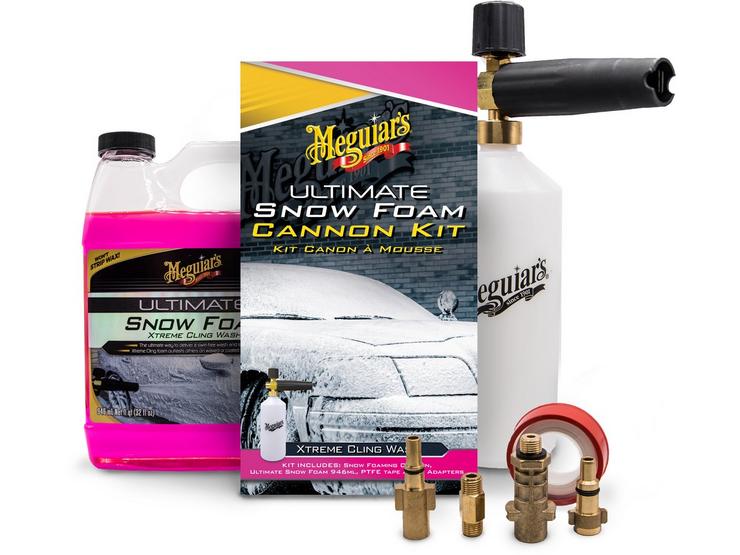 10 people are viewing now
5 purchases during last 48 hours
+ Extra 10% off*
ENDS MONDAY!
Use code SALE10 in basket
*Terms & conditions apply. Discount applied in basket
Cleaning Stage : Pre Wash
Suitable For : Exterior
Meguiar's Ultimate Snow Foam Cannon Kit
Meguiar's Ultimate Snow Foam Cannon Kit contains both the Meguiar's Snow Foam Cannon (lance) and the wax safe and extreme cling Ultimate Snow Foam 946ml that when used in combination with a suitable pressure cleaner, combine to provide outstanding foaming action and excellent cling to gently help foam away dirt, road grime and contaminants. Revitalise the colour, clarity and gloss of your paint with this car snow foam kit: All without stripping your vital wax protection!
Meguiar's Ultimate Snow Foam is engineered specifically for coated, waxed or sealed finishes, Meguiar's Ultimate Snow Foam cleans without stripping protection. The intense foam clings and clings, gently loosening road grime on lightly soiled cars to allow for a touchless pressure rinse, yet also lubricates the surface on dirtier vehicles for When a wash mitt is required.
Features & Benefits:
Wax safe snow foaming
Compatible with Kärcher, Nilfisk, BOSCH pressure washers
Premium quality parts
Kit includes the cannon, 946ml snow foam and adaptors
Snow foam cannon kit for Ultimate Snow Foaming
Reduces the risk of creating swirls in your paintwork during a wash.
pH neutral snow foam removes grit, dirt and contaminants prior to your usual mitt wash.
PTFE thread tape
Additional Note:
Danger: Causes serious eye damage
Harmful to aquatic life with long lasting effects

Directions:

The car should be Cool to the touch and in the shade.

1. Gently mix 1 part of Meguiar's Ultimate snow foam to 5 parts water in your car snow foam cannon bottle

2. Completely Pre-Rinse your vehicle with clean water to remove loose dirt, grime and soiling.

3. Starting at the bottom, apply the ultimate snow foam to the entire vehicle and allow it to dwell until the foam just begins to break. Do not allow the product to dry or freeze on the surface.

4. For lightly Dirty vehicles, simply follow with a pressure rinse. Dirtier vehicles may require use of a Meguiar's wash mitt, followed by a pressure rinse.

5. Dry The vehicle using a quality drying towel like our Meguiar's Supreme drying towel to Avoid water spots and apply your favourite Meguiar's Spray wax for added protection.

Pro tip: If Meguiar's Ultimate snow foam doesn't cling, it's a sure sign that it's time to wax, seal or coat your cars finish!
Hazards & Warnings

Danger: Causes serious eye damage
: Harmful to aquatic life with long lasting effects