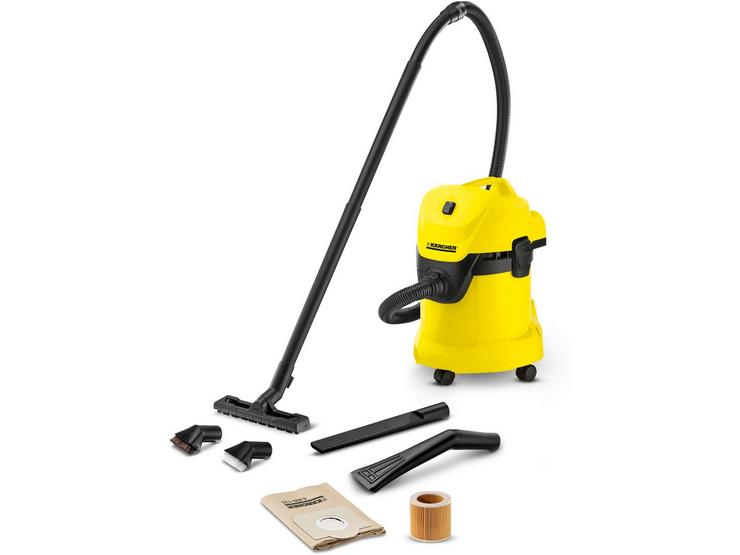 10 people are viewing now
5 purchases during last 48 hours
Power Type : Mains Power
Guarantee : 2yrs
Karcher WD 3 Car Vac
The Karcher WD 3 multi-purpose vacuum cleaner is a super-powerful and low-consumption ideal for thorough cleaning of vehicle interiors with special brushes and nozzles, cartridge filter and 17-litre plastic container.
Not only will the WD 3 Car multi-purpose vacuum cleaner win you over with its high suction power and low power consumption of only 1,000 watts, but with its wealth of accessories for cleaning vehicle interiors, it particularly comes into its own as a practical car vacuum cleaner. Whether sensitive surfaces such as the car dashboard, heavily soiled areas such as the footwell, large areas such as the boot or narrow gaps between the seats – any part of the vehicle interior can be cleaned easily and thoroughly, thanks to special brushes and nozzles. The removable handle allows the brush and nozzle to be attached directly to the suction hose, thus enabling effortless work in confined spaces. Incidentally, the WD 3 Car is naturally equipped with the tried and tested equipment features and accessories that have made the standard multi-purpose vacuum cleaner range so impressive.
Features & Benefits:
Optimal removal of fine and stubborn dirt.
Removable Handle - different nozzles can be directly attached to the suction hose
Practical Blower Function - where vacuuming is not possible, the blower function can be used even in the smallest nooks and crannies.
Practical Parking Position - quick and easy intermediate parking of suction tube and floor nozzle during working interruptions.
Practical cable and accessory storage - space saving, secure and easily accessible suction hose, power cable and accessory storage.
Pull and push locking system - for quick, easy and safe opening and closing of the container.
Ergonomically shaped carrying handle - machine is easy and convenient to transport.
Compact Design - flexible and versatile use with space saving storage.