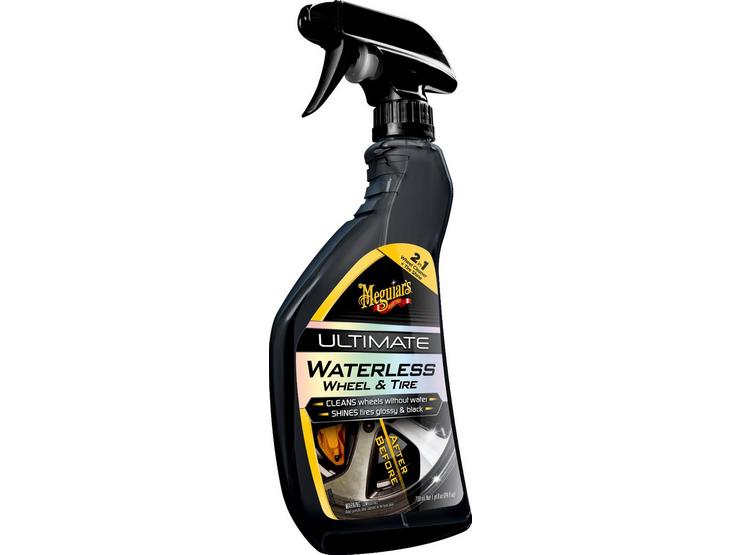 10 people are viewing now
5 purchases during last 48 hours
Cleaning Stage : Wheels
Suitable For : Wheels and Alloys
Meguiars Ultimate Waterless Wheel & Tire 709ml
Meguiar's Ultimate Waterless Wheel & Tire allows you to quickly give your wheels and tires a just cleaned and dressed finish in one simple step. A car is not completely detailed unless the wheels and tires are done too. With this all-new formula, you can quickly and easily clean your wheels and tires while leaving tires with a moderately glossy appearance.
Power through brake dust, road grime and dirt that accumulates from daily usage without using water. Simply spray your wheels and tires, and wipe down your wheels. Then, leave your tires alone and you're left with a dark, rich shine and UV blockers that help protect your wheels and tires. Clean wheels, dress tires and protect both in just a matter of minutes!
Features & Benefits:
Two-In-One: Tire and wheel cleaner and tire shine in one
One easy step: Wipe away brake dust & road grime with one easy step
More than a tire shine: Premium gloss enhancers leave your tires glossy with a dark, rich shine
Maintain without water: Quick and convenient way to maintain wheels and tires without water
UV Protection: UV blockers help to protect wheels & tires from the elements
User direction:
Spray one wheel and tyre at a time; a light mist on your wheels and a heavier amount on your tyres
Using a microfibre cloth, like Meguiar's Supreme Shine Microfibre Towels, wipe your wheels clean. Turn your towel to a clean side for a final wipe
For your tyres, you can either let the product self-spread for a higher gloss finish or you can spread it with an applicator pad, like Meguiar's Soft Foam Applicators, for a more uniform, less glossy finish
Additional Note:
Shake the product well before use.
Make sure your wheels and tyres are cool to the touch and that you are working in the shade.
For heavily soiled wheels. a traditional wheel cleaner, such as Meguiar's Ultimate All Wheel Cleaner, is recommended.
Do not use on motorcycles, bicycles, or other two wheeled vehicles' tyres or seats. Application to these surfaces can cause them to become slippery.
Remove spin-off from plastic panels to avoid staining.
Avoid getting overspray on concrete or asphalt.
Remove any product immediately from concrete or asphalt with detergent to prevent staining or slippery conditions.
Hazards & Warnings
Danger: May be fatal if swallowed and enters airways

Warning: Causes skin irritation

Warning: May cause drowsiness or dizziness
: Toxic to aquatic life with long lasting effects