Turtle Wax Wheel Cleaner 500ML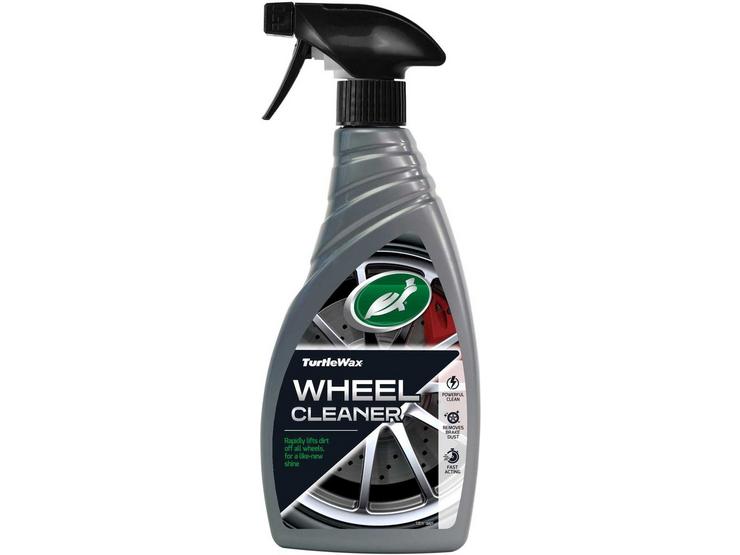 10 people are viewing now
5 purchases during last 48 hours
Turtle Wax Wheel Cleaner 500ML
Cleaning Stage : Wheels
Suitable For : Wheels and Alloys
Turtle Wax Wheel Cleaner 500ML
The Turtle Wax Wheel Cleaner 500ml rapidly lifts dirt off all wheels, for a like-new shine.
This fast-acting formula breaks up the most stubborn soils on the dirtiest part of your car's exterior, your wheels. Brake dust, tar and road grime are no match for the Turtle Wax Wheel Cleaner.
Just spray on this alloy cleaner, and the acidic formula begins dissolving soils immediately. Use a wheel brush to make sure the cleaning action gets into every crevice and on every surface. Then, simply rinse the grime away!
Your wheels will sparkle like new again.
When used as directed, it's safe for multiple surfaces, such as alloy and plastic wheel parts, decals and tyre sidewalls.
Features & Benefits:
Acidic formulation removes burnt on break dust, tar and road grime
Suitable for all types of alloy, steel and plastic wheel covers, brake components, decals and tyre sidewalls
Will not damage decals or tyres
Begins dissolving soils on contact and requires only light scrubbing
Compatibility:
Suitable for cars, lorries, trucks, caravans, home furniture, motorbikes. Read instructions carefully before applying.
User direction:
Working one wheel at a time, rinse with a strong stream of water to remove loose debris and ensure that the wheel and brake components are cool
Spray the wheel cleaner liberally onto all surfaces of the wheel, including the face and the lug nut holes and the barrel of the wheel itself, as well as the brake rotor and calliper
Immediately after spraying the cleaner, scrub the wheel and brake components with a medium bristle brush
With a strong stream of water from a hose or pressure washer, rinse away the wheel cleaner and grime
Towel dry
Continue around the car, cleaning each wheel with the same process
Wash and dry the rest of your car
Additional Note:
On larger wheels clean half a wheel at a time. Do not use on hot wheels, or if the lacquer has been damaged. Not suitable for Chrome, coated or stainless steel wheels. If in doubt test on a small area first.