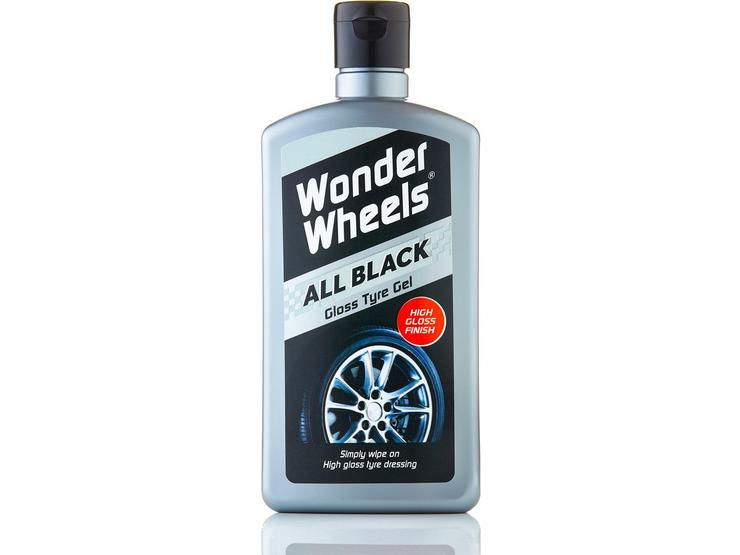 10 people are viewing now
5 purchases during last 48 hours
Cleaning Stage : Dressing
Suitable For : Wheels and Alloys
Wonder Wheels Black Gloss Tyre Gel 500ml
The Wonder Wheels Black Gloss Tyre Gel will revitalise the tyres and trim to provide optimum shine and ultimate protection, which last and lasts whatever the weather!
Wonder Wheels All Black Gloss Tyre Gel is a new addition to the award winning Wonder Wheels Range. Simply wipe on the High Gloss tyre dressing for a High Gloss finish.
This tyre gel will leave your tyres and trim, shiny and protected. The finish will last until your next wash and keep your tyres and trim looking black.
Features & Benefits:
Revitalise the tyres
Provide optimum shine
Ultimate protection
High gloss finish
Simply wipe on
Wonder Wheels Black Gloss Tyre Gel nourishes tyres with a special lubricant to help combat the effects of crazing on tyre walls
Easy-on spray formula with long lasting gloss enhancers for a showroom shine
User direction:
Clean tyres before application and dry thoroughly
Start with a pea sized number on a clean, dry microfibre cloth or sponge and spread evenly across the tyres – use as required and wipe off any excess to prevent any product being flung off the tyre when in motion
For an even glossier shine, apply a second coat after allowing the first coat to dry for approximately 10 minutes. If you see any streaks or blemishes, re-apply to that particular area