Connected Essentials RFID Signal Blocking Key Box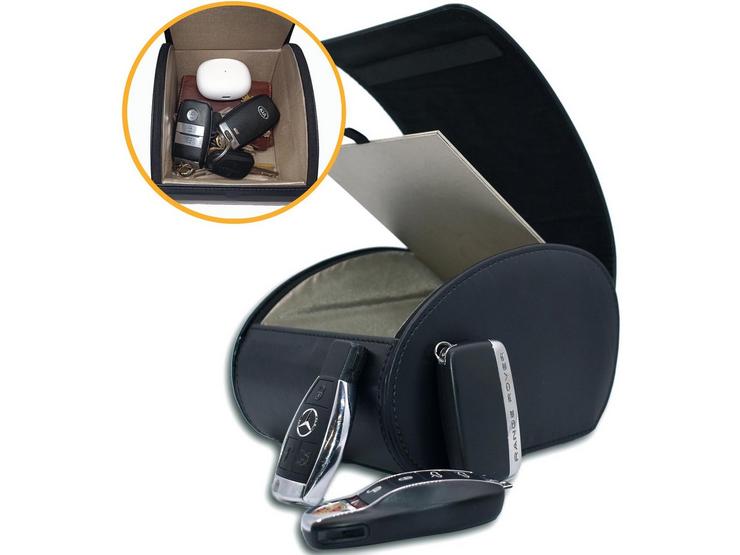 10 people are viewing now
5 purchases during last 48 hours
Connected Essentials RFID Signal Blocking Key Box
Connected Essentials RFID Signal Blocking Key Faraday Box
Keyless theft is a growing concern for motorists across the UK.
It is carried out with the help of relay boxes which emulate the signal from your car key. This provides thieves with access to your vehicle without forced entry. Your vehicle can be driven away as if the key was present.
The CEG-90 Signal Blocking Faraday Box is designed to protect your keys whilst at home or at work. The innovative internal lining and clever "box within a box" double-flap design creates a Faraday cage that will block your car keys radio signal – protecting your vehicle from keyless theft*. The outer flap also prevents letterbox/fishing theft, where a criminal may attempt to hook your keys with a fishing rod through your letterbox.
The CEG-90 is practical and stylish, fitting tastefully into any home or workspace. Connected Essentials have utilised their experience in home & office storage solutions to deliver a compact holder that is large enough to hold an entire bunch of keys and other pocket items. With its soft-touch external finish, it never looks out of place. The Key Store will block Bluetooth, Wi-Fi NFC and other types of signal, meaning you can store phones, devices and contactless cards also inside, eliminating the risk of signal duplication and keeping your phone from disturbing you when at home, asleep or in meetings.
Features & Benefits:
Reduce the risk of keyless entry vehicle entry and theft
High-quality luxurious exterior finish with innovative RF blocking internal lining
Base Dimensions (Footprint) (WxD): 14x16cm
Internal compartment dimensions: approx. 11.5cm x 13cm x 5.5cm
Additional Note:
*The effectiveness of the RF blocking feature has been tested on various manufactures' models and when used in conjunction with the instructions manual supplied with the product, it will block or reduce the range of the RF keyless function.