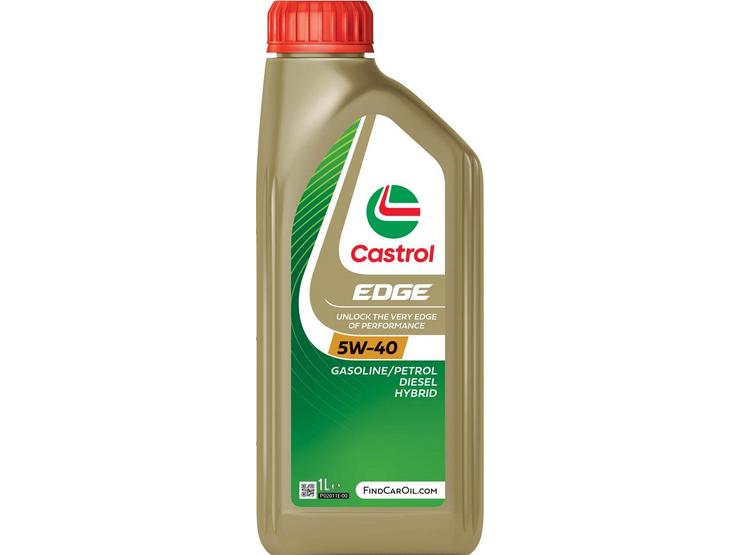 10 people are viewing now
5 purchases during last 48 hours
Grade : 5W/40
Oil Type : Fully Synthetic Oil
Size : 1 Litre
Castrol Edge Titanium 5W40 Oil 1 Litre
The Castrol Edge Titanium 5W40 Oil 1 Litre is 505 01 approved for VW Pumpe Duse Diesel (PDD) engines and other pre-2002 diesel engines.
Castrol EDGE 5W-40 gives you the confidence to demand maximum engine performance from today's latest technology, highly engineered engines that operate with tighter tolerances, requiring a high level of protection and low viscosity oils.
Advances in engine technology have led to increased power and efficiency, meaning engines work harder and under higher pressures than ever before. The only thing keeping metal engine components apart is the oil, so it needs to be strong and remain strong.
Castrol EDGE 5W-40 is suitable for use in automobile, gasoline and diesel engines where the manufacturer recommends an ACEA C3, API SN or earlier specification.
Castrol EDGE 5W-40 is approved for use in vehicles from leading manufacturers, please refer to the specifications section and your owners handbook
Castrol EDGE with Fluid TITANIUM physically transforms its structure – becoming stiffer at points of extreme pressure, keeping metal apart and reducing friction. When the pressure subsides, the oil reverts to its free-flowing state. Stronger under pressure, Castrol EDGE with Fluid TITANIUM transforms its structure and reduces performance-robbing friction by 20%*.
Features & Benefits:
For VW PD engines on fixed servicing
Maximises short and long term engine performance
Reduces engine deposits to help maximise engine response
Delivers unsurpassed levels of protection across a variety of driving conditions and temperature
Independently proven to Improve engine efficiency
Delivers and sustains maximum horsepower for longer, even when under pressure
Certifications & Standards:
ACEA C3
API SM CF
Approved for BMW Longlife-04, Ford Wss-M2C917A (Galaxy), MB-Approved 229.51 & VW 505 01 / 505 00 / 502 00
Approved as per dexos2™*
Approved as per Ford WSS-M2C917-A
Approved as per RN0700 / RN0710
Approved as per FIAT 9.55535-S2
Additional Note:
Please note that packaging and label supplied may differ from web image but the contents are the same