Slick 50 Fuel System Treatment 375ml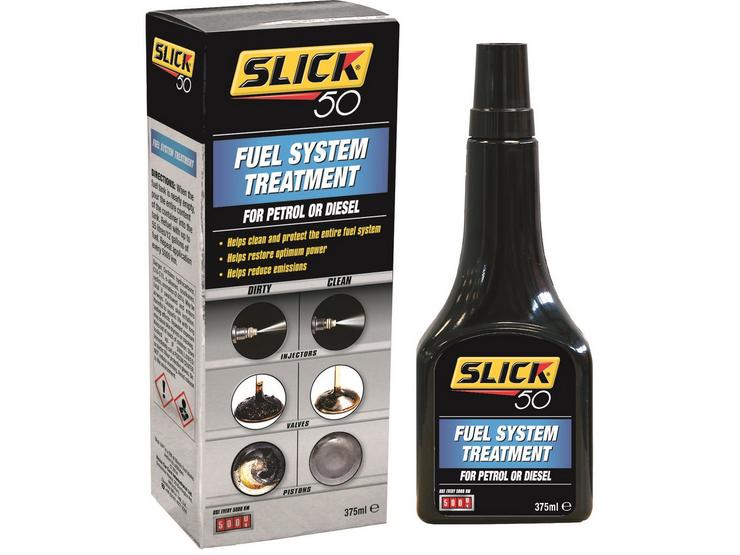 10 people are viewing now
5 purchases during last 48 hours
Slick 50 Fuel System Treatment 375ml
Slick 50 Fuel System Treatment 375ml
Designed to clean your fuel system, the Slick 50 Fuel System Treatment restores your car's performance to ensure you have a smooth running car.
The build up of deposits in fuel systems can be a slow growing problem for vehicles. Intake valve and other fuel system deposits can lead to reduced power and performance, poor fuel economy, increased emissions, hesitation, stalling and poor driveability.
The Slick 50 Fuel System Treatment ensures the entire fuel system is clean of deposits and assists to restore performance back to its greatest potential, resulting in a smoother running, more economical system. It is suitable for both petrol and diesel engines.
Features & Benefits:
Smoothes rough idling
Improves fuel efficiency
Reliable and consistent performance
Cleans harmful deposits and protects against future accumulation
Hazards and Warnings:
Flammable liquid and vapour
May be fatal if swallowed and enters the airways
May cause drowsiness or dizziness
Additional Note:
Instructions: Pour directly into the engine. Do not overfill. If carrying out a full oil and filter change drain oil and fit new oil filter. (Not sure what this means) Refill with motor oil, replacing 500 ml of oil with 500 ml of SLICK 50 Engine Treatment. Check oil level. Use at every oil change for maximum effectiveness or at least every 12,500 miles / 20,000 km.
Important: Always replace oil and filters in accordance with manufacturers' recommendations. Please dispose off oil at an approved disposal or recycling facility. Wash your hands thoroughly after contact.
Instructions: When the fuel tank is nearly empty, pour the entire content of the container into the tank. Refuel with up to 55 litres / 12 gallons of fuel. Repeat application after every 3000 miles (5000 km).
This product is most effective when used just before filling up the fuel tank, as it helps achieve the best mix ratio of Fuel System Treatment to fuel. It also ensures that it is able to work its way through the system in the optimum time. However, if using when filling up less than a full tank, then there are no adverse effects. (Not sure what this means)
Hazards & Warnings
Danger: May be fatal if swallowed and enters airways

Warning: Causes skin irritation
Danger: Causes damage to organs