ONLINE EXCLUSIVE
Clearance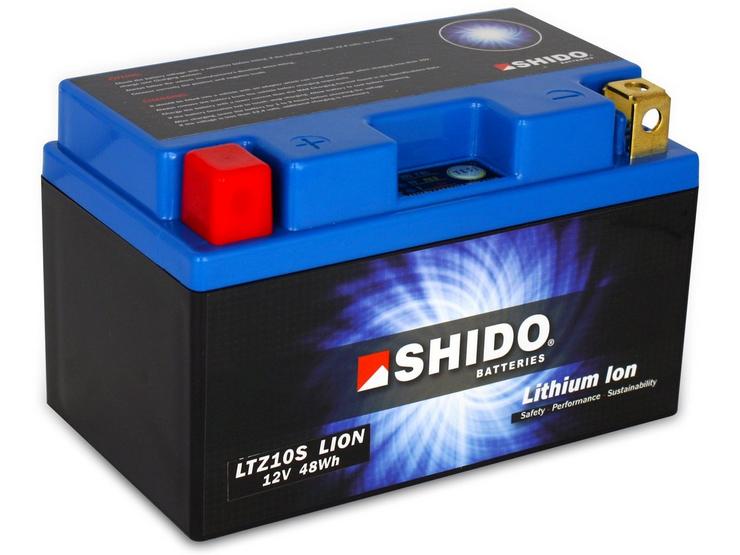 10 people are viewing now
5 purchases during last 48 hours
Clearance - While Stocks Last
Capacity : 2.0Ah
Guarantee Period : 3 Years
Startup Power (CCA) : 240 Amps
Shido Lithium Battery LTZ10S
With a built in charge status indicator, the Shido Lithium Battery LTZ10S has a 3 year manufacturer's warranty with 6 x longer lifespan than the lead acid equivalent. Whilst providing up to 50% more cranking power, the high quality, high power lithium ION battery is also up to 75% lighter than OE batteries.
Low internal resistance allows more amps to be absorbed more quickly, resulting in a faster charging time. There is also no sulfation, a longer cycle life, and very low self-discharge.
The Battery can be mounted in any position and is perfect for special builds.
Features & Benefits:
Direct replacement for OE battery - No modifications required
High quality, high power Lithium ION battery
Up to 75% lighter than OE
Up to 50% more cranking power
6 x longer lifespan than lead acid equivalent
Copper terminals for excellent conductivity
Built in charge status indicator
Including distance spacers that hold the battery firmly and securely in the battery box
No environmental contamination as contains no acid
No explosion risk
Waterproof
Warranty Information:
3 year manufacturers warranty
Frequently Asked Questions
Do I need a special charger?
No; you can use any motorcycle specific charger as long as it doesn't charge above 15 volts. When the battery is fitted to the bike it will receive the same charge from the bike as any other battery.
Can I use a float / trickle charger eg: Optimate / Oximiser etc?
Yes, but we advise against it unless the charger is a Lithium specific type. This is because this type of charger can have different modes which may charge over 15 volts (this will destroy the battery). If you use this type of charger you MUST disconnect the battery as soon as it is fully charged; failure to do so will kill the battery.
How do I maintain the battery when not in use?
Disconnect it from the bike, store in a dry place at room temperature, charge occasionally.
Do I need to charge this battery before use?
For best results a quick top up charge is recommended before first use.
Please Note:
Colours and designs of some batteries may vary slightly to what's displayed. Specification and performance will remain exactly the same.