Halfords Ford Midnight Sky Car Spray Paint 300ml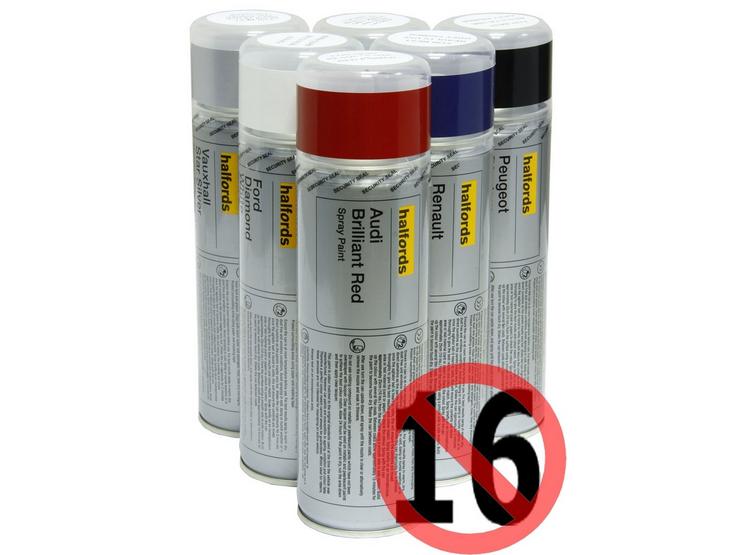 10 people are viewing now
5 purchases during last 48 hours
Halfords Ford Midnight Sky Car Spray Paint 300ml
Manufacturer's Paint Code : BMZE / MD / S / 5BMZ
Year : 2010-2016
Halfords Ford 'Midnight Sky' car spray paint
The Halfords Ford 'Midnight Sky' car spray paint is an exact match for the Ford codes: BMZE.
It provides a tough, durable protective finish on metal, glass fibre or rigid plastic panels and the advanced acrylic based formulation, which is compatible with virtually all types of automotive paint finishes, including cellulose.
Preparation is always the key to a successful project, take your time to clean, treat any rust, rub down and mask the area. You will need to purchase a grey primer and apply at least two coats of the primer to ensure optimum adhesion and to give the best finish.
When you are ready to apply the paint, build up the colour with several thin coats, rubbing down with wet and dry sandpaper in between coats to ensure a professional finish. For metallic and pearlescent colours it is essential to purchase a lacquer, which will give a high gloss finish to solid colours.
Features & Benefits of Ford car spray paint
Quality can nozzle provides an even spray pattern & superior finish
Touch dry in approx 10 minutes
Ford manufacturers codes: BMZE
Provides a tough, durable protective finish on metal, glass fibre or rigid plastic panels
Advanced acrylic based formulation
Compatible with virtually all types of automotive paint finishes, including cellulose
Compatible with the Ford Fiesta, Fusion, Mondeo, Kuga, S-Max & Galaxy from 2008 onwards
Hazards & Warnings

Danger: Extremely flammable aerosol

Warning: Causes serious eye irritation

Warning: May cause drowsiness or dizziness