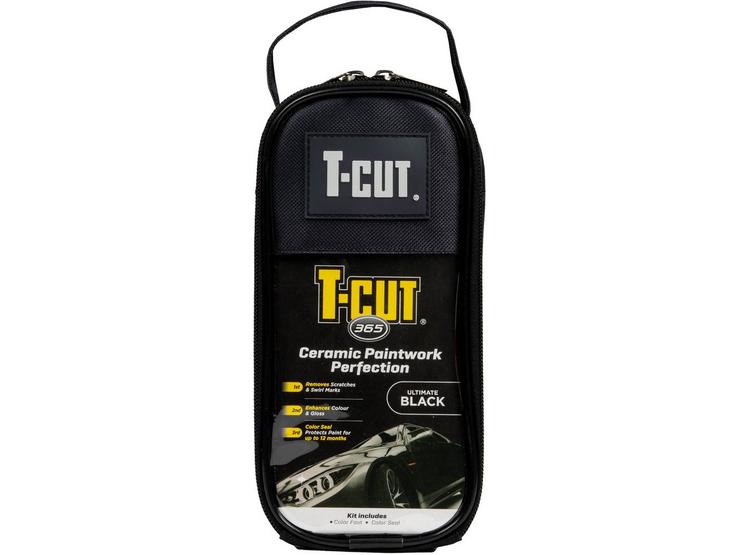 10 people are viewing now
5 purchases during last 48 hours
Colourfast/Colour Seal : Yes
T-Cut 365 Paintwork Perfection Kit Ultimate Black
The T-Cut 365 Paintwork Perfection Kit contains 1 x T-Cut Colorfast 500ml, 1 x T-Cut Colour Seal 500ml, a microfibre applicator pad and microfibre cloth.
T-Cut 365 Paintwork Perfection is a one-of-a-kind combination of distinct products that polishes and seals the vehicle's paintwork while restoring its radiance and elegance.
The T-Cut Colorfast is designed to remove scratches, intensify the colour and shine paintwork while the T-Cut Colour Seal is designed to lock in that shine and lock out the elements for up to 12 months. Ideal for any Black car.
Features & Benefits:
T-Cut Colorfast removes scratches, intensify the colour & shine paintwork
T-Cut Colour Seal locks in that shine & locks out the elements for up to 12 months
Contains: T-Cut Colorfast 500ml, T-Cut Colour Seal 500ml, microfibre applicator pad & microfibre cloth
Weight: 129kg
Directions of use:
Shake the bottle of T-Cut Colour Fast Black Apply evenly to a moist microfibre cloth, one piece at a time Allow for a haze to dry
Using the microfibre applicator pad, buff to a deep high gloss finish As needed, repeat the application
T-Cut Colour Seal container should be shaken before use Pour the mixture onto a dry, clean microfibre cloth Wipe on one panel at a time, lightly (approximately 5ml per panel) Allow to dry before using