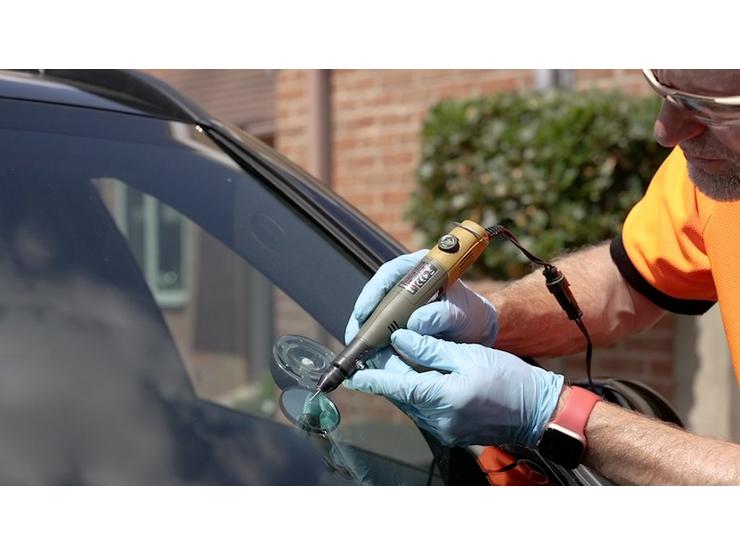 10 people are viewing now
5 purchases during last 48 hours
Our windscreen chip repair service is subject to inspection at store. Details can be seen in the FAQs below. If for any reason we are unable to complete the work after the inspection, a full refund of the service will be given.
Windscreen Chip Repair
If your windscreen is chipped, don't ignore it. Windscreen chips can obscure your view, making driving dangerous. They're also a common cause of MOT failure, in fact around 7% of all MOT failures in 2018-19 were related to 'Drivers view of the road', which includes windscreen damage. Cracks that are more than 10mm and located within the drivers sight line or 40mm are an automatic MOT failure, so it's always worth getting chips repaired quickly and easily at one of our stores.
A crack that starts off relatively small can quickly increase in size due to temperature changes, air pressure or vibrations when you're on the road. Once a chip gets bigger and turns into a full crack, your whole screen may need replacing which could leave you with an expensive excess fee to pay on your insurance. So, it makes sense that once you notice a crack in your windscreen, get it treated straight away.
Now, the good news is that our windscreen chip repair service can fill any chips in around 30 minutes, leaving you to get back on the road and on with your life. Our windscreen chip repair costs just £40/€46*, much less than the cost of most MOT tests or a full screen replacement excess charge.
Not every windscreen chip can be repaired if it's been left too long or is too deep. Our experts will be able to advise you on whether your windscreen chip can be safely repaired. You can book this service online by selecting your local store or through our mobile fitting service, or simply visit a local Halfords store to speak to one of our colleagues.
Windscreen chip repairs use special adhesives to restore your windscreen's strength. They only set correctly if the temperature is between 10 - 25 degrees.
How much does it cost?
Our chipped windscreen repair service costs £40/€46* and takes around 30 minutes to complete. The timing may differ slightly depending on the location and size of the chip.
You can get our windscreen chip repair service carried out in one of our retail stores or through our mobile van service, or you can head to your local store where our fully trained colleagues will be able to advise you.
*Additional booking charge may apply on our mobile vans (UK only).