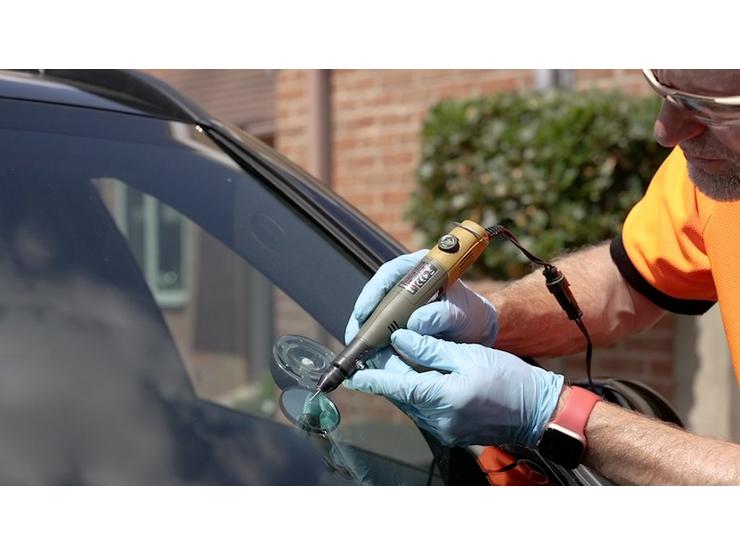 10 people are viewing now
5 purchases during last 48 hours
Prevents further damage and restores your windscreen's strength
Service is subject to inspection - ensure chips are less than 25mm before booking
Halfords cannot repair cracked windscreens or glass
Windscreen Chip Repair at Halfords
Windscreen chips can obscure your view while driving - so don't ignore them

Prevents the need to replace the whole windscreen, should the chip turn into a crack**

Special adhesives are used to repair your windscreen's strength
Service only takes around 30 minutes to complete

Our windscreen repair service costs £40/€46*

Book a windscreen chip repair straight away, either in store or with our mobile vans

Please check your chip is less than 25mm before booking
*Additional booking charge may apply on our mobile vans (UK only).
**Halfords cannot repair cracked windscreens or glass. This service is only for chips, subject to size and condition.
Do I need to fix my windscreen chip straight away?​
It's important to get windscreen chips repaired as soon as possible. If left, a small chip has the potential to develop into further damage and can cause you to fail your MOT. Build up of dirt and moisture can also affect repair quality.
What's the difference between a windscreen chip vs a crack?
A windscreen chip is a small area of damage on the windscreen, while a crack has distinct lines that run through the windscreen. Driving on uneven terrain can soon cause a chip to develop into a crack.​
Please Note: Halfords cannot repair cracked windscreen or glass. This service is only for chips, subject to size and condition. Ensure your chip is less than 25mm before booking, or we may not be able to repair it for you.
Can my windscreen still be repaired if there are multiple chips?
Depending on the extent of your windscreen chips, it may still be possible for multiple chips to be repaired. However, any extensive damage, such as chips that have been left too long, have become too deep, or exceed 25mm in diameter*, you may need to look at windscreen replacement​.
*Please refer to the image at the top of this page, detailing the size of your chip and if we will be able to repair it.
How does windscreen chip repair work?
One of our experts will assess your windscreen to check if it can be repaired. If it can, a special adhesive is used to restore your windscreen's strength and clarity/ visibility.​
You can get our windscreen chip repair service carried out in one of our retail stores or through Halfords Mobile Expert.
Please Note: Our technicians will only be able to carry out this service in temperatures of 0°C or above.
Car Repairs at Halfords
We offer a number of Car Repairs near you to help keep you on the road. Whether a light has come on on your dashboard, your engine is making an unusual sound, or your car just isn't driving quite right - our ATA-trained technicians will diagnose the problem before it escalates.
From engine servicing to repairing the steering and suspension - we can carry out a number of different mechanical and electrical repairs to the highest standard, using the latest equipment and high-quality parts. Additionally, all our work is covered by our quality guarantee, which covers any parts used for 24,000 miles or 2 years - whichever comes first.