Bosch A120S Wiper Blades - Front Pair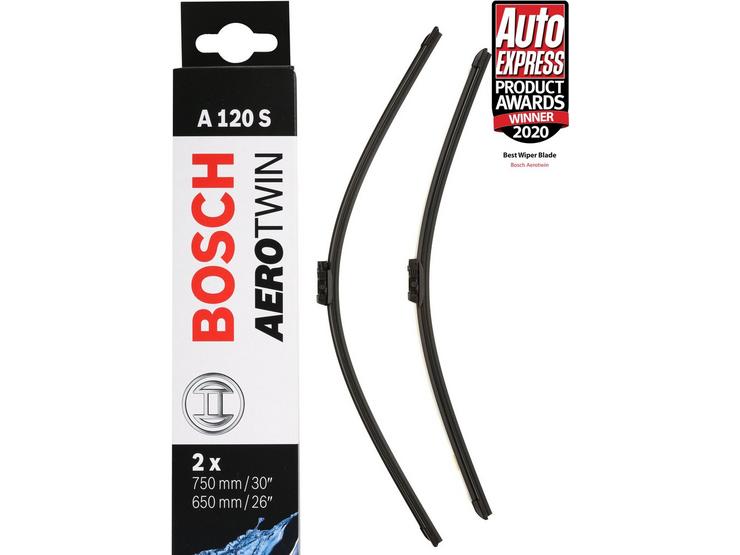 10 people are viewing now
5 purchases during last 48 hours
Bosch A120S Wiper Blades - Front Pair
£39.00
£26.49
save £12.51
Manufacturer's quality: Fitted the same as vehicle's original equipment
Multiple windscreen pressure points for more efficient wiping
Expertly fitted in our stores and garages
Bosch A120S Wiper Blades - Front Pair
The Aerotwin windshield wiper significantly increases the wiping quality, makes less noise and lasts longer as compared to traditional wiper blades. They have reformulated innovation along with a design which provides increased and enhanced convenience for improving wiping efficiency.
The Bosch A120S Wiper Blades - Front Pair provides a clearer, smoother and quieter wiping performance than conventional wiper blades. Features built in aerodynamic spoiler and new technological tensioned metal strip for precise uniform distribution of pressure along the wiping edge. This helps to keep the blade closer to the windscreen, ensuring clear vision at high speeds and reduced wind noise.
Secure driving depends upon reliable and clear performance when it comes to wiper blades. These are the factors that instantly propel the Aerotwin to swift success . Instead of a system of bows with articulated parts, the wiper comes with a one-piece rubber profile with an integrated spoiler making it joint-free. The ""Aerotwin"" is merely half as high when compared to standard wiper blades with a bow system. The aerodynamics of the windshield wiper is improved due to the flat design which also reduces wind noises remarkably. An added advantage is that it does not hamper vision during wiping.
Features & Benefits:
Longer service life due to uniform contact pressure
Fewer problems with insects and stubborn dirt thanks to constant force distribution
Flatter aerodynamic shape reduces wind noise and provides less obstruction to driver's vision
Built-in spoiler keeps the blade closer to the windscreen for clear vision at high speeds
Manufactured to the same high quality standards as those fitted by vehicle manufacturers as original equipment
Simple fitting instructions supplied
Pre-fitted connector - ready to attach straight out of the box
Dimensions: 750mm + 650mm
Compatibility:
CITROEN
C4 II [B71] (09.10->)
C4 L (12.11->)
DS4 [B75] (03.11-09.15)
DS (CITROEN)
DS4 [B75] (10.15->)

FORD

Galaxy [06] (03.06-11.08)
Galaxy [06] (12.08-12.14)
S-MAX [06] (02.09-12.14)
S-MAX [06] (03.06-01.09)

PEUGEOT

308 [T7] (09.07-06.13)
308 CC [T7] (03.09-04.15)
308 SW [T7] (05.08-01.14)
408 (12.09->)