HALFORDS WIPER BLADE FITTING SERVICE
---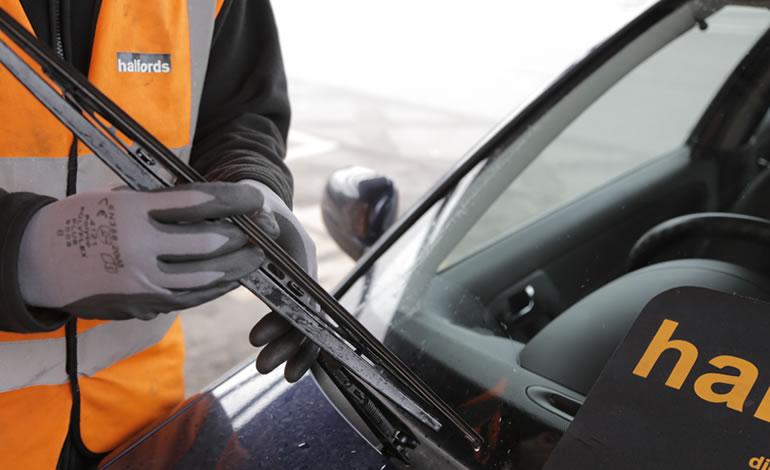 From salt and road grime to constantly changing temperatures, our wiper blades go through a lot, so they'll need to be changed when they start to show signs of wear and tear. We recommend replacing wiper blades once every 12 months to ensure the best visibility when driving.
If you aren't sure how to change your windscreen wiper, or are worried that you aren't doing it correctly, then let Halfords do the hard work for you with our car wiper blade fitting service.
Shop wiper blades
How we fit your windscreen wipers
Step 1: Find the correct windscreen wipers for your car using our windscreen wiper lookup tool, then select the 'add fitting' option at the checkout. If you're shopping in store, then simply ask a colleague at the till about wiper blade fitting. Fittings cost £5 for a single blade, or £7.50 for a pair. We stock wiper blades that suit over 96% of cars on the road, so we should be able to find the right wiper blades for your vehicle.
Please Note: If you choose to have your wiper blades delivered to your home, then you'll need to head back to your Halfords store to have them fitted, so it may be worth choosing the 'click and collect' option so you can have your wiper blades fitted when you pick them up.
Step 2: Let one of our in-store colleagues know where your car is, and we'll get your new wiper blades fitted. You're welcome to wait by your car, look around the store, or take a seat in our waiting area.
If you aren't sure which wiper blades you need or want to know the difference between certain brands or models, then check out our Wiper Blades Buyers' Guide.
Step 3: Your windscreen wipers are now fully fitted and ready to use. Remember that you'll need to keep your screenwash topped up too, so why not grab a 5 litre Berry Screenwash - it not only smells great, but also prevents your screenwash reservoir from freezing in temperatures down to -10°C.
Book a wiper blade fitting
What else can Halfords do?
If you're already at your local Halfords store, then you may as well take advantage of our other handy products and services. Ask one of our colleagues for a Free 5 Point Car Check we'll not only check your wiper blades, but also your battery, car bulbs, screen wash and engine oil levels.

Free 5 Point Car Check

Now your wiper blades are back to their best, our revolutionary Duxback treatment is the perfect addition to combat rainy days. Available on all glass surfaces of your car, Duxback causes water to bead, preventing it from sticking to your windscreen, side windows or even your rear window. In fact, if you're driving at 40mph or faster, water will run straight off, so you won't even need to use your wiper blades!

Find out more about Duxback
06/23