Halfords -10 Concentrate Screenwash 5L - Berry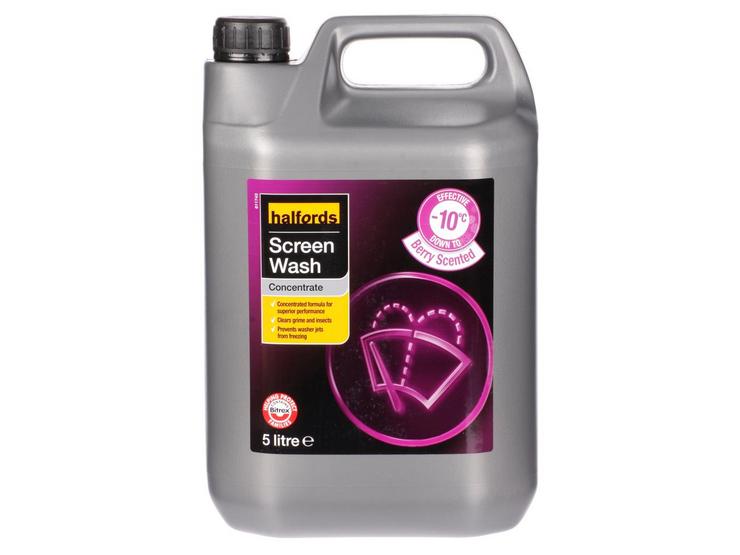 10 people are viewing now
5 purchases during last 48 hours
Halfords -10 Concentrate Screenwash 5L - Berry

"We now put Bitrex in our screenwash and antifreeze products, to help protect your family. Officially the world's most bitter substance, just a tiny amount of Bitrex makes our products extremely unpalatable - and therefore safer - by helping prevent your children and pets from accidentally swallowing something they shouldn't."

Halfords -10 Concentrate Screenwash 5L - Berry
The Halfords -10 Concentrate Screenwash has a warm berry fragrance and keeps your windscreen free from bugs, dirt and road grime.
It is a concentrated formula, with additional detergents and water softeners to enable the breakdown of grease and grime even when the product is diluted up to a 5:1 ratio with water. Halfords also sell a -10 Ready Mixed Screen Wash, which is a convenient formulation that can be poured straight into your washer bottle.
Features & Benefits:
Concentrated formula for superior cleaning performance
Removes bugs, dirt and grime for a crystal clear finish
Helps prevent windscreen refreezing
Ideal for year round use
Warm Berry fragrance
Contains Bitrex
5 Litre bottle
Product Usage Instructions:
Suggested Dilution:
100% Concentrate with 0% Water: Effective down to -10⁰C
50% Concentrate with 50% Water: Effective down to -4⁰C
20% Concentrate with 80% Water: Effective down to -1.5⁰C