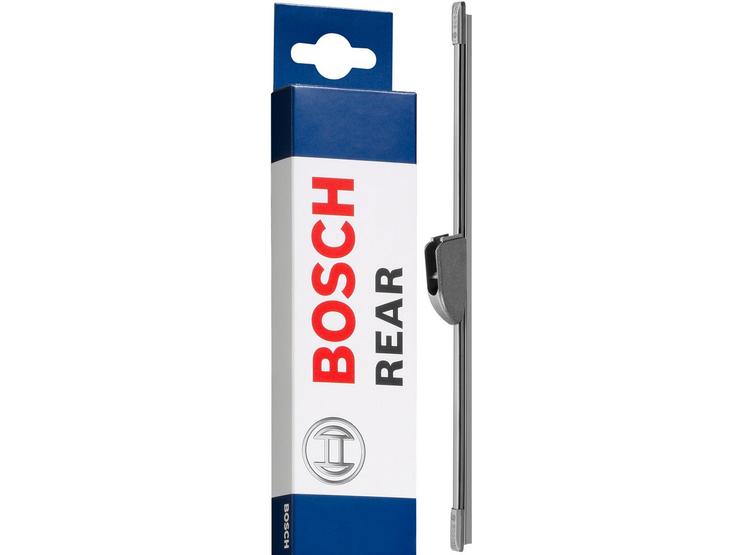 10 people are viewing now
5 purchases during last 48 hours
Manufacturer's quality: Fitted the same as vehicle's original equipment
Expertly fitted in our stores and garages
Bosch A310H Rear Wiper Blade - Single
When reversing in bad weather conditions, it is always good to be careful – but a clear rear view is essential. The Bosch Rear wiper-blade range provides the matching solution for almost any driver and any vehicle.
With Bosch wiper blades, you are sure to have a clear field of vision. Bosch Quality translates into superb wiper performance throughout extended service life. Bosch windscreen wipers rely on innovative technology for maximum visibility and optimal safety.
Aerodynamic design and patented Power Protection Plus wiping rubber ensure optimum visibility in all weather conditions. Bosch Rear delivers the same look and feel as your vehicles rear blade.
Features & Benefits:
Manufacturer's quality: Fitted the same as vehicle's original equipment
Expertly fitted in our stores and garages
Designed for safety and visibility
Manufactured to achieve a precise fitment
Superior wiping performance thanks to innovative
Bosch wiper-rubber technology
Innovative Aerotwin flat wiper blades
Blade length: 330 mm
Integrated rear quick clip connections for simplified installations
Natural rubber with graphite coating for quiet application
OE style blade design for best quality
Compatibility:
ALFA ROMEO Stelvio (949_) (Year of Construction 12.2016 - ..., 150 - 510 PS, Diesel, Petrol)
HYUNDAI i30 II Hatchback (GD) (Year of Construction 11.2011 - ..., 90 - 186 PS, Diesel, Petrol, Petrol/Petroleum Gas (LPG))
HYUNDAI i30 II Coupe (GD) (Year of Construction 05.2013 - ..., 90 - 186 PS, Diesel, Petrol)
HYUNDAI i30 II Estate (GD) (Year of Construction 06.2012 - ..., 90 - 136 PS, Diesel, Petrol)
JAGUAR E-Pace (X540) (Year of Construction 09.2017 - ..., 150 - 300 PS, Diesel, Petrol)