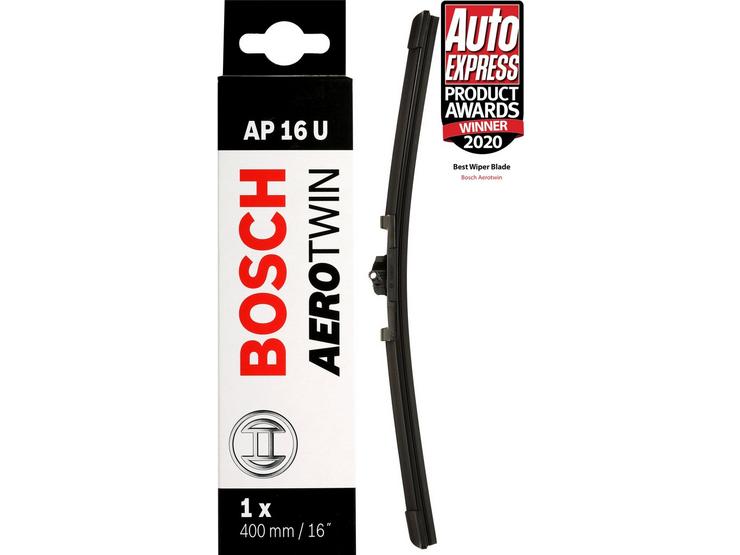 10 people are viewing now
5 purchases during last 48 hours
Manufacturer's quality: Fitted the same as vehicle's original equipment
Multiple windscreen pressure points for more efficient wiping
Expertly fitted in our stores and garages
Bosch AP16U Wiper Blade - Single
Bosch AP16U Wiper Blade - Single provides a clearer, smoother and quieter wiping performance than conventional wiper blades. Features built in aerodynamic spoiler and new technological tensioned metal strip for precise uniform distribution of pressure along the wiping edge. This helps to keep the blade closer to the windscreen, ensuring clear vision at high speeds and reduced wind noise.
The "Aerotwin" is merely half as high when compared to standard wiper blades with a bow system. The flat design remarkably reduces noise and further enhances the aerodynamics of the wiper blade
Features & Benefits:
Unique new wiper rubber developed by Bosch with a patented Power Protection Plus (P.P.P) coating
Flexible adaptors allow 15 part numbers to cover 93% of market
Latest development in flat-blade wiper technology
Longer service life due to uniform contact pressure
Fewer problems with insects and stubborn dirt thanks to constant force distribution
Flatter aerodynamic shape reduces wind noise and provides less obstruction to driver's vision
Built-in spoiler keeps the blade closer to the windscreen for clear vision at high speeds
Manufactured to the same high quality standards as those fitted by vehicle manufacturers as original equipment
Simple fitting instructions supplied
Pre-fitted connector - ready to attach straight out of the box
Dimensions: 400mm
Manufacturer's quality: Fitted the same as vehicle's original equipment
Multiple windscreen pressure points for more efficient wiping
Expertly fitted in as little as 5 minutes in our stores and garages
Excellent wiping performance in any weather
Increased service life due to Power Protection Plus
Silent operation on both wet and semi-dry windscreens.
Compatibility:
ALFA ROMEO
147 [937] (04.05-12.10)
GT [937] (04.05-12.10)
BMW
Serie 3 Cabrio/Coupé [E92,E93] (09.06-08.09)
X1 [F48] (10.15->)
CADILLAC
SRX (09.09->)
CITROEN
Berlingo [B9] (05.08->)
C3 Aircross [A88] (06.17->)
C3 II [A51] (09.09-12.16)
C3 III [B618] (07.16->)
C3 Picasso [A58] (02.09->)
C-Elysée (09.12->)
DS3 [A55] (11.09-04.15)
DS3 Cabrio [A56] (07.12-04.15)
DS (CITROEN)
DS3/DS3 Cabrio [A55,A56] (05.15->)
DS3 Crossback [D34] (01.19->)
FIAT
Doblo/Doblo Cargo [263..] (02.10->)
Egea (11.15->)
Tipo/Tipo Hatchback [356] (11.15->)
Tipo Station Wagon [358] (06.16->)
FORD
Ecosport [14] (10.16->)
Fiesta VII [13] (11.12->)
KA+ (07.16->)
OPEL
Adam (03.13->)
Combo [D] (02.12->)
Corsa [D] (07.06-08.15)
Corsa [E] (10.14->)
Crossland X (01.17->)
PEUGEOT
2008 (03.13->)
208 (01.12->)
301 (09.12->)
Partner [B9] (05.08-12.18)
RENAULT
Clio III [BR/CR] (06.05-12.15)
Clio III Grandtour [KR] (08.07-12.15)
Fluence [L38] (11.09->)
Laguna III/Coupé/Grandtour [BT.,DT.,KT.] (07.07-12.16)
Mégane III CC [EZ] (10.10-12.16)
Mégane III Coupé [DZ] (01.09->)
Mégane III Grandtour [KZ] (06.09-12.15)
Mégane III Hatchback [BZ] (11.08-05.17)
Symbol [LU] (10.08->)
Thalia [LU] (10.08-06.14)
Twingo II [CN; CN/GN] (04.07-12.15)
Wind (04.10-12.14)
SEAT
Alhambra [710, 711] (07.10->)
Ibiza [6J5, 6P5] (09.11-05.17)
Ibiza [6J5] (02.08-08.11)
Ibiza SC [6J1, 6P1] (09.11-05.17)
Ibiza SC [6J1] (02.08-08.11)
Ibiza ST [6J8, 6P8] (09.11-05.17)
Ibiza ST [6J8] (03.10-08.11)
Leon [5F1] (09.12->)
Leon SC/Leon SC Cupra [5F5] (01.13-12.18)
Leon ST [5F8] (08.13->)
Mii [KF1] (10.11->)
Toledo [KG3] (07.12->)
SKODA
Citigo (10.11->)
Fabia/Fabia Combi [NJ3,NJ5] (08.14->)
Rapid/Rapid Spaceback [NH3] (07.12->)
VW (VOLKSWAGEN)
e-up! [BL1,BL2] (07.13->)
Golf Sportsvan [AM1] (02.14->)
Polo [6R1,6C1] (06.09->)
Polo Sedan [602] (09.10->)
Sharan [7N1,7N2] (05.10->)
Touran [5T1] (05.15->)
up! [121,122] (12.11->)