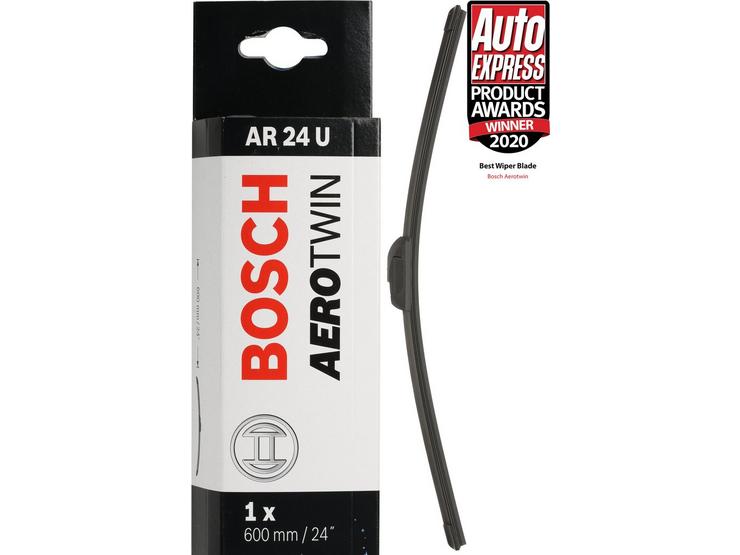 10 people are viewing now
5 purchases during last 48 hours
Aerodynamic design for improved visibility
Manufacturer's quality: Fitted the same as vehicle's original equipment
Expertly fitted in our stores and garages
Bosch AR24U - Flat Upgrade Wiper Blade - Single
With an innovative design from Bosch, the Aerotwin Retrofit Upgrade Flat Blade AR24U is the perfect marriage of function and form.
The custom-designed evodium flex rails ensure a perfect fit for every vehicle and bring increased performance, even at high speeds and during extreme weather.
The blade's optimal aerodynamics have been designed to efficiently clear every portion of the swept range, while there's minimum wiper-induced wind noise and an innovative connection that makes it easy to replace the blade.
The Bosch Aerotwin Retrofit Upgrade Flat Blade AR24U is a maximum-performance blade that upgrades standard blades to flat ones and improves visibility.
Bosch windscreen wipers rely on innovative technology for maximum visibility and optimal safety. Superb wiper performance throughout extended service life.
Apt positioning of spoiler in AR24U at the center of the wiper blade makes them suitable for Left and Right hand drive vehicles. Harnessing the benefits of the latest in steel technology, this flat design further enhances aerodynamics, prevents ice buildup and reduces wind noise.
Optimum contact pressure is made possible by parallel high-tech spring strips made from Evodium Steel. Through an even force distribution, the retro-fit blades produce perfect wiping performance at every point of the screen.
To upgrade from conventional and hybrid to flat wiper blades, they come with pre-assembled adapters. Most vehicles with standard hook arm fitting are supported with Universal Clip designed to fit perfectly. Upgrading your wiper blades has never been so simple.
Features & Benefits:
Aerodynamic design for improved visibility
Manufacturer's quality: Fitted the same as vehicle's original equipment
Expertly fitted in our stores and garages
Dimensions: 24" / 600mm
Upgrades a standard wiper blade to a flat blade
Twin dual-component technology for wiper blades
Flat and elegant hi-tech spring strips replace conventional link and bracket arrangement
Extended service life due to even distribution of force
Fitting position: Front
Expertly fitted in as little as five minutes
No booking necessary
Maximum performance retrofit flat wiper blade
Pre-assembled Quick-Clip adapter permits quick and easy fitting on vehicles with standard wiper blade system and ensures the blades hook easily into the conventional wiper arms
Incorporates Power Protection Plus an innovative wiper rubber technology with a patented coating
Optimizes wiper performance throughout the service life of the wiper - without leaving streaks or deposits on the windscreen of the vehicle
Makes the wiper element lip incredibly robust and resistant, as well as increasing its service life
Reduces the friction of the material to a minimum
Graphite coating with double micro edge