Bosch H306 Wiper Blade - Single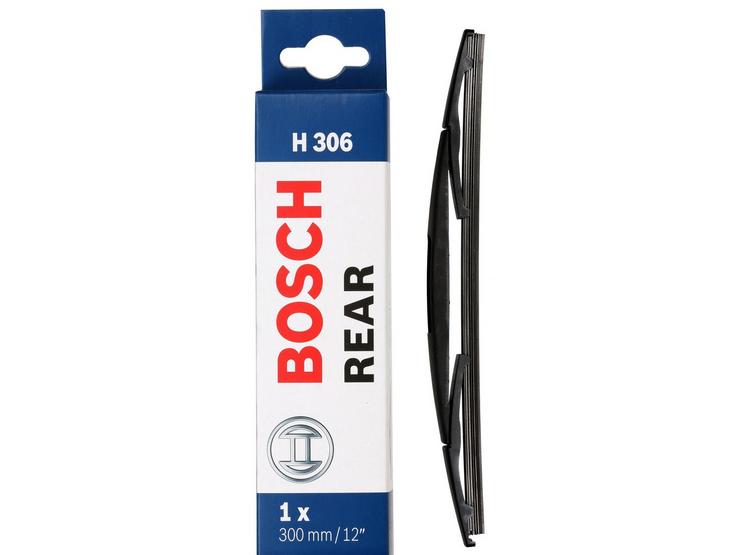 10 people are viewing now
5 purchases during last 48 hours
Bosch H306 Wiper Blade - Single
Manufacturer's quality: Fitted the same as vehicle's original equipment
Expertly fitted in our stores and garages
Bosch H306 Wiper Blade - Single
With the growing numbers of estate cars, square-back vehicles and vans on our roads, you can't always count on having a clear view out back. The Bosch H306 Wiper Blade - Single ensures that your view remains unobstructed under these difficult conditions - with reliable, safe and lasting high quality.
Bosch wipers have a proven legacy to perform better and for longer. The wiping edge of the blade does not flip back and forth due to prolonged cold temperatures which can reduce the flexibility of the rubber and cause juddering. Bosch's patented technology overcomes this problem.
Bosch windscreen wipers rely on innovative technology for optimal safety and maximum visibility. Amazing wiper performance is warranted throughout extended service life.
Amazing windscreen cleaning thanks to a special coating for smooth operation, blade element with a flexible spine for less wiper noise, long service life due to wear-resistant double wiper blade edge.
Quick and easy fitting , suitable for all wiper arms is possible, thanks to the pre-assembled Quick-Clip universal adapter.
Features & Benefits:
Manufacturer's quality: Fitted the same as vehicle's original equipment
Expertly fitted in our stores and garages
Soft rubber spine for optimised flexibility providing smooth and quiet operation
Hard Rubber with Micro Double Edge precisely cut for smear-free wiping
Special coating for smooth gliding
Dimensions: 300mm
Integrated rear quick clip connections for simplified installations
Natural rubber with graphite coating
OE style blade design for best quality
Patented metal spring strip for consistent and even contact pressure
Long service life due to wear-resistant double wiper blade edge
Blade element with soft flexible rubber spine for less wiper noise
Superb windscreen cleaning thanks to a hard rubber with micro double edge precisely cut for smear-free wiping
Compatibility:
CADILLAC BLS Wagon 10.07-08.10
CITROEN C4 I [B5] 11.04-11.12
DAIHATSU Charade [NSP90] 03.11->
DS (CITROEN) DS7 09.17->
FORD Fiesta VII [08] 07.08-11.12
FORD Fiesta VII [13] 11.12->
FORD Focus II Turnier [08] 11.08-12.11 For plastic wiper blade only
FORD Focus III [11,15] 01.11->
FORD Focus III Turnier [11,15] 01.11->
FORD Mondeo IV Turnier [07] 02.07-12.14
MITSUBISHI Colt [CZ] 10.08-04.13 Length: 300 mm
NISSAN Qashqai [J10] 12.06-12.13
NISSAN Qashqai+2 [JJ10] 08.08-12.13
OPEL Astra [H] 03.04-08.13
OPEL Astra Caravan [H] 08.04-08.13
OPEL Corsa [E] 10.14->
OPEL Grandland X 10.17->
RENAULT Grand Scénic III [JZ] 05.09-12.16
RENAULT Scénic III [JZ] 05.09-12.16
RENAULT Twingo III [BC] 09.14-> Length: 300 mm
SAAB 9-3 Kombi [9440] 03.05-08.07
SAAB 9-3 Kombi [9440] 09.07-06.12
SAAB 9-3 X [9440] 03.10-06.12
SAAB 9-5 Kombi [9600] 09.05-02.10
TOYOTA Yaris [P9,VNK] 11.05-07.11 Except vehicles made in Japan
VOLVO V60 Cross Country 08.15-> For plastic wiper blade only
VOLVO V60 I 06.15-> For plastic wiper blade only