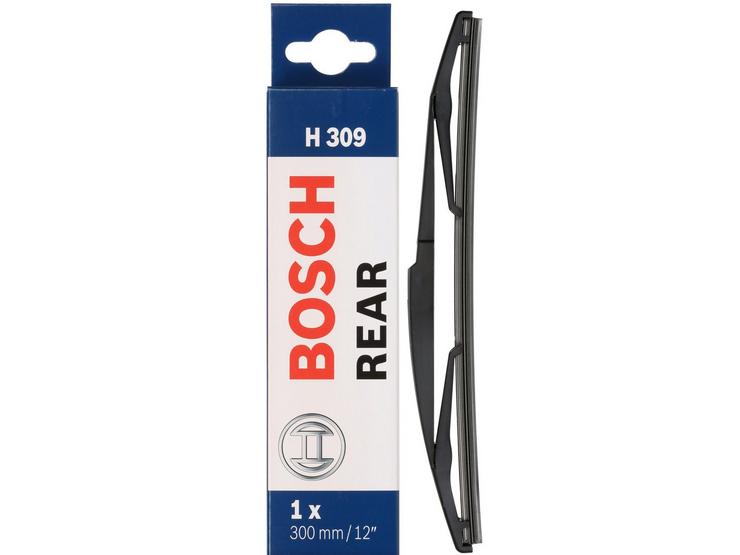 10 people are viewing now
5 purchases during last 48 hours
Manufacturer's quality: Fitted the same as vehicle's original equipment
Expertly fitted in our stores and garages
Bosch H309 Wiper Blade - Single
The Bosch H309 Wiper Blade - Single is designed to match specially styled rear wiper blades. The wiper offers long lasting high quality for optimum visibility out of your rear screen. Superb wiper performance is warranted throughout extended service life.
The Bosch Rear range of plastic wipers are designed to replace specially designed plastic moulded rear wiper blades. Rear screen wiper fitments and styles have become more exclusive to each vehicle model with the growing variety and styles of Estate cars, Hatchbacks, Multi-Purpose Vehicles on our roads.
The Bosch range of rear-screen wipers are not just designed to these exact fitments and styles, they also make sure that your view remains clear and consistent with safe, reliable and long lasting high quality.
Features & Benefits:
Manufacturer's quality: Fitted the same as vehicle's original equipment
Expertly fitted in our stores and garages
Quickly clears rain and dirt
Designed to fit specific models with precision
Made from plastic with dual wiper rubber to match specially styled rear wiper blades
Dimensions: 300mm
Integrated rear quick clip connections for simplified installations
Natural rubber with graphite coating for quiet application and smooth gliding
OE style blade design for best quality
Patented metal spring strip for consistent and even contact pressure
Long service life due to wear-resistant double wiper blade edge
Blade element with soft flexible rubber spine for less wiper noise
Superb windscreen cleaning thanks to a hard rubber with micro double edge precisely cut for smear-free wiping
Compatibility:
CITROEN C1 II [B4] 02.14->
DAIHATSU Cuore [L2] 03.03->
DAIHATSU Materia 09.06->
DAIHATSU YRV [M2] 08.00-07.05
DODGE Journey [JC] 09.08->
FIAT Freemont [JC] 06.11-12.15
HYUNDAI i20 [PB] 12.08->
LAND ROVER Discovery Sport [B5] 09.14->
LEXUS LX [J2] 11.07-01.12 For plastic wiper blade only
MAZDA 5 [CW] 06.10->
MAZDA 6 Wagon [GJ] 10.12->
MAZDA 6 Wagon [GL] 09.18->
MAZDA 6 Wagon [GL] 10.12-09.18
MITSUBISHI Mirage [A0] 08.12->
MITSUBISHI Space Star [A0] 11.12->
PEUGEOT 108 [B3] 02.14->
SUBARU Trezia 11.10-03.16
SUZUKI Celerio 10.14->
TOYOTA Auris [E15,NMT,SB1] 02.07-10.12 Except vehicles made in Japan
TOYOTA Avensis Wagon [T25] 01.03-11.08
TOYOTA Aygo [B4] 05.14->
TOYOTA Corolla Hatchback [E21] 01.19->
TOYOTA Corolla Touring Sports [E21] 01.19->
TOYOTA Etios 01.10->
TOYOTA Land Cruiser [J15] 08.09->
TOYOTA Land Cruiser [J20] 09.07-> For plastic wiper blade only
TOYOTA Land Cruiser Prado [J15] 09.09->
TOYOTA RAV4 [A2] 05.00-01.06
TOYOTA RAV4 [A3] 11.05-11.12
TOYOTA Venza 02.09->
TOYOTA Verso [R2] 02.09->
TOYOTA Verso-S 11.10-12.15
TOYOTA Yaris [P13] 07.11->
TOYOTA Yaris [P9,JTD] 08.05-07.11