LEGAL WARNING:

eScooter law - not to be used on public roads, cycle paths or pavements. Only on private land with the landowner's consent. For more information click here.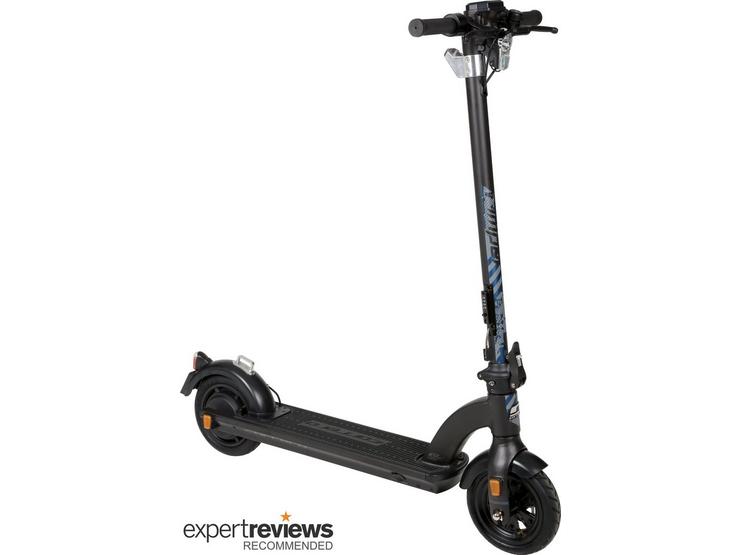 10 people are viewing now
5 purchases during last 48 hours
Maximum Range : 18 miles / 30km
Motor Power : 350W
Water Resistance : Rain and puddle proof
Carrera impel is-1 Electric Scooter at a glance
Maximum speed 15.5mph
Maximum range 18.6 Miles / 30km*
Typical range 13 Miles / 21km**
Powerful and safe dual-disc braking system
Shock-absorbing, 8.5" air-filled pneumatic tyres
IPX5 water-resistant rating
Multi-functional LED display
4 speed levels + walking assist mode
Electronic locking system and built-in cable lock
Bright LED lights and brake light
Lifetime guarantee on the main frame
*Actual range may vary depending upon rider weight, temperature, amount of acceleration, speed, and inclines. **Potential range tested in average conditions ***The Speedometer and Odometer of the Carrera impel is-1 electric scooter is set to miles/mph and cannot be changed to display kilometers/kmh.
Please note that this scooter is not to be used on public highways, only on private property with the owner's consent. Images shot on private property with owners permission.
Building On 25 Years Of Experience
With over 25 years of experience, Carrera is one of the UK's leading and most popular bike and e-bike brands. Drawing on this expertise, they've created the new Carrera impel is-1 – the ultimate folding electric scooter.
Boasting high-quality performance technology commonly found on performance e-scooters, the impel comes at a price that won't break the bank. Carrera e-scooters and e-bikes are also designed to stand the test of time and the impel is protected by a lifetime guarantee on the frame. The e-scooter range also comes with Carrera's trademark features including front and rear disc brakes and a sleek, design-led appearance.
All-Weather E-Scooter
Whatever the weather, you can always depend on the Carrera impel is-1 Electric Scooter. Boasting an IPX5 waterproof rating, the scooter is both rain and puddle proof – perfect for British weather.
Every aspect of the scooter is carefully designed, from the oversized frame and footplate that create a balanced and comfortable ride, to the quick folding mechanism and even weight distribution that make carrying and transporting the scooter easy. The scooter is even designed to be easy to maintain, with split rims for easier puncture repair and simple-to-adjust cable disc brakes.
Smooth Ride
Ride quality matters, and the impel is designed for comfort.
Wherever you're riding, the 8.5" air-filled pneumatic tyres will act as a suspension creating a smooth and comfortable ride. You can easily adapt to your surface and surroundings by choosing from four different speed levels and one walking assist mode.
Even hills are no issue thanks to the impel is-1's superior hill climbing ability, with its powerful motor capable of tackling gradients where other electric scooters would fail.
Then, check your key riding data at a glance using the multi-functional LED display. Featuring speed, power mode, and battery level, you'll have all the information you need to enjoy a smooth, carefree ride.
Safety First
Taking care of you and your scooter, the impel is-1 is designed with the best safety technology.
This begins with a powerful double-braking system with front and rear disc brakes. Whatever the conditions or surface, you'll always feel in control when stopping. The scooter also comes with bright LED front and rear lights, brake lights and reflectors for enhanced visibility in low-light conditions.
You can also rely on the in-built electronic locking system and cable lock to deter any opportunistic thieves and help keep your impel safe.
E-ScooterCare
Take care of your new electric scooter with the help of our E-ScooterCare package. For one year, you'll receive free inner-tube fitting, unlimited brake adjustments, puncture protection, and 10% off accessories and parts.
The best electric scooter also deserves the best e-scooter accessories, starting with a helmet. The Lazer Next+ LED Helmet is a stylish option that will keep you protected. Don't forget to keep your e-scooter safe and secure too with the help of the Halfords 23cm D Lock and 115cm Cable Lock.
Guarantee
Carrera products are built to be durable and the impel benefits from a manufacturer's lifetime guarantee on the frame, plus a one-year limited guarantee across the remainder of the scooter.
If you find yourself needing a repair, or have a question about your new Carrera impel, please take your scooter into any Halfords store with proof of purchase or get in touch with our customer support team.
When it comes to getting your impel serviced, Halfords stock original Carrera spare parts and is the go-to place for all your servicing needs.
Not included under guarantee:
Maintenance of consumable parts such as inner tubes and tyres
Scooters that have been altered or modified from the manufacturer's original specification
Faults caused by misuse, accidental damage and lack of service or maintenance
Please note that this scooter is not to be used on public highways, only on private property with the owner's consent. Images shot on private property with owners permission.
Our Range of impel

E-Scooters

impel IS-1

Max Range
18 miles
18 miles
22 miles
Waterproof
IPX5 - rain and puddle proof
IPX5 - rain and puddle proof
IPX5 - rain and puddle proof
Hill Climbing Ability
Excellent hill climbing ability
Excellent hill climbing ability
Best in class hill climbing ability
Security
Built in cable lock & electronic PIN code immobiliser
Built in cable lock & electronic PIN code immobiliser
Built in cable lock & electronic PIN code immobiliser
Wheel Type
8.5" pneumatic
8.5" Anti puncture pneumatic
10" Anti puncture pneumatic
Additional Features
Cruise control
Cruise control
Shop Now
Shop Now
Shop Now