E-Scooter Puncture Repair Service
Much like riding a bike, an electric scooter's wheels are the only point of contact with the ground, so they can accumulate a fair bit of wear and tear. If you've picked up a puncture or any other kind of damage, you might need to replace your tyre's inner tube. This can be quite a fiddly job for a novice, but Halfords is here to help.
We're going to walk you through how electric scooter punctures can occur, when you might need your inner tube replaced, and how Halfords' e-scooter puncture repair service can help to get you back on two wheels and riding again.

What causes punctures?
Punctures are most often caused by a sharp object (like a nail or a thorn) piercing through the tyre into the innertube.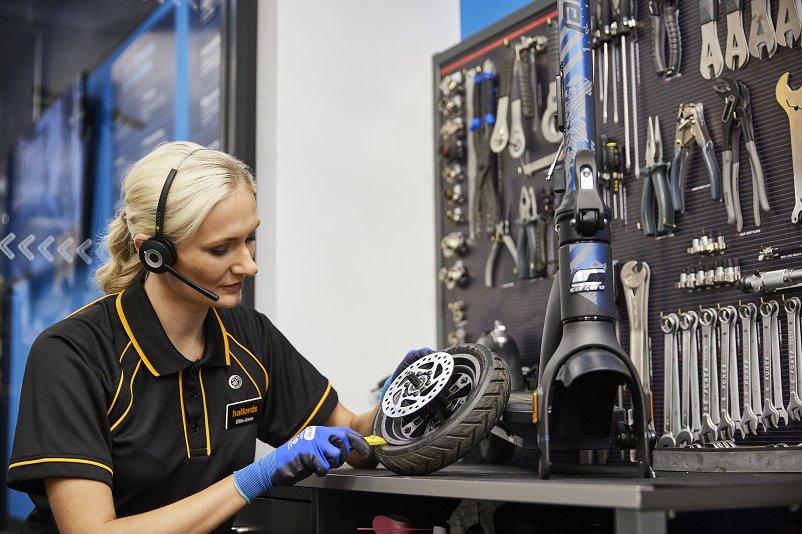 E-scooter punctures can also be caused by riding with under-inflated tyres – if there isn't enough air in your tyres, then the tyre side wall can collapse, causing the inner tube to tear.
Top tip: check your tyres are pumped up before every ride by giving them a squeeze – they should feel firm and sturdy. If not, they might need inflating. You can do this using a tyre pump, and you can find the recommended tyre pressure for your e-scooter model in the owner's manual.
Another lesser-known cause of punctures is a lack of tread. Balding or worn tyres can be more susceptible to punctures as objects can pierce the thin rubber instead of being embedded in the tread. So, it's important to replace your tyres when they show signs of wear and tear. We stock a range of tyres and wheel sets to fit your e-scooter, and we can install them in-store to save you a job.

Do I need to fix a puncture?
While it is possible to ride your electric scooter with a puncture, it can be dangerous for the health of both you and your scooter.
Riding with under inflated or flat tyres can cause premature wear to the tyre and increase the likelihood of an accident. While it may be easier to ignore the problem and carry on riding, you could actually be doing some serious damage to your scooter which might require a more costly repair.
You should stop riding your scooter as soon as you realise that you've got a puncture and book in for a puncture repair to get safely back on two wheels.
How to fix an e-scooter puncture
The first thing to do is to figure out which inner tube you'll need; they can vary in size and style, so you'll need to determine which is compatible with your e-scooter. Check out the table below:
| | | | | | | |
| --- | --- | --- | --- | --- | --- | --- |
| E-Scooter Inner Tube Compatibility | | | | | | |
| Inner Tube Model | INDI EX-1 Inner Tube | Halfords Inner Tube 8.5" x 2" | Carrera impel IS-1 Inner Tube | Halfords 8.5" x 2" Bvalve Inner Tube | Carrera impel IS-2 10" Inner Tube | Halfords Inner Tube 10" x 2"-2.2" |
| | 8" | 8.5" | 8.5" | 8.5" | 10" | 10" |
| Size | - | 8.5" x 2" | 8.5" x 2" | 8.5" x 2" | 10" x 2" | 10" x 2"-2.2" |
| Valve | - | Straight | Bent | Bent | Bent | Bent |
| Xiaomi: M365, M365 Pro, Essential, 1S, PRO 2 | - | Compatible | - | - | - | - |
| | - | - | Compatible | Compatible | - | - |
| | - | - | - | - | Compatible | Compatible |
| Pure: GO, Air, Air Pro, Air Pro LR | - | - | - | - | - | Compatible |
| INDI EX1 | Compatible | - | - | - | - | - |
| INDI EX2 | - | Compatible | - | - | - | - |
| Decent: X7, One, One Max | - | - | - | - | - | Compatible |
Replacing e-scooter inner tubes is a difficult job, and should only be attempted if you're confident in dismantling your e-scooter. You'll also need specific tools and protective gloves to perform the repair safely. Watch our step-by-step guide for a detailed breakdown of the process, with visuals to help you along.
If you're not comfortable replacing the tube yourself, don't worry. Our colleagues are experts in how to service and repair electric scooters, so you can be sure that your scooter is in safe hands. To book a fitting, just find the right inner tube to fit your electric scooter on Halfords.com and select "inner tube or tyre fit" when adding to your basket. Alternatively, pop into your local store and speak to a colleague.
Puncture protection: reduce the risk of punctures in the future
To protect your scooter and reduce the risk of punctures, consider using a puncture protection fluid or slime sealant. Pumped directly into the inner tube while it's deflated, puncture protection liquid can prevent and repair punctures.
As soon as a puncture occurs, the inner pressure of the tyre pushes the liquid slime into the cavity, creating an instant and permanent seal which minimises any loss of pressure. Using slime can prevent punctures and help to extend the life of your inner tubes and tyres. You can do this yourself at home using our guide, or avoid the mess and let us do it for you – just ask one of our colleagues for a slime service when you take your scooter in for repair.
Halfords' puncture repair service: how to book
Our puncture repair and inner tube fitting service is available through Halfords.com when you order your inner tube. Follow the process below to book your fitting:
Choose the right

inner tube

for your e-scooter on Halfords.com
Add "inner tube or tyre fit" when adding the inner tube to your basket, and book your

in-store

repair for a time and date to suit you
Take your e-scooter to your chosen store for repair
Ask our colleagues about

slime puncture protection