New Road Angel Pure One - 2022 GPS Live Speed Camera Detector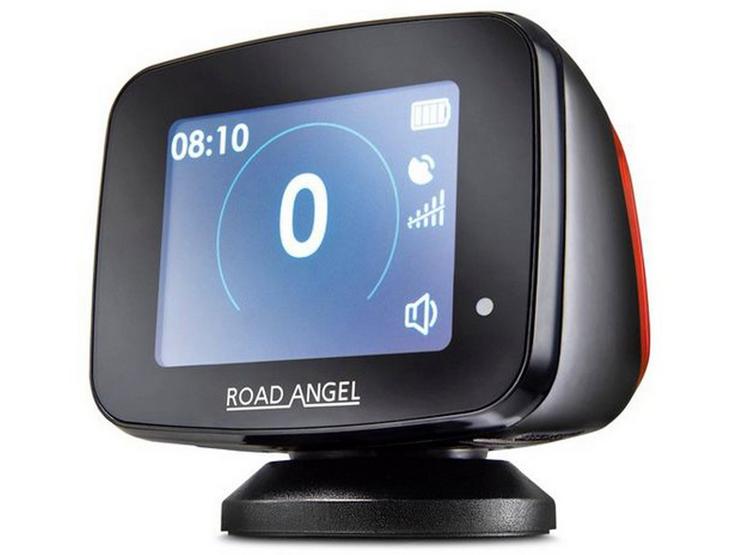 10 people are viewing now
5 purchases during last 48 hours
New Road Angel Pure One - 2022 GPS Live Speed Camera Detector
+ Extra 10% off when you spend £30+ on Motoring, Tools, Technology, Child Travel & Camping. Use Code: MOTORING10
Discount applied in basket
Live Speed Camera Warnings: Yes
Screen Size: 2.4"
Built-in Dashcam: No
New Road Angel Pure One - 2022 GPS Live Speed Camera Detector

Pure One New For 2022! Road Angel's New Pure One offers the best advancements of all Road Safety Tech! A developed combination of all the essential features all in ONE place. Using Road Angel's Brand-New Graphical User Interface, it offers a detailed, bright display for all your speed related driving safety needs!

Head-Up Safety Display
With a 2.4" Inch bright LCD display, the Pure One gives you the essential safety upgrade, required for any driver and vehicle! An all-in-one safety HUB helping you me a more informed and naturally safer driver!


3 Year UK Manufactures Warranty!
Now here's some substance and confidence from Road Angel! The only product of it's kind offering the Live connectivity and a 3 year manufacturer's warranty (when registered)


Live Speed Camera Information
Something Road Angel is no stranger to! Over 10 years offering this amazing technology, it just gets better and better, while the competition doesn't even try to catch up! The data subscription (sold separately) offers the device's essential connectivity to Road Angel's and other 3rd party information provider such as Highways England, HERE Maps,

Modem
Unique to Road Angel! Using the included Sim card, this allows a direct real-time connectivity via a mobile network to Road Angel's Huge server infrastructure for all their live subscription information and their data partners! Never fall behind or lose connection! Always stay protected!

OTA Over-The-Air Updates
Road Angel device has always been renowned for live, real time updating using their onboard modem! This takes it a step further and allows for your device to update its firmware/operating system whilst in situ! No removal or no faff! Just connectivity and convenience! Subject to subscription type.


Road Speed Library
Using a dedicated EU mapping companies speed limit information, the Road Angel provides a up to date real-time indication of the speed limit on the road you are travelling on! Never get confused when there is poor visibility or no repeater signs, Road Angel has your back, sides and front!


Smart Motorways
Coming direct from the Highways England, another unique feature to Road Angel – this direct connection enabled by their subscription, gives a feed to all the information transmitted to the smart motorway gantries, temporary speeds, and lane closure keeping you extra informed just in case you ever miss a gantry!


Lock N Drive Mounting
A Lock n Drive mount gives you a fixed and strong mounting point, with 360 angle adjustment to position your device perfectly to protect you on your journeys.


Independent Power – Never run out of Battery!
After years of having a internal Li-ion battery, this product moves away form this and uses a Super capacitor to provide a always powered solution and no reliance on a battery! So, the protection is always ready to use!


Customisable & Adjustable Alerting
We all know we can be fusspots! So why not set your unit up exactly how you want it, to tell you exactly what you want it to tell you. This impressive and market leading information that Road Angel offers can all be customizable and tailored to meet your individual driving and protection requirements.

New Graphical User Interface
As part of anything new form Road Angel, they redesign and develop their operation system and its design, without layouts to suit your every needs and give you just the right information you want to see, all on a super bright LCD Head-Up display!


Mobile Data Live Sync
This allows your new device to have extra connectivity and power! Utilize your smartphones powerful abilities and have it automatically pair up with your smartphone for added performance and benefits. *This is not required for the basic usage of the device.

Live Reporting
See something new? Be the first to report it via the device itself or even its new Voice assist feature!


Bus Lane & Red-Light Cameras
Make the most from your device, not only get Camera and speed alerts but go the extra mile and utilize additional safety feature to help you avoid further fines and points form the roads!


European Data Ready
Be ready! Stay ready! Always protected! In them warmer months you may think to take a drive over in a part of Europe, Road Angel will be providing the same protection you know in love, at home, while your away. Subject to subscription type and location.

Road Angel All4One App
Newly invested form Road Angel, the new app when available in Q3 2022 will offer the best experience in one place! Halo? Pure? They all will work with this one easy operation smartphone Application. Both Apple & Android.

Traffic & Roadwork Alerts
Enable by Road Angel's Smart Motorway package, get extra protection and more information for your longer drivers or daily commutes with real-time traffic & roadwork alerts. Subject to location and subscription type.


Free 7 Day Trial
If you're not sold by the huge capabilities of protection your car and licence, you can also try Road Angel's basic Subscription tier risk free! And at no cost!


Refined & Directed Sound Reflection
The Road Angel has a specifically positioned speaker to help with the projection of the Audio, this means the audio to reflect of the windscreen glass and give you a more direct, clear sound. Subject to positioning of the device.


Voice Interactive Assistant
See something new? Be the first to report it via the device itself or even its new Voice assist feature! Simply say a set phrase to help suggest a change or update your device's information!

Safety Rated Colour Schemed Alert System
Road Angel Incorporate the peripheral view! We know you shouldn't stare at the device screen, nor should it be distracting, it is there as a driving aid at the end of the day! So, the colour changing display helps you to learn and note down when you are breaking speed limits or in warning areas in just the corner on your eye!

Real-time Average Speed!
Only a Road Angel product feature this! Within any 2 cameras in a Average speed zone the device will display and tell you your real-time average speed of that distance travelled.


Auto-Pairing
Once you have set your device up, no hassle, no bother, the device and the smartphone will remember each other and establish an automatic connectivity whenever in range of each other.


Apple & Android
Compatible with both Apple & Android Based Smartphone/tablets

Works with ALL Windscreens!
Never have to question if it'll work in your car! You have our assurance it will work! Subject to smartphone signal quality and device being paired.


East Mount & Fit
A Lock n Drive mount gives you a fixed and strong mounting point, with 360 angle adjustment to position your device perfectly to protect you on your journeys.