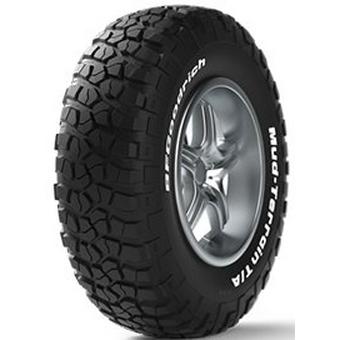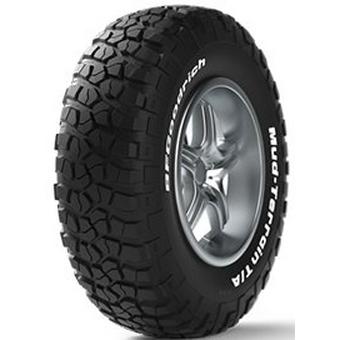 15% off
4 tyres when using our mobile fitting service.
Enter code:
BF15 at checkout
*Subject to availability.
T&Cs apply
Excellent 4x4 tyre
Cut and chip resistant sidewall
Sidewall lugs for better bite and protection
all-season
The Mud Terrain T/A KM2 is the perfect off-road tyre. It has cut and chip resistant sidewall to protect the tyre from sharp rocks and obstacles when driving off-road.
Other tyres in this range
Tyre Variation
Features
Availability
Price
BF Goodrich Mud Terrain T/A KM2 (235/85 R16 120Q)
summer
Out of Stock
£180.99
BF Goodrich Mud Terrain T/A KM2 (245/70 R17 119/116Q) RWL 76GC
all-season
Out of Stock
£144.99
BF Goodrich Mud Terrain T/A KM2 (245/75 R16 120Q)
summer
Out of Stock
£199.99
BF Goodrich Mud Terrain T/A KM2 (255/70 R16 115Q)
summer
Out of Stock
£187.99
BF Goodrich Mud Terrain T/A KM2 (11.5/32 R15 113Q) RWL 76FC
all-season
Out of Stock
£115.99
BF Goodrich Mud Terrain T/A KM2 (265/70 R17 121/118Q) RWL 76GC
all-season
Out of Stock
£208.99
BF Goodrich Mud Terrain T/A KM2 (12.5/33 R15 108Q) RWL 78FC
all-season
Out of Stock
£202.99
BF Goodrich Mud Terrain T/A KM2 (30/9.5 R15 104Q)
summer
Out of Stock
£150.99
BF Goodrich Mud Terrain T/A KM2 (12.5/37 R17 116Q) RWL 76FA
all-season
Out of Stock
£230.99
BF Goodrich Mud Terrain T/A KM2 (31/10.5 R15 109Q)
summer
Out of Stock
£164.99
BF Goodrich Mud Terrain T/A KM2 (215/75 R15 100Q)
summer
Out of Stock
£155.99
BF Goodrich Mud Terrain T/A KM2 (31/10.5 R15 114Q)
all-season
Out of Stock
£179.99
BF Goodrich Mud Terrain T/A KM2 (225/75 R16 110Q)
summer
Out of Stock
£164.99
BF Goodrich Mud Terrain T/A KM2 (235/70 R16 104Q)
summer
Out of Stock
£166.99
BF Goodrich Mud Terrain T/A KM2 (235/75 R15 104Q)
summer
Out of Stock
£135.99
BF Goodrich Mud Terrain T/A KM2 (255/85 R16 119/116Q) RWL 76FA
all-season
Out of Stock
£191.99