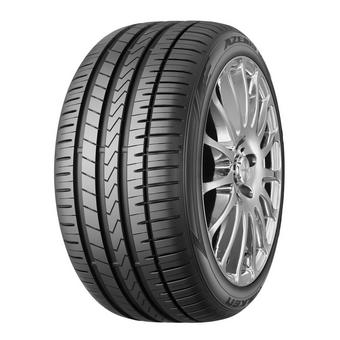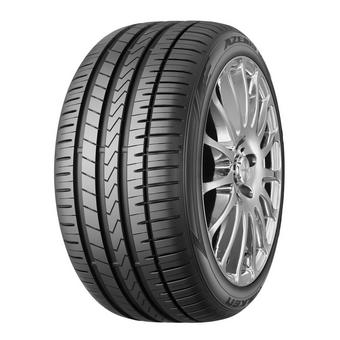 Price includes valve*, balance and environmental disposal of your old tyres - no hidden extras! *Specialist valves will incur an additional charge. Please enquire in centre.
Excellent mid-range brand
Designed for high performing SUVs
summer
Falken
Falken Tyres are best known for their Ultra High Performance radials, design and affordability. The tyres are made using the latest Japanese technology.
Azenis FK510 SUV
Falken's Azenis FK510 SUV tyre is tailored to fit SUVs. It's innovative Blade Sipe tread design and it's enhanced compound ensure exceptional grip and safety.
Other tyres in this range
Tyre Variation
Features
Availability
Price
Falken Azenis FK510 SUV (255/45 R20 105W) XL 70CA
summer
In Stock
£177.99
Falken Azenis FK510 SUV MFS XL (275/45 R20 110W)
summer
In Stock
£172.99
Falken Azenis FK510 SUV (285/45 R20 112Y) XL 70CA
summer
In Stock
£190.99
Falken Azenis FK510 SUV (215/50 R18 92W) 70EA
summer
In Stock
£144.99
Falken Azenis FK510 SUV MFS XL (295/35 R21 107Y)
summer
In Stock
£194.99
Falken Azenis FK510 SUV (255/45 R20 105Y) XL 70CA
summer
In Stock
£203.99
Falken Azenis FK510 SUV (285/45 R21 113Y) XL 70CA
summer
Out of Stock
£223.99
Falken Azenis FK510 SUV (225/50 R18 99W) XL 70CA
summer
In Stock
£149.99
Falken Azenis FK510 SUV (255/50 R18 106W) XL 70CA
summer
Out of Stock
£156.99
Falken Azenis FK510 SUV (295/30 R22 103Y) MFS XL
summer
In Stock
£218.99
Falken Azenis FK510 SUV XL (215/55 R18 99W)
summer
In Stock
£124.99
Falken Azenis FK510 SUV (225/55 R18 102W) XL
summer
In Stock
£121.99
Falken Azenis FK510 SUV (255/55 R18 109W) XL
summer
Out of Stock
£120.99
Falken Azenis FK510 SUV XL (235/55 R17 103W)
summer
In Stock
£127.99
Falken Azenis FK510 SUV (295/40 R20 110Y) MFS XL
summer
Low Stock
£196.99
Falken Azenis FK510 SUV (225/55 R19 99W) 70CA
summer
In Stock
£148.99
Falken Azenis FK510 SUV (265/40 R21 105Y) XL 70CA
summer
In Stock
£212.99
Falken Azenis FK510 SUV XL (235/55 R18 104Y)
summer
In Stock
£134.99
Falken Azenis FK510 SUV (295/45 R20 114W) MFS XL 70CA
summer
Out of Stock
£273.99
Falken Azenis FK510 SUV (235/50 R19 103W) XL 70CA
summer
In Stock
£159.99
Falken Azenis FK510 SUV (265/45 R20 108Y) MFS XL 70CA
summer
In Stock
£190.99
Falken Azenis FK510 SUV XL (235/60 R18 107W)
summer
In Stock
£120.99
Falken Azenis FK510 SUV (315/35 R20 110Y) MFS XL
summer
In Stock
£220.99
Falken Azenis FK510 SUV (235/55 R19 105Y) XL 70CA
summer
In Stock
£143.99
Falken Azenis FK510 SUV (265/50 R19 110Y) MFS XL
summer
In Stock
£162.99
Falken Azenis FK510 SUV XL (255/55 R19 111W)
summer
Out of Stock
£141.99
Falken Azenis FK510 SUV MFS XL (235/50 R18 101Y)
summer
In Stock
£128.99
Falken Azenis FK510 SUV (235/60 R17 102W) 69CA
summer
In Stock
£134.99
Falken Azenis FK510 SUV (265/55 R19 109Y) 70CA
summer
In Stock
£164.99
Falken Azenis FK510 SUV MFS XL (245/40 R18 97Y)
summer
Out of Stock
£110.99
Falken Azenis FK510 SUV (235/65 R17 108W) XL 70CA
summer
In Stock
£125.99
Falken Azenis FK510 SUV (275/50 R20 113Y) XL 70CA
summer
Out of Stock
£236.99
Falken Azenis FK510 SUV MFS XL (255/50 R19 107Y)
summer
In Stock
£139.99
Falken Azenis FK510 SUV (235/65 R18 106W) 70CA
summer
In Stock
£130.99
Falken Azenis FK510 SUV (285/40 R21 109Y) XL 70CA
summer
In Stock
£269.99
Falken Azenis FK510 SUV MFS XL (275/40 R20 106Y)
summer
In Stock
£170.99
Falken Azenis FK510 SUV (275/45 R21 110Y) MFS XL 72CA
summer
Out of Stock
£237.99
Falken Azenis FK510 SUV (275/40 R21 107Y) MFS XL 72CA
summer
Out of Stock
£256.99
Falken Azenis FK510 SUV (265/40 R22 106Y) MFS XL 72CA
summer
Out of Stock
£260.99
Falken Azenis FK510 SUV (265/35 R22 102Y) MFS XL 72CA
summer
In Stock
£203.99
Falken Azenis FK510 SUV (255/50 R20 109Y) MFS XL 70CA
summer
Out of Stock
£189.99
Falken Azenis FK510 SUV (285/35 R21 105Y) MFS XL 72CA
summer
Low Stock
£209.99
Falken Azenis FK510 SUV (285/35 R22 106Y) MFS XL 72CA
summer
In Stock
£207.99