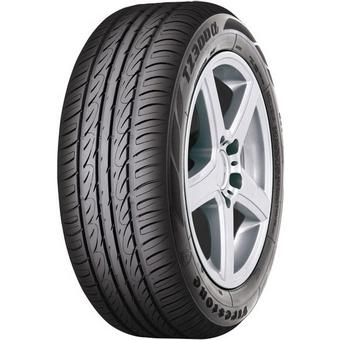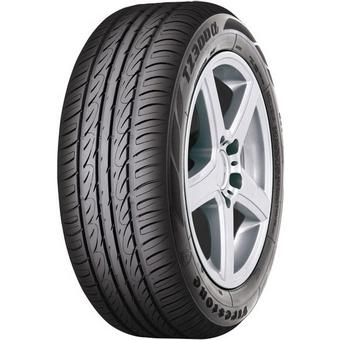 15% off
4 tyres when using our mobile fitting service.
Enter code:
BF15 at checkout
*Subject to availability.
T&Cs apply
The Firestone TZ300 offers outstanding performance and durability, this genuine all-rounder gives you the freedom to follow your own dreams, wherever they may lead.
summer

Firestone

tyres fully fitted
Firestone TZ300 tyres, designed for family saloons, are known for providing a comfortable and quiet driving experience. The Firestone TZ300 tyres are high performance summer tyres suitable for family cars. They offer superior performance on various crucial tyre parameters such as grip, handling, braking responsiveness, and comfort, including noise levels.
TZ300 extra information
Mid-range great value tyre
High safety and comfort levels
Robust and reliable
Other tyres in this range
Tyre Variation
Features
Availability
Price
Firestone TZ300 (175/60 R15 81H) 2014
summer
Out of Stock
£80.99
Firestone TZ300 (185/65 R15 88H)
summer
Out of Stock
£72.99
Firestone TZ300 (175/60 R15 81V)
summer
In Stock
£84.99
Firestone TZ300 (185/65 R15 88H) 2014
summer
Out of Stock
£61.99
Firestone TZ300 (185/55 R14 80H)
summer
Out of Stock
£39.99
Firestone TZ300 (185/65 R15 88V) 2014
summer
Out of Stock
£79.99
Firestone TZ300 (205/60 R15 91V) 2014
summer
Out of Stock
£78.99
Firestone TZ300 (195/60 R15 88H) 2014
summer
Out of Stock
£66.99
Firestone TZ300 (185/55 R15 82H)
summer
Out of Stock
£75.99
Firestone TZ300 (195/50 R15 82H) 2014
summer
Out of Stock
£47.99
Firestone TZ300 (205/60 R16 92V)
summer
Out of Stock
£50.99
Firestone TZ300 (195/60 R15 88V) 2014
summer
Out of Stock
£64.99
Firestone TZ300 (185/55 R15 82H) 2014
summer
Out of Stock
£75.99
Firestone TZ300 (195/50 R15 82V)
summer
Out of Stock
£59.99
Firestone TZ300 (205/65 R15 94H) 2014
summer
Out of Stock
£82.99
Firestone TZ300 (195/65 R15 91H) 2014
summer
Out of Stock
£50.99
Firestone TZ300 (185/55 R15 82V)
summer
Out of Stock
£76.99
Firestone TZ300 (195/50 R15 82V) 2014
summer
Out of Stock
£59.99
Firestone TZ300 (205/65 R15 94V) 2014
summer
Out of Stock
£84.99
Firestone TZ300 (205/50 R16 87V)
summer
Out of Stock
£92.99
Firestone TZ300 (185/55 R15 82V) 2014
summer
Out of Stock
£65.99
Firestone TZ300 (195/55 R15 85H)
summer
Out of Stock
£67.99
Firestone TZ300 (215/55 R16 93V) 2014
summer
Out of Stock
£92.99
Firestone TZ300 (205/50 R16 87W)
summer
Out of Stock
£89.99
Firestone TZ300 (195/55 R15 85H) 2014
summer
Out of Stock
£67.99
Firestone TZ300 (215/55 R16 93W) 2014
summer
Out of Stock
£92.99
Firestone TZ300 (205/50 R16 87W) 2014
summer
Out of Stock
£90.99
Firestone TZ300 (185/60 R15 84H) 2014
summer
Out of Stock
£52.99
Firestone TZ300 RG XL (225/50 R17 98Y)
summer
Out of Stock
£105.99
Firestone TZ300 (195/55 R15 85V) 2014
summer
Out of Stock
£69.99
Firestone TZ300 (215/55 R17 94W)
summer
Out of Stock
£99.99
Firestone TZ300 (185/65 R14 86H)
summer
Out of Stock
£39.99
Firestone TZ300 XL (185/60 R15 88H) 2014
summer
Out of Stock
£67.99
Firestone TZ300 (195/60 R15 88H)
summer
Out of Stock
£66.99
Firestone TZ300 (215/65 R15 96H) 2014
summer
Out of Stock
£94.99
Firestone TZ300 (205/55 R16 91W) 2014
summer
Out of Stock
£54.99
Firestone TZ300 XL (195/50 R16 88V)
summer
Out of Stock
£82.99
Firestone TZ300 (175/60 R15 81H)
summer
Out of Stock
£90.99
Firestone TZ300 (225/55 R16 95W)
summer
Out of Stock
£83.99
Firestone TZ300 (205/60 R15 91H) 2014
summer
Out of Stock
£72.99
Firestone TZ300 XL (215/55 R16 97H) 2014
summer
Out of Stock
£89.99
Firestone TZ300 RG XL (195/50 R16 88V)
summer
Out of Stock
£89.99
Firestone TZ300 (205/60 R15 91V)
summer
Out of Stock
£44.99
Firestone TZ300 XL (215/60 R16 99H)
summer
Out of Stock
£59.99
Firestone TZ300 XL (215/60 R16 99V) 2014
summer
Out of Stock
£102.99
Firestone TZ300 175/60 R15 81V
summer
Out of Stock
£84.99
Firestone TZ300 205/50 R16 87V RG
summer
Out of Stock
£94.99