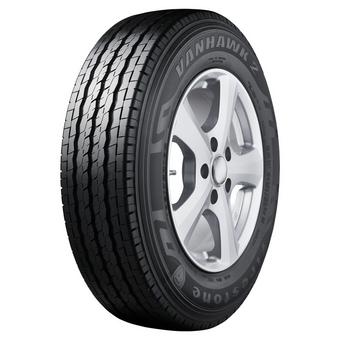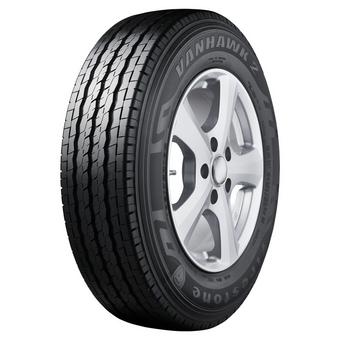 Half Price Wheel Alignment when you buy 2 or more Tyres.
Discount applied in basket.
Price includes valve*, balance and environmental disposal of your old tyres - no hidden extras! *Specialist valves will incur an additional charge. Please enquire in centre.
Firestone's Vanhawk 2 tyre for light commercial vehicles has been built to perform time and time again. With great wet weather handling and improved fuel economy, the Vanhawk 2 helps you to get the job done on time and on budget.
summer
The Firestone Vanhawk 2 tyres are tough and durable and offer the best handling and traction on all surfaces and in all kinds of weather. Thus the tyres are a reliable and helpful business partner.
Vanhawk 2 extra information
Outstanding fuel economy, rolling resistance and wet weather handling
Engineered to keep on performing with robust construction and long wear life
Competitive total cost
Other tyres in this range
Tyre Variation
Features
Availability
Price
Firestone Vanhawk 2 (175/75 R16 101/99R) 72CB
summer
Out of Stock
£107.99
Firestone Vanhawk 2 (185/75 R14 102/100R)
summer
Out of Stock
£74.99
Firestone Vanhawk 2 (195/75 R16 107/105R)
summer
In Stock
£81.99
Firestone Vanhawk 2 (215/65 R16 109/107T)
summer
Out of Stock
£104.99
Firestone Vanhawk 2 (185/75 R14 102/110R) 72CB
summer
In Stock
£75.99
Firestone Vanhawk 2 (205/65 R15 102/100T)
summer
In Stock
£106.99
Firestone Vanhawk 2 (215/65 R16 109/107T) 71CB
summer
In Stock
£106.99
Firestone Vanhawk 2 (185/75 R16 104/102R)
summer
Low Stock
£93.99
Firestone Vanhawk 2 (205/65 R16 107/105T)
summer
Out of Stock
£104.99
Firestone Vanhawk 2 (215/70 R15 109/107S)
summer
Out of Stock
£100.99
Firestone Vanhawk 2 (185/75 R16 104/102R) 71CB
summer
In Stock
£88.99
Firestone Vanhawk 2 (205/65 R16 107/105T) 72CB
summer
In Stock
£104.99
Firestone Vanhawk 2 (215/70 R15 109/107S) 72CB
summer
In Stock
£100.99
Firestone Vanhawk 2 (195/60 R16 99/97H)
summer
In Stock
£98.99
Firestone Vanhawk 2 (205/70 R15 106/104R)
summer
Out of Stock
£93.99
Firestone Vanhawk 2 (215/75 R16 113/112R)
summer
In Stock
£110.99
Firestone Vanhawk 2 (195/65 R16 104/102T)
summer
Out of Stock
£87.99
Firestone Vanhawk 2 (205/70 R15 106/104R) 72CB
summer
In Stock
£93.99
Firestone Vanhawk 2 (165/70 R14 89/88R)
summer
In Stock
£78.99
Firestone Vanhawk 2 (225/65 R16 112/110R)
summer
In Stock
£113.99
Firestone Vanhawk 2 (195/65 R16 104/102T) 72CB
summer
In Stock
£87.99
Firestone Vanhawk 2 (205/75 R16 110/108R)
summer
In Stock
£105.99
Firestone Vanhawk 2 (175/65 R14 90/88T)
summer
In Stock
£85.99
Firestone Vanhawk 2 (225/70 R15 112/110S)
summer
In Stock
£121.99
Firestone Vanhawk 2 (195/70 R15 104/102R)
summer
Out of Stock
£76.99
Firestone Vanhawk 2 (215/60 R16 103/101T)
summer
In Stock
£118.99
Firestone Vanhawk 2 (175/75 R16 101/99R)
summer
Out of Stock
£93.99
Firestone Vanhawk 2 (235/65 R16 115/113R)
summer
In Stock
£127.99
Firestone Vanhawk 2 (195/70 R15 104/102R) 71CB
summer
In Stock
£81.99
Firestone Vanhawk 2 (215/65 R15 104/102T)
summer
In Stock
£110.99
Firestone Vanhawk 2 (215/65 R16 106/104T)
summer
Out of Stock
£104.99