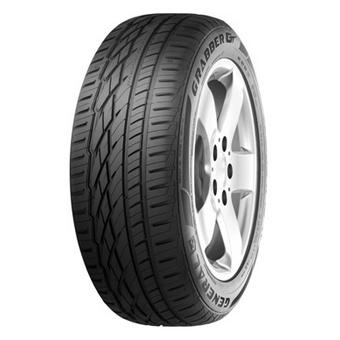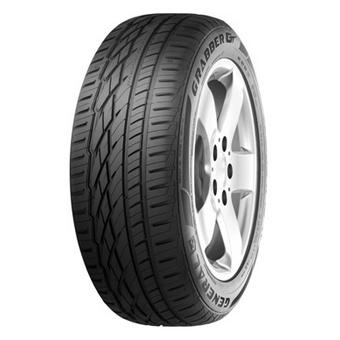 15% off
4 tyres when using our mobile fitting service.
Enter code:
BF15 at checkout
*Subject to availability.
T&Cs apply
mid-range SUV tyre
Ideal for high powered SUVs
summer
General
General has been making tyres in the US since 1915 and has a proven ability to compete in the ever changing industry with manufacturing and technological advancements. With its large range of tyres and sizes, it has long been the customers choice for quality, value and performance in the USA.
Grabber GT
The tyre for fast and powerful SUVs and off road-vehicles. General's Grabber GT is designed for high powered SUVs and off road vehicles. Its asymmetric tread design guarantees outstanding handling characteristics on dry and wet surfaces and a high level of safety thanks to its excellent braking performance in the wet.
Other tyres in this range
Tyre Variation
Features
Availability
Price
General Grabber GT (225/55 R19 103V) FR XL 72EC
summer
In Stock
£141.99
General Grabber GT (225/60 R17 99V) FR 71EC
summer
In Stock
£126.99
General Grabber GT (225/60 R18 100H) FR 71EC
summer
In Stock
£123.99
General Grabber GT (235/50 R19 99V) FR 71EB
summer
In Stock
£144.99
General Grabber GT (235/55 R19 105W) FR XL 72EC
summer
In Stock
£154.99
General Grabber GT (235/60 R17 102V) FR 71EB
summer
In Stock
£129.99
General Grabber GT FR (265/70 R16 112H)
summer
In Stock
£119.99
General Grabber GT (255/45 R20 105W) FR XL 73EC
summer
In Stock
£207.99
General Grabber GT (275/40 R22 108Y) FR XL 73CB
summer
In Stock
£223.99
General Grabber GT FR BSW (195/80 R15 96H)
summer
In Stock
£92.99
General Grabber GT FR BSW (235/55 R18 100V)
summer
In Stock
£123.99
General Grabber GT (255/50 R20 109Y) FR XL 73CB
summer
Out of Stock
£186.99
General Grabber GT (205/80 R16 104T) FR XL 72EC
summer
Out of Stock
£92.99
General Grabber GT FR XL (275/40 R20 106Y)
summer
In Stock
£161.99
General Grabber GT (285/45 R23 107Y) FR XL 75CB
summer
In Stock
£253.99
General Grabber GT FR BSW (205/70 R15 96H)
summer
Out of Stock
£108.99
General Grabber GT FR BSW (235/60 R16 100V)
summer
In Stock
£130.99
General Grabber GT FR (225/55 R17 97V)
summer
In Stock
£125.99
General Grabber GT FR XL (285/45 R19 111W)
summer
In Stock
£179.99
General Grabber GT (215/55 R18 99V) FR XL 72CB
summer
In Stock
£116.99
General Grabber GT FR BSW (215/60 R17 96H)
summer
In Stock
£102.99
General Grabber GT FR BSW (235/70 R16 106H)
summer
In Stock
£95.99
General Grabber GT FR (225/55 R18 98V)
summer
In Stock
£119.99
General Grabber GT FR XL (295/35 R21 107Y)
summer
Out of Stock
£187.99
General Grabber GT (215/60 R17 96V) FR 71EB
summer
Out of Stock
£107.99
General Grabber GT (265/45 R20 108Y) FR XL 73EC
summer
In Stock
£204.99
General Grabber GT FR BSW (215/65 R16 98H)
summer
Out of Stock
£83.99
General Grabber GT FR BSW (255/60 R17 106V)
summer
In Stock
£146.99
General Grabber GT FR (235/50 R18 97V)
summer
In Stock
£117.99
General Grabber GT (215/65 R16 102H) FR XL 72EC
summer
Out of Stock
£100.99
General Grabber GT FR BSW (215/65 R16 98V)
summer
Out of Stock
£104.99
General Grabber GT FR XL BSW (235/60 R18 107W)
summer
In Stock
£133.99
General Grabber GT FR BSW (255/65 R16 109H)
summer
Out of Stock
£111.99
General Grabber GT FR (235/55 R17 99H)
summer
In Stock
£114.99
General Grabber GT FR BSW (215/70 R16 100H)
summer
Out of Stock
£97.99
General Grabber GT FR XL BSW (235/65 R17 108V)
summer
Out of Stock
£113.99
General Grabber GT FR BSW (255/65 R17 110H)
summer
In Stock
£144.99
General Grabber GT FR (235/55 R17 99V)
summer
In Stock
£118.99
General Grabber GT FR BSW (225/65 R17 102V)
summer
Out of Stock
£112.99
General Grabber GT FR XL BSW (255/50 R19 107Y)
summer
Out of Stock
£144.99
General Grabber GT FR BSW (275/55 R17 109V)
summer
In Stock
£146.99
General Grabber GT FR (245/70 R16 107H)
summer
Out of Stock
£106.99
General Grabber GT FR BSW (225/70 R16 103H)
summer
In Stock
£108.99
General Grabber GT FR XL BSW (255/55 R18 109Y)
summer
Out of Stock
£123.99
General Grabber GT FR XL (245/65 R17 111V)
summer
Out of Stock
£152.99
General Grabber GT FR (265/65 R17 112H)
summer
In Stock
£144.99
General Grabber GT FR BSW (235/55 R18 100H)
summer
In Stock
£116.99
General Grabber GT FR XL BSW (255/60 R18 112V)
summer
Out of Stock
£121.99
General Grabber GT FR XL (255/55 R19 111V)
summer
Out of Stock
£137.99
General Grabber GT FR XL BSW (275/45 R19 108Y)
summer
In Stock
£173.99
General Grabber GT FR XL (265/50 R19 110Y)
summer
In Stock
£163.99
General Grabber GT FR XL BSW (275/45 R20 110Y)
summer
Out of Stock
£173.99