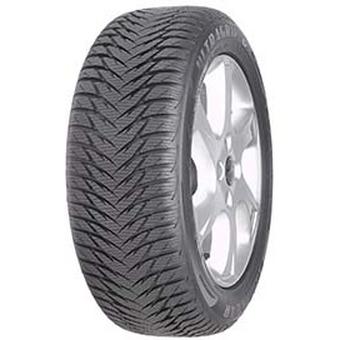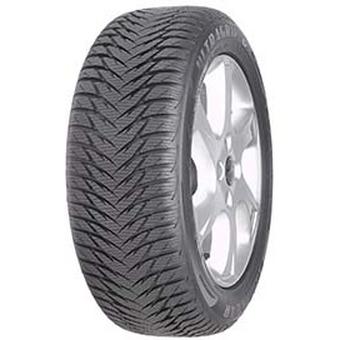 15% off
4 tyres when using our mobile fitting service.
Enter code:
BF15 at checkout
*Subject to availability.
T&Cs apply
Shorter braking distances on snow
Extra grip on winter roads
High aquaplaning resistance
winter
UltraGrip 8 is a winter tyre that delivers outstanding snow traction, offering shorter braking distances on snow, extra grip and improved handling on winter roads and cold weather conditions (below 7 °C).
Other tyres in this range
Tyre Variation
Features
Availability
Price
Goodyear UltraGrip 8 (195/60 R15 88V) 70EB
winter
Out of Stock
£96.99
Goodyear UltraGrip 8 (195/60 R16 99/97T)
winter
Low Stock
£127.99
Goodyear UltraGrip 8 (205/60 R16 92H)
winter
Out of Stock
£141.99
Goodyear UltraGrip 8 (155/70 R13 75T)
winter
Out of Stock
£83.99
Goodyear UltraGrip 8 FP (195/55 R16 87H)
winter
Out of Stock
£112.99
Goodyear UltraGrip 8 (165/65 R14 79T) 2015
winter
Out of Stock
£74.99
Goodyear UltraGrip 8 FP *BMW (195/55 R16 87H) 2014
winter

bm
Out of Stock
£134.99
Goodyear UltraGrip 8 (165/70 R13 79T) 2015
winter
Out of Stock
£73.99
Goodyear UltraGrip 8 FP ROF *BMW (195/55 R16 87H)
Low Stock
£122.99
Goodyear UltraGrip 8 XL (195/65 R15 95T)
winter
Out of Stock
£85.99
Goodyear UltraGrip 8 (185/65 R15 88T) 2014
winter
Low Stock
£88.99
Goodyear UltraGrip 8 (195/60 R15 88H)
winter
Out of Stock
£92.99
Goodyear UltraGrip 8 (205/55 R16 91T) FP 71EE
winter
Out of Stock
£122.99
Goodyear UltraGrip 8 (205/60 R16 96H) FP XL 69EC
winter
Out of Stock
£121.99
Goodyear UltraGrip 8 185/65 R15 88T
winter
Out of Stock
£95.99
Goodyear UltraGrip 8 205/55 R16 91T FP
winter
Out of Stock
£134.99
Goodyear UltraGrip 8 175/70 R13 82T
winter
Out of Stock
£78.99
Goodyear UltraGrip 8 185/60 R14 82T
winter
Out of Stock
£73.99
Goodyear UltraGrip 8 165/65 R15 81T
winter
Out of Stock
£63.99