Tyre Markings Explained - How To Read Your Tyre
---
You may have noticed a series of letters and numbers on your tyre sidewall but knowing what these markings mean can be confusing. Reading tyre markings is essential if you're looking for replacement car tyres, so it's important to familiarise yourself with the different sections from tyre construction to aspect ratio.
Keep reading to discover what tyre sidewall markings mean and how to make sense of each of the letters and numbers.
An example of a tyre sidewall marking is 205/55 R16 /91 V. Each section represents a different aspect of the tyre and consists of the following:

Tyre width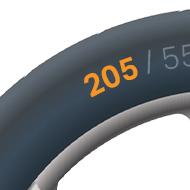 The first set of numbers on the tyre reading is the width of the tyre in mm. So, in this instance, the tyre width would be 205mm.
Tyre aspect Ratio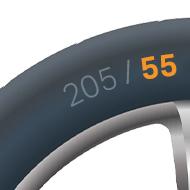 The set of numbers straight after the tyre width refers to the thickness of the tyre wall (or aspect ratio), which is a percentage of the width. So, in this case, 55 would have a height equal to 55% of the tyre's width. This number is often referred to as the tyre profile.
Tyre construction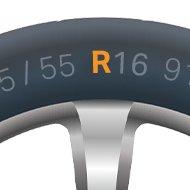 Next, you'll see a letter following the aspect ratio, which in this tyre marking is an R – this represents the tyre construction. R stands for radial and almost all tyres manufactured today will be radial tyres. Less common tyre constructions include B (bias) and D (diagonal).
Tyre diameter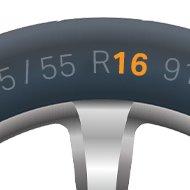 The next set of numbers after the tyre construction letter, represents the inner diameter of the tyre rim in inches. In the example, the diameter of the tyre rim is 16 inches.
Tyre maximum weight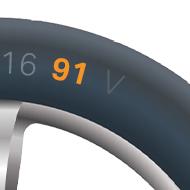 The last set of numbers represents the load rating, which is the maximum weight the tyre can carry in kg, assuming the tyre is correctly inflated.
Tyre speed rating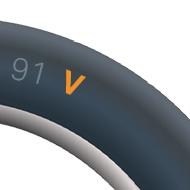 The final letter of the tyre code represents a speed rating, which is the maximum speed that the tyre can handle while correctly inflated and under load. The letter displayed will vary, often between Q and Y. In this example, V means that the maximum speed is 149 mph. Other letters are as follows:
| | | | |
| --- | --- | --- | --- |
| Code | mph | Code | mph |
| Q | 100 | V | 149 |
| R | 106 | Z | Over 149 |
| S | 112 | W | 168 |
| T | 118 | (W) | Over 168 |
| U | 124 | Y | 186 |
| H | 130 | (Y) | Over 186 |
How to read tyre markings

You'll also find another number on your tyre sidewall which represents the date your tyre was manufactured. This will consist of four digits – the first two refer to the week your tyre was manufactured and the last two refers to the year. For example, if the marking on your tyre reads 3820, this means the tyre was made in the 38th week of the year during 2020.

Reinforced tyres are tyres that have been designed to handle extra weight. These tyres will be marked to indicate that they have been reinforced, although the marking varies between manufacturers. This may be shown as XL, EXL, RF, REINF or RFD.

With run flat tyres, you can drive for a short amount of time if you lose pressure or have a puncture, giving you the chance to drive to a safe place. Run flats are designed to last without pressure for approximately 50 miles but should not be driven on faster than 50mph. Again, the markings for run flat tyres can vary between manufacturers but will often be shown as ROF, EMT, RFT, ZP, SSR or DSST.
On EV tyres, you may see the HL load index code at the beginning of the tyre marking. These letters are found on electric vehicle tyres and indicate that the tyre can handle a higher load index. The HL marking was introduced in 2021 and more tyre brands are expanding to include these in their range.

Some tyres are specifically designed to be used with certain vehicle makes to enhance performance. In instances like this, you'll find a marking on the tyre sidewall to indicate that the tyre meets the vehicle manufacturer's standards. For example, BMW and Mini have a star symbol, Audi is AO, Porsche has symbols of n0, n1 and n2 and Mercedes is MO. A list of the OE homologation markings are as follows:
| | |
| --- | --- |
| Manufacturer | OE Markings |
| Audi | AO, AO+, RO1, RO2 |
| Aston Martin | AM |
| Bentley | B |
| BMW/Mini | * |
| Ferrari | K1, K2, K3 |
| Jeep | JP |
| Jaguar | J |
| Lamborghini | L |
| Land Rover | LR |
| Lotus | LS |
| Maserati | MGT |
| McLaren | MC |
| Mercedes | MO, MOE, MO1, MO-S, MOE-S, MO-P |
| Porsche | N0, N1, N2, N3, N4, N5, N6, NF0 |
| Tesla | T0, T1, T2 |
| Volvo | VOL |
Now you know how to read tyre markings, you can find more information on how to choose the best tyres for your vehicle with our dedicated guide.
Need new tyres for your car? Enter your registration & postcode and we'll show you what tyres fit your vehicle.
Shop our tyres
Same day tyre fitting
Did you know that we now offer same day tyre fitting service across our garages nationwide? Simply book online before 1pm and we can replace your tyres the same day to help you get you back on the road safely and swiftly. Please note that availability varies by location. For more information, please head on over to our dedicated same day tyre fitting page where you can find answers to frequently asked questions, choose the right tyres for your vehicle and book your appointment.
Book same day tyre fitting
Introducing the Halfords Motoring Club
At Halfords, we're here to get you from A to B while saving money in the process. Join the Halfords Motoring Club today to access a range of amazing benefits and discounts that are designed to keep you moving, keep you safe and keep you saving.
It's free to join and you'll receive money off your MOT, a free car health check and a welcome voucher that can be spent on any Halfords product or service.
Or choose our Premium membership for a small monthly fee (or a one-off payment) to unlock exclusive member pricing on all motoring products and services online and across our stores, garages and Halfords Mobile Experts, as well as a variety of other benefits that will help you to keep moving for less.
With so much to enjoy, this is too good an opportunity to miss!
Join the Halfords Motoring Club today at www.halfords.com/motoring-club.
Join the Halfords Motoring Club