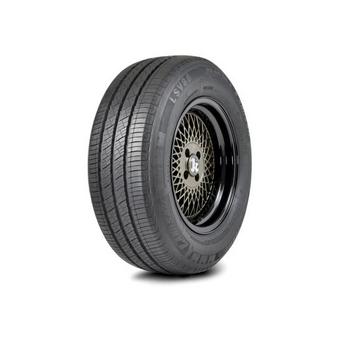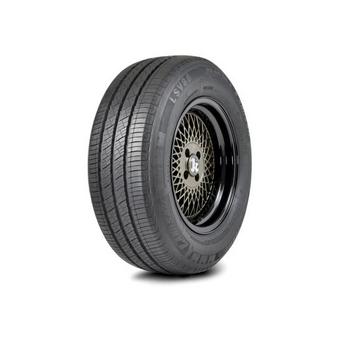 Price includes valve*, balance and environmental disposal of your old tyres - no hidden extras! *Specialist valves will incur an additional charge. Please enquire in centre.
Durability and performance you can rely on for commercial van applications.
summer
Developed for durability and handling in commercial van applications, the LSV88 performs in the most demanding conditions. Reinforced casing offers optimal carrying capacity.
Landsail LSV88 extra information
Reinforced casing offers optimal carrying capacity.
Deep grooves provide traction on demanding surfaces and high wear resistance.
Staggered sipe configuration for improved handling and braking in wet conditions.
Heat- Releasing Shoulder - Continuous "S" grooves improve heat-releasing ability to maximize tire mileage and improve fuel economy.
Dry Grip - Tread design creates a much larger contact area allowing better stability, cornering and control.
Other tyres in this range
Tyre Variation
Features
Availability
Price
Landsail LSV88 (195/65 R16 104/102T) 72EB
summer
In Stock
£69.99
Landsail LSV88 (205/65 R16 107/105T) 72CB
summer
In Stock
£74.99
Landsail LSV88 (195/65 R16 104/102T) 72EC
summer
Out of Stock
£69.99
Landsail LSV88 (LT205/65 R15 102/100T C)
summer
In Stock
£75.99
Landsail LSV88 (195/70 R15 104/102S) 72EB
summer
In Stock
£70.99
Landsail LSV88 (225/65 R16 112/110T) 72CB
summer
In Stock
£89.99
Landsail LSV88 (205/70 R15 106/104S) 72EB
summer
In Stock
£80.99
Landsail LSV88 (LT205/65 R16 107/105T C)
summer
Out of Stock
£74.99
Landsail LSV88 (195/70 R15 104/102S) 72EC
summer
Out of Stock
£70.99
Landsail LSV88 (225/65 R16 112/110T) 72EC
summer
Out of Stock
£89.99
Landsail LSV88 (185/75 R16 104/102S) 72CB
summer
In Stock
£68.99
Landsail LSV88 (LT205/70 R15 106/104S C)
summer
Low Stock
£80.99
Landsail LSV88 (195/75 R16 107/105R) 72EB
summer
In Stock
£70.99
Landsail LSV88 (225/70 R15 112/110S) 72EB
summer
In Stock
£92.99
Landsail LSV88 (215/65 R16 109/107T) 72EB
summer
In Stock
£86.99
Landsail LSV88 (LT215/65 R16 109/107T C)
summer
Out of Stock
£86.99
Landsail LSV88 (195/75 R16 107/105R) 72EC
summer
In Stock
£70.99
Landsail LSV88 (225/70 R15 112/110S) 72EC
summer
Out of Stock
£92.99
Landsail LSV88 (185/80 R14 102/100R) 72EB
summer
In Stock
£66.99
Landsail LSV88 (215/65 R16 109/107T) 72EC
summer
Out of Stock
£86.99
Landsail LSV88 (LT215/75 R16 113/111S C)
summer
Out of Stock
£90.99
Landsail LSV88 (195/80 R14 106/104R) 72EB
summer
In Stock
£70.99
Landsail LSV88 (235/65 R16 115/113T) 72CB
summer
In Stock
£85.99
Landsail LSV88 (215/70 R15 109/107S) 72EB
summer
In Stock
£85.99
Landsail LSV88 (LT225/65 R16 112/110T C)
summer
Out of Stock
£89.99
Landsail LSV88 (195/80 R15 106/104S) 72EB
summer
Out of Stock
£74.99
Landsail LSV88 (235/65 R16 115/113T) 72EC
summer
Out of Stock
£85.99
Landsail LSV88 (LT225/70 R15 112/110S C)
summer
Out of Stock
£92.99
Landsail LSV88 (205/65 R15 102/100T) 72EB
summer
In Stock
£75.99
Landsail LSV88 (LT185/75 R16 104/102S C)
summer
Out of Stock
£68.99
Landsail LSV88 (215/70 R15 C 109/107S)
summer
Out of Stock
£73.99
Landsail LSV88 (LT235/65 R16 115/113T C)
summer
Out of Stock
£85.99
Landsail LSV88 (LT195/65 R16 104/102T C)
summer
Low Stock
£69.99
Landsail LSV88 (215/75 R16 113/111S) 72CB
summer
In Stock
£90.99
Landsail LSV88 (LT195/70 R15 104/102S C)
summer
Out of Stock
£70.99
Landsail LSV88 (215/65 R15 104/102T) 72EC
summer
In Stock
£79.99
Landsail LSV88 (215/75 R16 116/114R) 72CB
summer
Out of Stock
£82.99