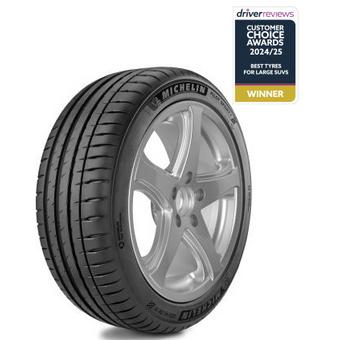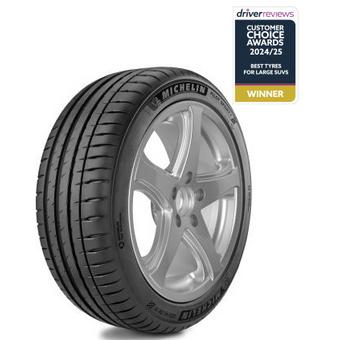 Get ready for journeys of sheer driving pleasure in safety, with tyres that instinctively translate your decisions onto the road.
summer
Michelin's Pilot Sport 4 SUV tyre comes with Dynamic Response technology provides excellent steering control and a high level of reactivity. It's ultra-reactive tread pattern design, that comes from Michelin's motorsport experience, adapts continuously to the road for an optimised footprint on the road.
The wide and deep longitudinal grooves ensure a high level of drainage on wet roads, making sure you stay safe.
Other tyres in this range
Tyre Variation
Features
Availability
Price
Michelin Pilot Sport 4 SUV (225/55 R19 99V) 70EA
summer
In Stock
£165.99
Michelin Pilot Sport 4 SUV (235/60 R18 107V) XL VOL 70AA
summer

vo
Low Stock
£134.99
Michelin Pilot Sport 4 SUV (235/45 R20 100V) XL 72CA
summer
Out of Stock
£319.99
Michelin Pilot Sport 4 SUV (255/50 R19 107Y) XL 72CA
summer
In Stock
£183.99
Michelin Pilot Sport 4 SUV (235/60 R18 107W) XL 72CA
summer
In Stock
£143.99
Michelin Pilot Sport 4 SUV (275/40 R20 106Y) XL 72CA
summer
Low Stock
£212.99
Michelin Pilot Sport 4 SUV (235/50 R19 99V) 70EA
summer
In Stock
£175.99
Michelin Pilot Sport 4 SUV (255/55 R18 109Y) XL 72CA
summer
In Stock
£155.99
Michelin Pilot Sport 4 SUV (235/65 R17 108V) XL 72CA
summer
In Stock
£134.99
Michelin Pilot Sport 4 SUV (275/40 R21 107Y) XL 72CA
summer
Out of Stock
£291.99
Michelin Pilot Sport 4 SUV (235/50 R20 104Y) XL JLR 70AB
summer

ja
In Stock
£215.99
Michelin Pilot Sport 4 SUV (255/55 R19 111V) XL 72CA
summer
In Stock
£160.99
Michelin Pilot Sport 4 SUV (235/65 R18 110H) XL 72CA
summer
Out of Stock
£206.99
Michelin Pilot Sport 4 SUV (275/45 R20 110Y) XL 72CA
summer
In Stock
£255.99
Michelin Pilot Sport 4 SUV (235/55 R19 101V) 70CA
summer
In Stock
£170.99
Michelin Pilot Sport 4 SUV (255/55 R19 111Y) XL 72CA
summer
In Stock
£168.99
Michelin Pilot Sport 4 SUV (245/45 R21 104W) XL 72CA
summer
Low Stock
£315.99
Michelin Pilot Sport 4 SUV (275/45 R21 110Y) XL 72CA
summer
In Stock
£283.99
Michelin Pilot Sport 4 SUV (235/55 R19 105Y) XL 72CA
summer
In Stock
£170.99
Michelin Pilot Sport 4 SUV (255/55 R20 110Y) XL 72CA
summer
In Stock
£263.99
Michelin Pilot Sport 4 SUV (245/50 R20 102V) 70EA
summer
Low Stock
£266.99
Michelin Pilot Sport 4 SUV (275/50 R19 112Y) XL 72CA
summer
Out of Stock
£232.99
Michelin Pilot Sport 4 SUV (235/60 R18 103V) 70CA
summer
In Stock
£168.99
Michelin Pilot Sport 4 SUV (255/60 R18 112W) XL 72CA
summer
In Stock
£139.99
Michelin Pilot Sport 4 SUV (255/40 R21 102Y) XL 72CA
summer
In Stock
£314.99
Michelin Pilot Sport 4 SUV (275/50 R21 113V) XL 72CA
summer
Out of Stock
£350.99
Michelin Pilot Sport 4 SUV (265/40 R21 105Y) XL 72CA
summer
Low Stock
£253.99
Michelin Pilot Sport 4 SUV (255/45 R19 100V) 72EA
summer
Low Stock
£214.99
Michelin Pilot Sport 4 SUV (275/55 R19 111W) 72CA
summer
Out of Stock
£237.99
Michelin Pilot Sport 4 SUV (265/45 R20 108Y) XL 72CA
summer
Low Stock
£251.99
Michelin Pilot Sport 4 SUV (255/45 R20 105Y) XL 72CA
summer
Low Stock
£251.99
Michelin Pilot Sport 4 SUV (285/40 R21 109Y) XL 74CA
summer
Low Stock
£287.99
Michelin Pilot Sport 4 SUV (265/50 R19 110Y) XL 72CA
summer
In Stock
£220.99
Michelin Pilot Sport 4 SUV (255/50 R19 103W) 72CA
summer
Out of Stock
£204.99
Michelin Pilot Sport 4 SUV (295/35 R21 107Y) XL 74CA
summer
Low Stock
£278.99
Michelin Pilot Sport 4 SUV (265/50 R20 107V) 72CA
summer
Out of Stock
£321.99
Michelin Pilot Sport 4 SUV (295/45 R19 113Y) XL 74CA
summer
Out of Stock
£248.99
Michelin Pilot Sport 4 SUV (265/50 R20 111W) XL GOE 72CA
summer
Out of Stock
£278.99
Michelin Pilot Sport 4 SUV (235/45 R21 101Y) XL MO-S ACO 72BA
summer

mo
Out of Stock
£293.99
Michelin Pilot Sport 4 SUV (265/40 R22 106Y) XL GOE 72CA
summer
Out of Stock
£270.99
Michelin Pilot Sport 4 SUV (225/65 R17 106V) XL
summer
Low Stock
£133.99
Michelin Pilot Sport 4 SUV (265/45 R21 104W)
summer
Out of Stock
£345.99
Michelin Pilot Sport 4 SUV (245/50 R19 105W) XL *BMW
summer
In Stock
£217.99
Michelin Pilot Sport 4 SUV (295/40 R21 111Y) XL 74CA
summer
In Stock
£300.99
Michelin Pilot Sport 4 SUV (225/60 R18 100V) 70EA
summer
In Stock
£147.99
Michelin Pilot Sport 4 SUV (235/45 R21 101Y) XL MO 72BA
summer
Out of Stock
£275.99
Michelin Pilot Sport 4 SUV (255/40 R21 102Y) XL MO 72BA
summer
Low Stock
£263.99
Michelin Pilot Sport 4 SUV (255/50 R20 109Y) XL 72CA
summer
In Stock
£245.99
Michelin Pilot Sport 4 SUV (285/45 R20 112Y) XL 74CA
summer
Low Stock
£374.99