Back to results
Family Tents Buyer's Guide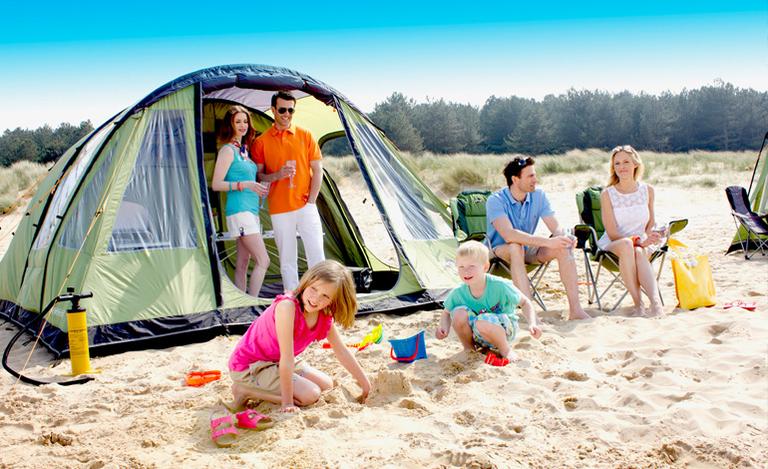 Going camping with the family is a great way to spend some time together. Read our guide to find out about what to look for in a family tent.
Family Tents Buyer's Guide
Nothing says quality family time quite like a camping holiday. Even if the weather's not at its best, huddling under an umbrella whilst eating fish and chips together is the stuff that childhood memories are made of.
If you're all going to be sharing a tent, it's important to get the right one. We've put together this guide for a few tips on what to look for when you're buying a family tent.
The space race
The first thing to think about when you're looking for a family tent is how much space you need. You're not going to want to be all cramped together in a too-small tent, but there's no point in spending extra money for a larger tent if you're not going to use all of it.
You'll notice that the tents on our site mention how many people they can sleep, but there's no harm in going for an extra 'person' or two if you want some more space. For example, for 2 adults with 2 young kids, a 5 person tent will give you some extra room.
Which shape should I choose?
As well as looking at the size of the tent, you'll need to decide which layout you'd like. Some tents will have two bedrooms next to each other that can be converted to a single big room, which is great for younger kids. You can simply zip up the divider to give them separate bedrooms.
For older kids, look for a tent where the bedrooms are separated by a living space, known as vis-a-vis style tents. That way, they can have their own area and you can have yours! Or if you prefer, you could always buy two separate tents.
Living space
As well as bedrooms, it's a good idea for a family tent to have a living space. It provides a great place for the family to gather and play games, and certainly beats all cramming into one bedroom together! Look for one that has walk-in height, so you can stand up.
On some tents, you can peg out the door as an awning. This means that you can have some outside living; perfect for a table and chairs.
Features to look out for
Having lots of people in the tent means that condensation can become a problem overnight, so look out for a tent with a double skin to keep you dry. High visibility guy lines will keep the kids (and you!) from tripping over, and a sewn-in groundsheet helps keep both water and the bugs out.
Won't that be difficult to pitch?
People often think that bigger tents will be difficult to pitch but, like so many things, tents have become much more user-friendly over the years! Lightweight fabrics and poles as well as some clever design means that family arguments when you arrive at the campsite are no more - or at least greatly reduced!
However, if you want to avoid the hassle of pitching a tent altogether, have a look at air tents. These use air beams instead of poles, and pitching one is as simple as laying out the tent, pumping it up, and pegging out the guy ropes!
So why not load up the car and head away for a little break? Have a look at our range of family tents to get started.
View all Family Tents