Back to results
Bike Locks Buyers Guide + Video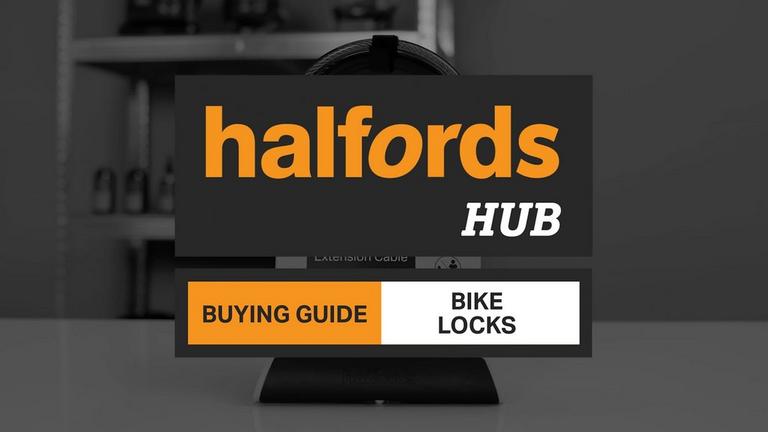 Buying a bike lock is a good investment - so get the low down on the different types available.
If you've splashed the cash on a top of the range bike, or just don't fancy leaving your mode of transport open to thieves, then a bike lock is a cheap and easy way of making sure nobody makes off with your wheels. Our cycle locks buying guide will take you through the different options and help you to choose a bike lock that will keep your bike safe and secure.
How do bike locks work?
---
Different bike locks do different jobs, but most commonly they help to deter thieves from attempting to steal bikes in a couple of ways:
Immobilise
The easiest way to make off with someone's bike is to jump on and pedal it away. If you've got a bike lock that feeds through the wheels and stops the bike from moving, then it makes it harder for someone to ride off on it!
Fasten
By securing your bike to an immovable object, thieves will have a hard time simply picking it up and taking it away.
In most cases, a bike lock will fasten around the bike (either through the frame or through both the frame and wheels) and then lock in place, using either a combination lock that is locked and unlocked with a number code set by the user, or a conventional lock that uses a key. You can then fasten the lock to a lamppost, bike rack, railing or even bench - just make the whole bike and lock can't be lifted over whatever it is you're fasting to!
Which is the best bike lock?
---
There isn't a straight answer to this one, as different types of bike lock all provide varying levels of security for various scenarios. The thing to look out for however is the security rating, and ensuring its right for your bike use.
The bike locks we sell at Halfords all come with either a standard security rating, or a Sold Secure rating. Products with the Sold Secure rating have been tested externally by Sold Secure and then given a bronze, silver or gold rating based on how well they performed under various tests. These tests are carried out annually and determine how well the product protects against tampering or intentional damage, and are based on the time it takes for the lock to be removed using hand tools and eventually power tools.
Halfords test their locks in a similar way, using various tools commonly used by criminals and ranking them accordingly on a 1-10 scale, with locks rated 10 lasting the longest.
It's important to note that no lock, no matter how secure, its 100% thief-proof. Locks will only ever act as a deterrent to a committed thief, but the tougher the lock, the stronger the deterrent.
Bike lock types
---
Best bike lock brands
---
Halfords | Bike Hut
Halfords locks offer enhanced bike security while providing great value for money. They're tested using both our rating and the SoldSecure rating, so you'll be able to see exactly how durable they are on the packaging or product page on our website.
Shop the range »
Magnum
Magnum manufactures heavy-duty bike locks that are designed to stand up to advanced theft techniques like saws and bolt cutters.
Shop the range »
Kryptonite
Kryptonite is one of the world's most trusted bike lock brands, featuring premium build materials and innovative security systems.
Shop the range »
Our top bike security tips
---
Look out for CCTV or security staff
Look out for cameras or other forms of security when choosing a location to store your bike. A thief will be less likely to target an area that's being watched!
Use a high-rated lock in addition with other security products
By using a locking system with a higher security rating alongside another bike lock, the chances of a thief giving up or simply walking away without trying increase considerably thanks to the additional time needed to remove one or more locks. The easy formula to remember is more locks = less chance of your bike being stolen!
Lock your bike with other bikes
Dedicated bike parking areas or bike racks are more likely to deter thieves, thanks to the increased chance of someone turning up just as they're attempting to get your bike lock!
Make sure your bike is harder to steal by following our top tips, and investing in a decent, highly rated lock. If you catch someone stealing your bike or return to find it has been stolen, then always let the police handle the situation - it's much safer and you'll stand a better chance of getting your bike back.