Back to results
Kids Bikes Buyers Guide + Video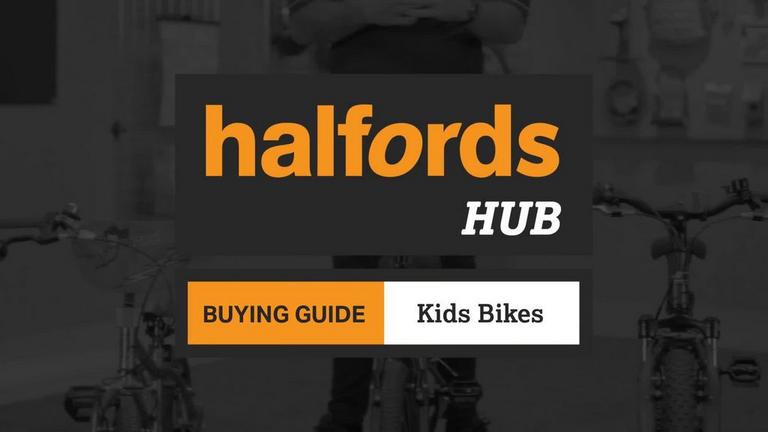 Sizes for kids' bikes might seem a bit confusing, so here's a handy guide to get you started.
With so many brands, models and varieties out there, choosing a two-wheeled Christmas or Birthday present that has the wow factor can be tough. Our Kids Bikes Buying Guide is designed to help you choose the best kids bike for your chils, covering all bases from design and size to price and features.
Why should I buy my child a bike?
---
Bikes are one of the best gifts money can buy. Allowing kids a whole new level of independence, bikes are a great way to get them away from the TV or games console and out exploring the world and they'll even stay fit and healthy while they're at it! Kids bikes are also a great way for families to bond, whether it's a Sunday afternoon bike ride or a car-free commute to school.
What size kids bike do I need?
---
Getting the right size bike is important for both the comfort and safety of your child. Some kids grow faster than others and some just want to be comfortable as they ride, with recommended high saddles or low handlebars the opposite of what they prefer. The best way to get the right kids bike size is to get them to ride it. Just pop into your local Halfords store and ask for some help from one of our bike experts - we'll happily set them up with a short test ride to make sure they're happy.
If you want to keep their bike a secret until the Christmas or Birthday morning, then you'll need to measure their height and match it up to the correct wheel size (unlike adult bikes where the frame dictates the bike size, kids bike sizing is done by wheel diameter). The easiest way to get the right wheel size if you're buying online is to check out our Kids Bike Sizing Guide. It has all the information you'll need, plus you can simply match up your child's height to the right bike wheel size.
Kids Bike Size Chart & Frame Size
---
| Wheel Size | Age of Child (Years) | Height of Child (Inch) | Height of Child (cm) |
| --- | --- | --- | --- |
| Balance | 2 - 4. | 2' 11" - 3' 5" | 88 - 105 |
| 12" | 3 - 5. | 3' 3" - 3' 8" | 98 - 112 |
| 14" | 4 - 6. | 3' 5" - 3' 10" | 105 - 117 |
| 16" / 18" | 5 - 8. | 3' 8" - 4' 2" | 112 - 127 |
| 20" | 7 - 9. | 3' 10" - 4' 6" | 117 - 136 |
| 24" | 8 - 11. | 4' 2" - 4' 9" | 127 - 145 |
Check out all our Kids Bike Sizing Guides
Learning to ride
---
Actually buying your child their first bike is only half the battle! Once they've unwrapped it and you1ve built it (or asked a Halfords bike technician to build it for you for free), then the journey to getting comfortable on two wheels can begin. Many adults take being able to ride a bike for granted, so you'll need a bit of patience when it comes to getting them started.
For beginners and younger kids aged 2-4 years a balance bike is a good starting point, as they can get used to gliding along and balancing without any pedals getting in the way. For first mountain bikes or other kids bikes, stabilisers are often a great way to get them pedalling and turning confidently before the balancing part comes along.
Your child's cycling ability will greatly affect the bike you choose to buy. Be careful not to jump up bike sizes too quickly by buying a larger bike for them to 'grow into' as they may be put off by oversize pedals and handlebars, but at the same don't restrict any adventurousness by buying a kids bike when they really want a BMX or mountain bike!
Get more great tips and tricks in our how to ride a bke guide.
Stabilisers
---
For younger kids, or if your child is struggling to get the hang of balancing, stabilisers are a great way of giving them the confidence to keep riding without having to worry about falling on their side when they lose momentum! These small wheels are fitted each side of the back wheel and do the hard work while little ones focus on steering and pedalling. The big benefit to stabilisers is that they can be removed once the art of balancing has been mastered.
The best kids bikes
---
2-4 Years
Small children may struggle to ride a 'traditional' bike with pedals and gears, so a balance bike may be a better option. With nothing getting in the way, kids can push themselves along using their feet and practice taking their feet off the ground when they're going fast enough, teaching them all about balance and maintaining speed.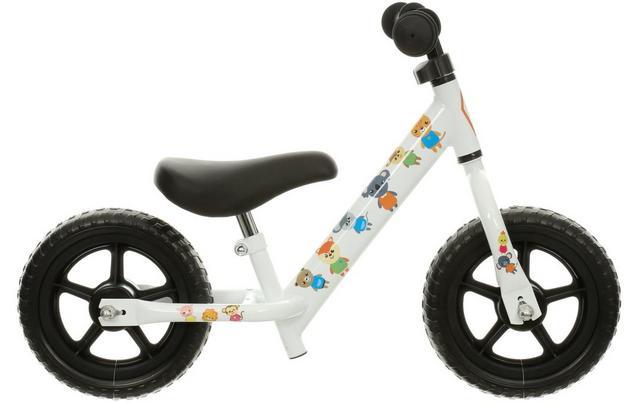 Our Indi Balance Bike is a great option for total beginners, with a large, comfy seat and soft rubber handlebars making it perfect for smaller tots who are just beginning their cycling lives!
---
A great hybrid bike for commuters is the Carrera Subway hybrid bike. One of our bestsellers, the Crossfire features a sturdy and light aluminium frame, rigid front forks, Clarks brakes for improved stopping and Shimano gears to make your commute a breeze. There's also space for a rear pannier frame to be added, so you can attach pannier bags for storing an extra pair of clothes or even a small laptop.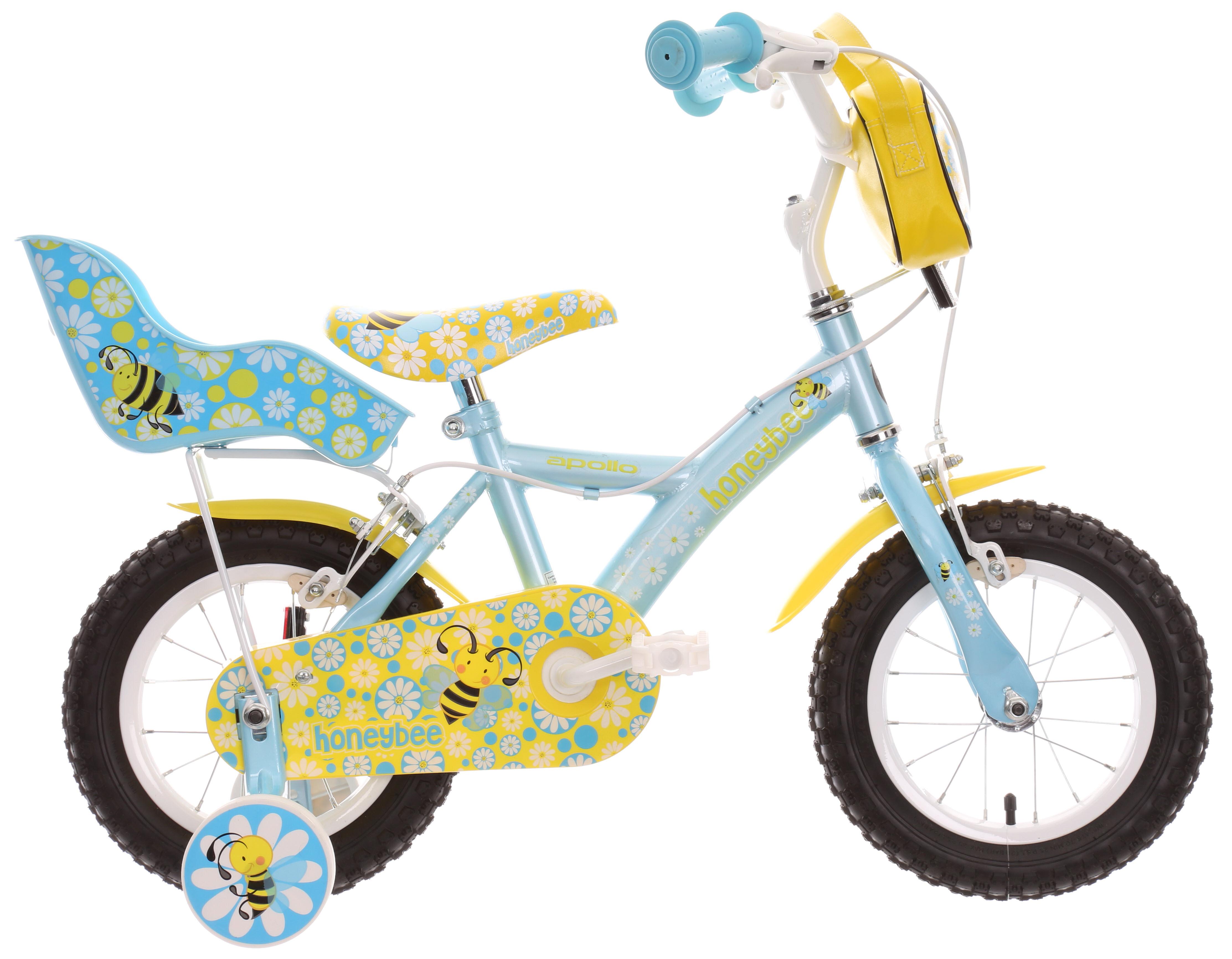 The Apollo Honeybee is a great option for this age range, with a handlebar bag, rear doll carrier and stabilisers, as well as a fun bee theme to keep them interested! Another of our favourite bikes however is the Motobike - a mini Motocross bike complete with race faring and numbers, perfect for little racers who want to be the next dirt bike superstars!
Shop now &
---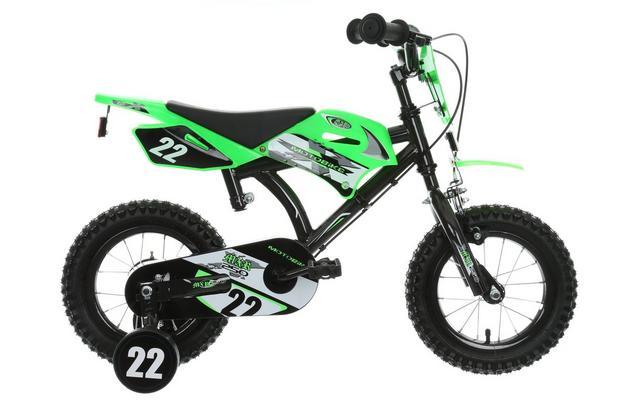 5-8 Years
As your child's confidence grows, they can move to larger 16 - 1'' wheel bikes. Bikes for kids aged 5-8years begin to look and feel more like adult bikes, which is perfect if they're itching to get on a big boy or girl's bike, but they'll still be manageable for smaller kids too.
If you're looking for a bike that's easy to ride, but big enough to handle that recent growth spurt, then the Apollo Sparkle and Apollo Fade are good choices. The Sparkle comes with a built-in chain guard for protecting little fingers, and the stabilisers can be attached or left off depending on what stage they're at.
7-9 Years
As kids get older (and potentially more adventurous), it's likely that they'll want to start moving away from the colourful character bikes and onto something a bit more 'grown up'. This is where you?ll start to see the word 'junior'. Junior bikes are designed specifically for kids who are a bit too big for typical children's bikes, but not quite ready for adult bikes. Our 20'' wheel bikes are perfect for this age group.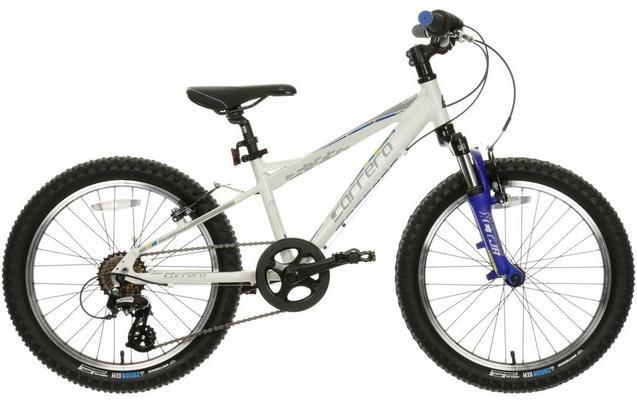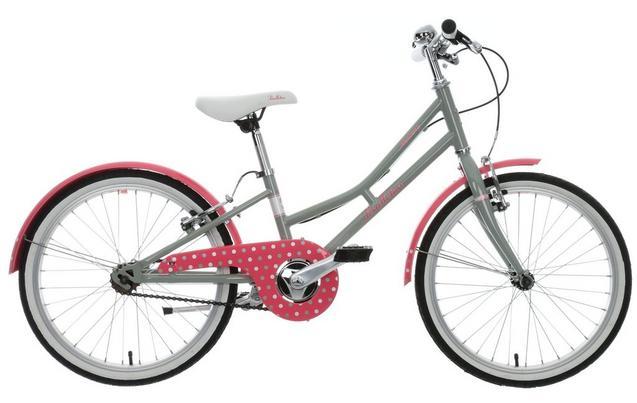 Bikes like the Carrera Luna or the Pendleton Hanberry are excellent choices in what can be a difficult bike to get right - they've got all the features you'll find on an adult bike, but with smaller frame and wheels sizes that make them comfortable to ride.
8+ years
For older kids and young teens, our 24-26'' wheel bikes are definitely the answer. At this stage, you may want to start looking at a bike they can 'grow into', which may make financial sense, but take care not to start jumping to adult bikes too soon - uncomfortable riding positions thanks to frames / wheels that are too large can potentially be unsafe; if the bike is too big, then the risk of losing control or even falling off increases. Again, buy a bike that matches their measurementsmatches their measurements, or even better let them test ride different sizes to see what they're comfortable with.
A great mountain bike for 8+ year old children is the Carrera Blast Junior - it's one of our bestselling junior bikes. This bike will keep up with energetic kids and the robust frame and front suspension will soak up the punishment!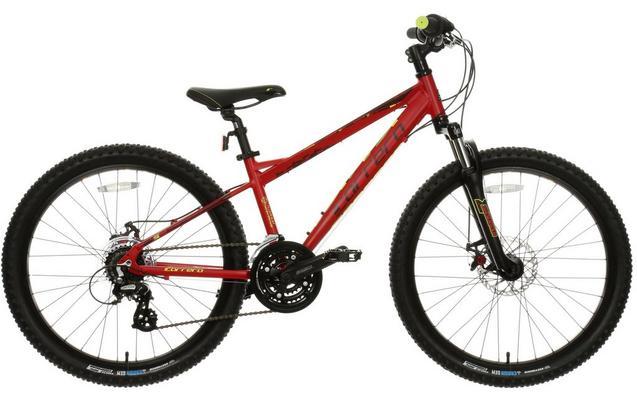 Kids BMX Bikes
---
BMX (bicycle motocross) bikes may be on your child's radar - after all, they look pretty cool and are perfect for pulling stunts and tricks. With smaller frames and wheels and low-slung saddles and even add-ons like stunt pegs, BMX bikes are ideal for older, adventurous kids who would prefer a day at the skate park than an afternoon trundling around the park.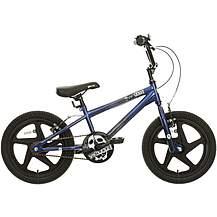 Check out the X-rated Shockwave if you've got a speed demon in the family, a mini BMX with fun decals and a tough design build that will handle those inevitable bumps and collisions!
Bikeability
---
If you're trying to teach your child how to ride a bike, then make sure you check out Bikeability. This cycling training programme is based on the government's National Standard for cycle and instructor training and helps beginners to start learning in traffic-free environments before developing their skills to progress on to local roads to tackling often busier, multi-lane roads and complex junctions. It's a great way of ensuring youngsters are fully aware of road safety when it comes to cycling.
Learn more about Bikeability
Safe cycling for kids
---
Cycling is generally a safe activity, but there are a few hazards to be aware of. Investing in a few safety accessories as soon as you decide which bike to buy will means they're covered from day one.
Helmet
Without a doubt the most important piece of safety equipment on this list. Helmets can prevent serious head injuries, and they'll go a long way to preventing nasty cuts and bruises too. Make sure your helmet fits your child's head correctly and isn't too large or small - consider buying an adjustable helmet so it can be adjusted as they grow.
Shop kids helmets
Lights and reflectors
---
Bike lights are a legal requirement if your child will be riding after dark, but they're also great for making sure everyone on the road or pavement can see exactly where they are. Reflectors are installed on all Halfords bikes as standard, but there's no harm at all in attaching as many as possible to give other road users the best chance of seeing your child.
Shop bike lights and reflectors
Bell
As well as teaching kids how to be polite with a gentle ring of their bell, bells can also be the warning that pedestrians need to get out of the way fast, especially if a learner is struggling get their bike under control, avoiding any embarrassing collisions! They could even end up being the thing that allows drivers or other cyclists to stop in time.
Shop kids bike accessories
Kids bike maintenance
---
weService | weRepair
Kid's bikes are designed to withstand rough handling and frequent riding, but they may eventually start to show signs of wear and tear. With Halfords bikes, you can get unlimited free safety checks for as long as you've got the bike, and we even offer annual bike servicing that will keep parts and components in full working order. Just ask a Halfords bike expert in-store or book your kids bike service online.
Cycle Services »
weFit
If you don't fancy having to spend a day in the shed putting your new bike together (or more importantly, you're worried about not putting it together properly!) then let Halfords build it for you, at no additional cost. Just select 'free bike build' at the online checkout or ask a Halfords team member at the till.
Free Bike Build »
---
You should now be up to speed on kid's bikes! Just remember, if you're still struggling to pick the right kids bike or you have questions of sizing or bike features, then just ask - we've got bike experts in every Halfords store who'll be happy to help.