Back to results
Kids Bikes Buyers Guide + Video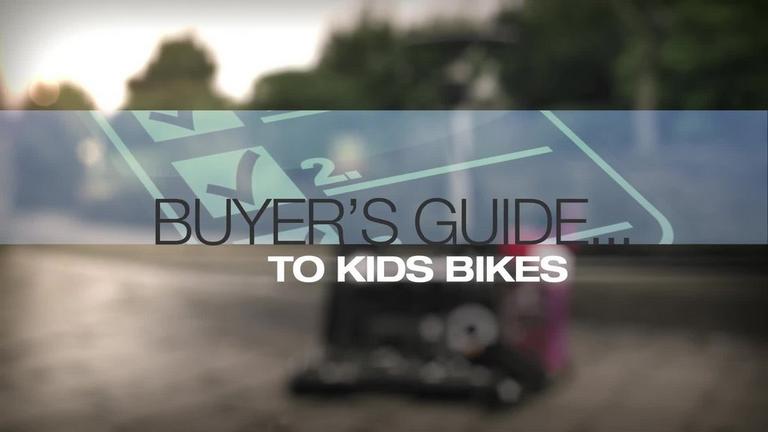 Sizes for kids' bikes might seem a bit confusing, so here's a handy guide to get you started.
Kids' Bikes Buyer's Guide
Whether your little one is ready for their first bike or has outgrown their old one, there's a few things to take into account when you're on the hunt for a new one. Ensuring that your child enjoys their first cycling experiences will help to set them up for a lifetime of healthy living.
Choosing a Bike
Looking at children's bikes can be pretty overwhelming, as kids vary in size a lot more than adults! Because of this, kids' bikes tend to be split into sizes based on the size of the wheels, from 12 inches to 24 inches (and beyond, but 26 inches is a standard size for an adult mountain bike).
It's important to pick a bike that's the right size for your child, as one that's too large can be uncomfortable and difficult for them to ride. If your child's in between sizes then it makes sense to pick the larger one, but putting them on a bike that is far too big for them may put them off the experience.
But Won't That Be Expensive?
Children have a tendency to grow like weeds, getting through bikes at a rate of knots. That's one of the reasons why kids' bikes tend to be simpler in terms of features, keeping them at a more affordable price.
We include several features on our kids' bikes to make them more suitable for little ones, such as chain guards (to protect tiny fingers), short reach brake levers, removable stabilisers, and lots of fun accessories to keep them entertained! Our range of Apollo and Carrera kids' bikes can also be personalised with their name, making them extra special.
Getting the right size
The best way to find the right size child's bike is, of course, to pop them on the bike. If you can, nip into a store and try a few out. You're looking for a bike where your child can put their toes on the floor when they're sat on the saddle, as well as enough room for them to stand over the top tube. It's also good to look at them from the side, to see if the bike is long enough for them. Children tend to ride in a more upright position, but if they're squashed onto a short bike then it can be unstable and uncomfortable.
Of course, sitting your child on a bike might spoil the surprise if it's going to be a gift! We've included a size guide below where you can use their height to get an idea of what might be a good size.
| Wheel Size | Age (Years) | Height (Inch) | Height (cm) |
| --- | --- | --- | --- |
| Balance | 2 - 4. | 2' 11" - 3' 5" | 88 - 105 |
| 12" | 3 - 5. | 3' 3" - 3' 8" | 98 - 112 |
| 14" | 4 - 6. | 3' 5" - 3' 10" | 105 - 117 |
| 16" / 18" | 5 - 8. | 3' 8" - 4' 2" | 112 - 127 |
| 20" | 7 - 9. | 3' 10" - 4' 6" | 117 - 136 |
| 24" | 8 - 11. | 4' 2" - 4' 9" | 127 - 145 |
View all Kids' Bikes