Back to results
Halfords Bike Repairs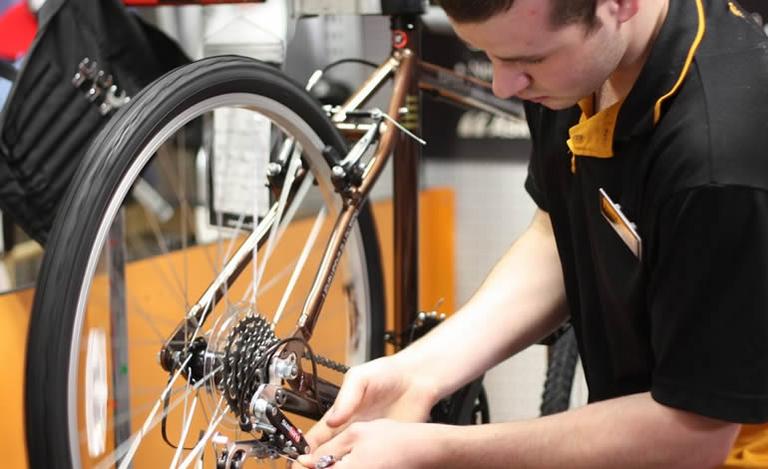 From gear troubles to wobbly wheels, we've got trained staff here to help you with any bike woes.
Cycle Repairs at Halfords
Whether you've snapped a spoke on an off-road epic, have a puncture and you're in a hurry, or if your bike is just looking a bit sorry for itself, Halfords offer a huge range of bike repairs in-store to help get you back on the road.
From punctures and wobbly wheels to brake and gear trouble, our fully trained and dedicated mechanics are here to help. We can carry out a wide variety of bicycle repairs on broken parts, or fit new ones where required.
When you bring your bike along for repair, the first thing we will do is assess it. We can then either:
Complete the repair while you wait.
Provide you with a quote within 24 hours and complete the repair within 48 hours, subject to parts availability.
To get you riding again as quickly as possible, we stock a wide range of bike parts in-store. If the part you need is not available, we're able to order thousands more from our range within 24 hours, or straight from the manufacturer within 48 hours.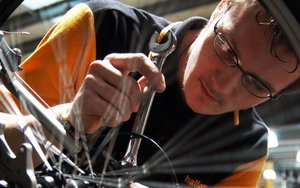 All cycle repair work carried out by our professional mechanics is guaranteed for a minimum of six months.
Types of Bike Repair Available
All our bike repair work has a fixed pricing structure. The repairs we offer include:
Tyres and Wheels
Puncture Repair - tyre and/or tube replacement - £5/€6
Wheel spindle/bearing replacement/re-grease - £15/€18
Wheel truing (subject to wheel condition) - £10/€12
Wheel assembly (with tyre and tube) and fitting - £20/€25
Wheel build/spoke replacement (per wheel) - £25/€31
Slime service (per wheel) - £6/€10
Gears
Gear adjustment (with existing cable) - £6/€7
Gear service (including replacement inner cables) - £18/€23
Gear cable - replace and adjust (single) - £8/€10
Chain fitting - £8/€10
Front mech fit / Rear mech fit - from £15/€19
Bottom bracket service or replacement - £25/€30
Crank set replacement - from £15/€18
Brakes
Brake adjustment (with existing cable) - £6/€7
Brake service - cable type (including replacement inner cables) - £18/€22
Hydraulic disc brake service each (replace fluid and bleed system) - £20/€25
Brake cable (single) - replace and adjust - £9/€11
Brake blocks - fit and adjust (front or rear) - £6/€6
Fit new free-wheel or cassette (wheel only) - £8/€8
General Jobs
Headset or fork replacement - £20/€25
Headset service - £10/€12
Handlebar replacement - £12/€15
Suspension fork fitting (free if purchased from Halfords) - £20/€25
Pre-booking may be required. Contact your local store to book in a bike repair.
All bicycle repair work is quoted in advance and carries a 6 month guarantee on labour and a 12 month guarantee on parts (excluding wear and tear and misuse*). You'll receive a free check over and estimate before any work is carried out. All prices exclude parts, except where stated.
*Your statutory rights are not affected.
Halfords Bike Care Plans
To help guard against the cost of future bike repairs, you should consider taking out a Halfords Bike Care Plan. After a one-off payment of as little as £25/€30, Halfords will provide free labour on all bike maintenance and repairs for a whole year.
That means all labour on repairs, maintenance and fitting will be free for 12 months - all you'll have to pay for are the parts. What's more, we even include an annual service worth £50/€60 as part of the plan.
This brilliant offer is only available at Halfords - take a look at our bike maintenance and care guide for more information on the service.

Halfords – Bike Service Price Match Promise
At Halfords we strive to offer our customers first class service and products at competitive prices, and Price Match our Gold and Silver Services against our competitors.
We offer price match on our Gold Bike Service against other retailers, including the following products;
Evans; Gold Service
Cycle Surgery; Full Bike Service
Go Outdoors; Full Service
We offer price match on our Silver Bike Service against other retailers, including the following products;
Evans; Silver Service
Cycle Surgery; General Bike Service
Decathlon; Full Maintenance Service
Go Outdoors; Intermediate Service
We price match our Services at point of purchase, based on the currently advertised online price ? just ask instore.
Terms & Conditions
The competitors price must be publically advertised online and cannot include any membership/personal discounts
We cannot match bulk promotional offers such as buy one get one free
No other promotional offers or vouchers can be used on top of a price match
We will match at point of purchase, based on the advertised price on that day.
View all Bikes