Back to results
Kids Scooters Buyers Guide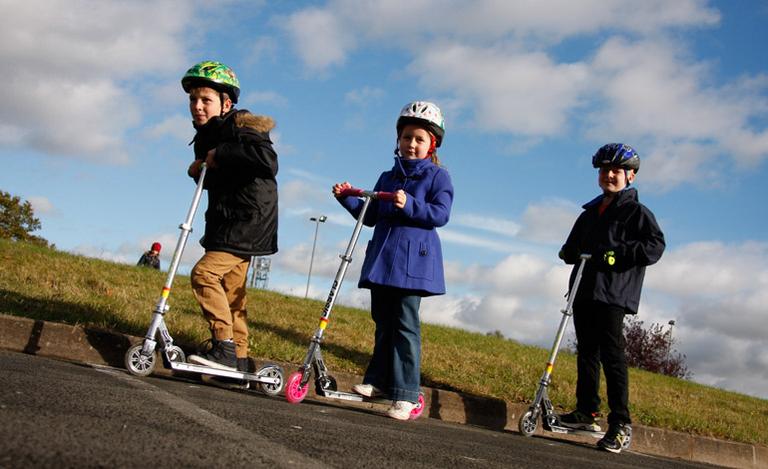 Thinking of getting a scooter for your little one? Take a look at our buyer's guide to kids' scooters to help you pick the right one.
Kids Scooters Buying Guide
If your little one is full of beans then getting them a scooter is superb for helping them burn off some of that extra energy! With so many different types of scooters available it can make hard to pick out the right type for your child - so take a look at our guide to kids' scooters for some handy advice.
Getting the Right Size Scooter for Children
Picking the right scooter size and type for your child's age means that they'll have much more fun, whether they're whizzing to school on two wheels, or just playing at the park. Generally speaking the scooter's handlebars should reach your child's hip/waist height. This is the ideal scooter size, as it means they'll be able to ride with greater control - and more confidence. You'll also want to make sure the scooter isn't too big - kids should be able to ride their scooter with a straight back, and not hunched over!
Choosing a Kids Scooter
Children can be spoilt for choice when it comes to all the different scooter styles available. Here are some features and scooter types you might want to look out for when making your decision:
3 & 4 Wheeled Scooters - Usually made from plastic, these are great for little ones just getting started with a scooter as the extra wheels make things more stable for wobbly toddlers
Adjustable Handlebars - These can be a smart idea if you'd like to get more use out of the scooter. As your child grows you can adapt the handlebar height to suit them - perfect for growth spurts!
Folding Scooters - Fantastic for kids to ride on during the school run, these scooters are easily portable, so once you've dropped the kids off you can fold the scooter away and carry it or pop it in the boot hassle-free
Electric Scooters - A really fun way of getting around, electric scooters tend to be powered by batteries which need charging, and can usually reach speeds of around 10mph
Stunt Scooters - Designed for slightly older children, these are usually sturdier (with clamps and stronger construction) so kids can easily and safely practise their tricks at the skate park. Remember, most folding scooters are not suitable for stunts or tricks due to their design - have a read of our stunt scooters buyers guide for more info
Scooter Accessories & Parts
Already got a scooter? Here are some of the parts you might want to consider to give it a bit of an upgrade or make things a bit more durable:
Wheels - Upgrading your scooter's wheels is a way of guaranteeing smoother and easier rolling
Grips - It's usually fairly easy to change grips on many scooters, so you can customise the style and make things a bit comfier
Pegs - Adding stunt pegs means you can try out loads of new tricks. Often available in different colours, pegs need to be the right size for your scooter.
So there you have it - a quick run through of the different scooters out there! Be sure to take a look at the scooters we've got here at Halfords to find the right type for your child.
View all Kids Scooters