Back to results
Spray Paint Your Car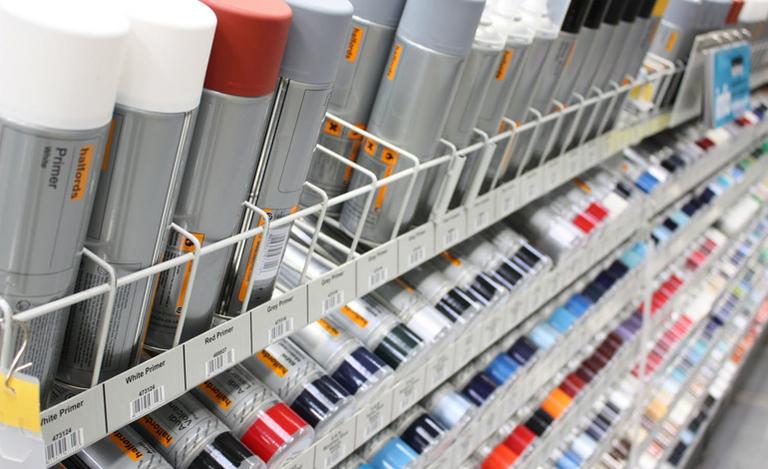 A fresh lick of paint can breathe new life into your car, and we've put together this guide to help.
Spray Paint Your Car
Whether your car has a few scratches here or there or its entire paint job needs to be completely overhauled, a fresh coat of paint can make a world of difference to its appearance. Read on for our tips on how to achieve that perfect finish.
Our colour match paint mixing service offers 48,000 colours including colours for both classic cars and motorbikes. Use the correct coloured primer and remember: if you're using metallic paint, over-spray the finish with lacquer to get the correct shine.
Checklist
You'll need these tools and materials before you get started:
Spray Painting Your Car
Step 1: Getting Set Up
The best time for you to spray paint your car is in the summer when it's warm and dry, as aerosols don't always work well in the damp and colder temperatures slow down the drying time. If it's not warm and dry outside, work in a well-ventilated garage. Wear overalls or old clothes and disposable gloves - goggles and a dust mask will also keep stray droplets of spray paint away from your eyes, nose and mouth.
Step 2: Preparation
To prepare your vehicle for spraying, rub the surface down using aluminium oxide abrasive paper (graded at 80 grit) down to bare metal. Apply a rust treatment product if required and allow it to dry fully.
Step 3: Masking Up
The area to be painted should now be clean and dry - any traces of dirt or wax can be removed using cellulose thinners. Mask off any areas not being painted using masking tape and newspaper (to avoid hard edges, increase the area to be painted by moving the masking tape back gradually as you apply each coat of paint).
Step 4: Spraying Primer
Holding the spray can approximately 25cm away from the surface to be painted, apply a number of coats of primer at 15-minute intervals until the area is evenly covered. Go an inch over the original layer of paint to help it blend in, using several light layers of paint.
Step 5: Preparing to Paint
Allow at least 24 hours for the primer to dry thoroughly, then rub down with 1200 grit wet and dry paper until smooth. Clean the area with warm, soapy water, rinse, and then dry fully.
Step 6: Applying the Paint
To start painting, shake the can vigorously for two minutes to ensure the paint is thoroughly mixed. Apply a number of coats at 15-minute intervals, shaking the can between each one.
Step 7: Metallic Paint
If you're using a metallic paint colour, allow the paintwork 24 hours to dry then rub it down with 1200 grit wet and dry paper. It should lose its gloss appearance and take on a dull, matt finish. Clean with warm, soapy water, rinse and dry.
Step 8: Finishing Off
Nearly there! Now you need to apply two coats of lacquer, separated by a gap of 15-minutes.
If the finish looks patchy, apply another coat of paint or wait until the surface is completely dry before rubbing it down and starting the lacquering process again.
Et voila! We now recommend that you stand back and admire your work.
View all Paints and Body Repairs