Back to results
Halfords Dash Cam Fitting Service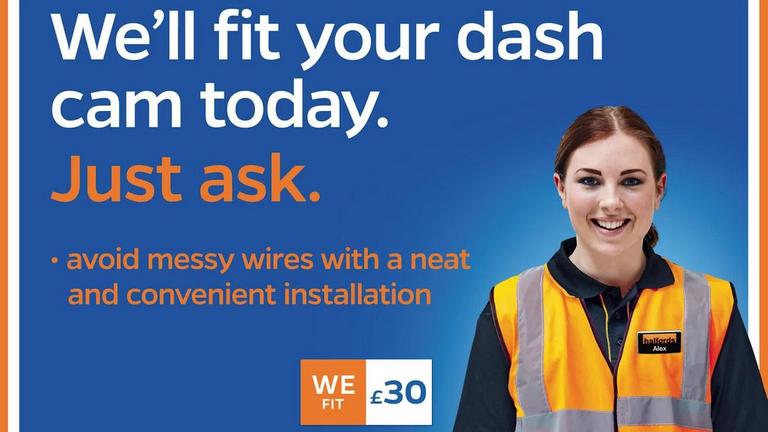 Here at Halfords our experts can professionally fit your dash cam into your car. Read on for the how and the why!
Halfords' Dash Cam Fitting Service
Dash Cams keep a video record of any incidents that might happen on the road. That means that if something were to happen, you'd have video evidence to back up your version of events. Because of this, they can even be used to lower your insurance premium!
Want to find out more about what a Dash Cam is? Then take a look at our buyer's guide to Dash Cams.
Dash Cam Fitting at Halfords
Normally, your Dash Cam is plugged into the cigarette lighter for power. By getting it permanently installed by one of our professional fitters, the power cable can be neatly hidden behind the Dashboard and hard wired to your car's ignition - freeing up your cigarette lighter for any other gadgets!
Halfords stock a large range of dashboard cameras to suit all types of vehicles ensuring you can have the largest choice of brands including Nextbase & Garmin which both have devices which can be used within most vehicle types
Why Should I Get My Dash Cam Professionally Fitted?
There are a few reasons to get your Dash Cam installed:
Always on - your Dash Cam will turn on when you turn on the ignition, and turn off when you turn the engine off, meaning that you're always recording in case something happens out on the road.
Neater - there's no cable hanging over your car's dashboard and getting in your way.
Doesn't use the Dash Cam battery - so there's no fear of it running out of battery at a crucial moment.
Keeps your cigarette lighter free - perfect for using other gadgets.
How Much Does It Cost to Get My Dash Cam Fitted?
Getting your Dash Cam professionally fitted at Halfords costs £30/€35, and there are no hidden costs. Once you've bought your Dash Cam*, all you need to add is an SD card (the memory card which you'll save your videos to) and you're good to go!
How Do I Get My Dash Cam Fitted?
If you're buying your Dash Cam in store, speak to one of our in-store experts who'll be more than willing to help you out!
If you're buying your Dash Cam online, you can have it fitted if you choose to Click & Collect your order. All you need to do is:
Add the Dash Cam to your basket
Once you click Checkout, you'll be given the option to purchase the fitting service.
Click the option to purchase the fitting at the checkout, and select an appointment at your chosen store.
Dash cam fitting is only available on selected vehicles - please get in touch with your local store for more information.
See all Dash Cams