Back to results
Halfords Dash Cam Fitting Service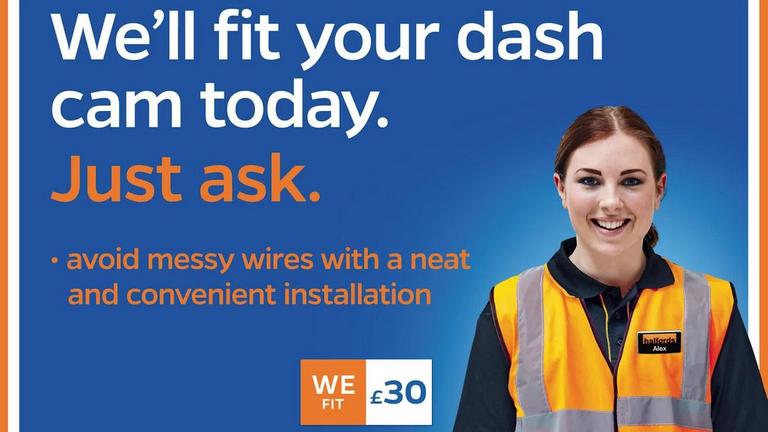 Here at Halfords our experts can professionally fit your dash cam into your car. Read on for the how and the why!
Although this is fine for many drivers, trailing wires across the dashboard or the loss of a vital power source for charging phones or powering sat navs can put people of using a dash cam, even though this great bit of kit could end up saving them money. But did you know that you can also have your dash cam fully fitted by Halfords?
Dash Cam Fitting at Halfords
---
By getting your dash cam permanently installed by one of our professional fitters, the power cable can be neatly hidden behind the Dashboard and hard wired to your car's ignition - freeing up your cigarette lighter so you can charge phones, sat navs, travel DVD players, mini fridges or any other travel gadget imaginable!
Why Should I Get My Dash Cam Professionally Fitted?
---
There are a few reasons why getting your dash cam hard-wired into your vehicle is advantageous:
Always on - As long as your engine is running, your dash cam is working - no more loss of recording capabilities when the cable is pulled out by accident or swapped for a phone charger.
Neater - All dash cam cables are tucked behind the dashboard, so you won't forever catching wires as you change gear or climb in and out of the car.
Keeps your cigarette lighter free - Power your sat nav or charge your phone without having to unplug your dash cam.
How Much Does It Cost to Get My Dash Cam Fitted?
---
Halfords dash cam fitting costs £30/€35, and there are no hidden costs. Please not that we'll check your car first to make sure that the dash cam you have bought can be fitted, and to ensure the safety of our installers.
How Do I Get My Dash Cam Fitted?
---
If you're buying your Dash Cam in store, just speak to one of our in-store experts who'll be more than willing to help you out. If you're buying your dash new cam online, just follow these simply steps:
1. Add the Dash Cam to your basket
2. Once you click Checkout, you'll be given the option to purchase the fitting service.
3. Click the option to purchase the fitting at the checkout and select an appointment at your chosen store.
Shop dash cams
How long does it take to fit a dash cam?
---
Fitting time varies from vehicle to vehicle, but we'll book in a one-hour slot to ensure we've done the job properly. It usually takes less time than this, but we'd prefer to get things right and not have to rush. Many of our stores offer hot drinks, free wi-fi and comfy waiting areas, plus you can browse the rest of our ranges while you wait!
Can I still unplug and store my dash cam when I park up?
---
Yes, you'll still be able to unplug the cable and detach your dash cam to store it safely in the glove box when you're not driving, but if your dash cam has parking mode, it's better to leave it attached and running to record any bumps or collisions.
Important note: Dash cam fitting is only available on selected vehicles - please get in touch with your local store for more information.