Toddler Car Seat Buyers Guide (9-25kg/85-105cm)
---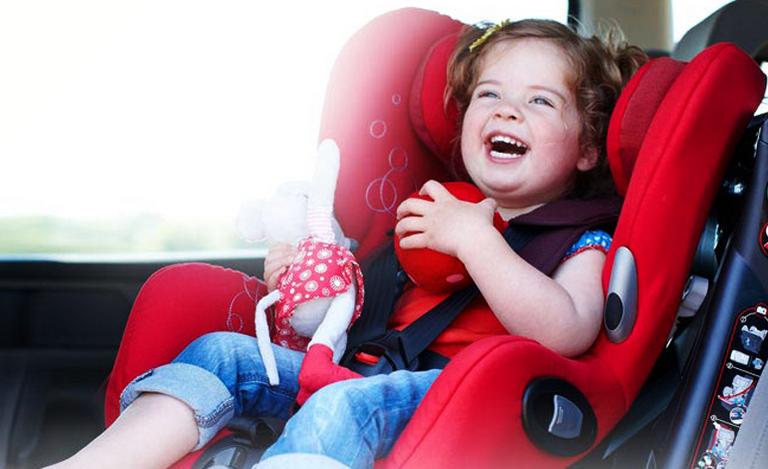 As your child grows, you'll need to ensure that they have the right size car seat for their weight and height, something that is important for both safety and comfort.
Here's our guide to finding the perfect toddler seat, for when your little one's had their first growth spurt!
Toddler car seat safety
It's a legal requirement for every child up to the age of 12 or 135cm (150cm ROI) in height to use a car seat.
Just as importantly, you'll need to make sure your child travels in a car seat that's appropriate for their size. If you use a seat that's too big or small, you'll be compromising on safety and the comfort of your child.
Your child will start out in a baby car seat which is designed to secure your child up until they're approximately 15kg. Once they've outgrown their first car seat, it'll be time to upgrade to either a toddler car seat or a multi-stage seat.
Shop toddler car seats
Toddler car seat sizing
Car seat sizing is covered by two different regulations: R44 and i-Size.
R44 (weight based) seats
R44 car seats are separated into groups, typically based on the approximate weight of a child.
A baby car seat will protect your child until they're 15kg at which point you'll need to upgrade to a toddler's car seat. These are for children from around 9kg to 25kg, but some multi-stage seats can be adapted as your child grows and will last until your child no longer legally requires a car seat. Otherwise, you'll need a child car seat after your child has outgrown their toddler seat. You can learn more about baby and child car seats here:
R44 Size Guide
| Group | Child's weight | Age of child |
| --- | --- | --- |
| 0 | Birth up to 10kg/22lb | Birth up to 6 to 9 months |
| 0+ | Birth up to 13kg/29lb | Birth up to 12 to 15 months |
| 0+ & 1 | Birth up to 18kg/40lb | Birth up to 4 years |
| 1 | 9-18kg / 20-40lb | 9 months to 4 years |
| 1 & 2 | 9-25kg / 20-55lb | 9 months to 6 years |
| 2 | 15-25kg / 33-55lb | 4 to 6 years |
| 1, 2 & 3 | 9-36kg / 20-79lb | 9 months to 6 years |
| 2 & 3 | 15-36kg / 33-79lb | 4 to 12 years |
i-Size seats
i-Size seats were introduced in 2013 and use a height-based sizing system. Within the i-Size regulations, seats must undergo an extra side-impact test that isn't included under the R44 regulation. All i-Size seats are also compatible with ISOFIX systems, making it easier to attach the seats into a car.
i-Size seats come in three different sizes, each of which has a rough equivalent within the R44 sizing system:
0-85cm (approximately G0+ in weight-based system) – rear-facing baby carrier or baby seat using a harness
0-105cm (approximately G0/1/2) – rear-facing baby seat until your child is at least 76cm, then forward facing
100-135cm (UK)/150cm (ROI) (approximately G2/3) – forward-facing child seat
Multi-stage seats
Multi-stage seats are designed to grow with your child, spanning multiple groups. Adapting these seats is easy, and most come with adjustable headrests and harnesses so you'll always get the perfect fit. Here are some great multi-stage seats for toddlers:
Combination seats
At this stage of your child's life, they'll probably be moving from a rear-facing seat to a forward-facing one. It's safest for children to travel facing the rear of the vehicle for as long as possible, but when their legs get too long, they'll need to turn around. A combination child car seat can be used facing either way, so they can stay with your child for longer than others.
Some combination seats can be adapted to run from group 0+ all the way to group 3 (36kg/135cm/150cm in ROI), so you can use the same one from birth until your child is 36kg or 135/150cm (ROI).
Moving up
Once your child moves to forward facing seats, it's time to start looking at group 1 (9-18kg/76-105cm) and group 2 seats (15-25kg/100-135cm). Some more adaptable seats can be used by your child up to group 3 (22-36kg/100-135/150cm(ROI)) as well.
Shop multi-stage seats
What to look for
All car seats available from Halfords are made to meet R44 or i-Size safety standards. As some car seats can be used by your child for many years, it's really important to make sure that the one you get has the features you need! Here are some things you might want to consider when purchasing a child car seat:
Fitting - does the seat attach using the seatbelt or ISOFIX? Find out more about ISOFIX here.
Convenience - how easy is it to secure the seat and child in place?
Reclining mechanism and padding - for comfortable sleeping as well as being able to see where they're going!
Side impact protection - for added protection and peace of mind. All i-Size seats go through extra side-impact testing and many incorporate side-impact protection technology.
Removable covers - in case someone has a little accident.
Impact shields - an alternative to standard harnesses, impact shields reduce the stresses on a child's neck, shoulders, and head in a crash.
Car seats at Halfords
Hopefully, you now feel a bit more clued up on the best toddler seat for you. However, we have lots of fully trained, RoSPA-accredited staff members throughout our stores who will be more than happy to guide you through this big decision.
To make it really easy for you to choose the right car seat for your little one, we have also broken down all the features of our car seat range into the following categories:
Simply look out for these icons when choosing your car seat to ensure you're getting all of the features that are important to you.
If you're still unsure and would prefer to talk this through with one of our experts, contact us on Live Chat where we can offer more advice.
Introducing the Halfords Motoring Club
Don't miss out! Join the Halfords Motoring Club today to access a range of amazing benefits and discounts that are designed to keep you moving, keep you safe and keep you saving.
It's free to join and you'll receive money off your MOT, a free car health check and a welcome voucher that can be spent on any Halfords product or service.
Or choose our Premium membership for a small monthly fee (or a one-off payment) to unlock exclusive member pricing on all motoring products and services online and across our stores, garages and Halfords Mobile Experts, as well as a variety of other benefits that will help you to keep moving for less.
With so much to enjoy, this is too good an opportunity to miss!
Join the Halfords Motoring Club today at www.halfords.com/motoring-club.
Join the Halfords Motoring Club