Cosatto All in All Rotate Group 0+/1/2/3 Car Seat - Wildling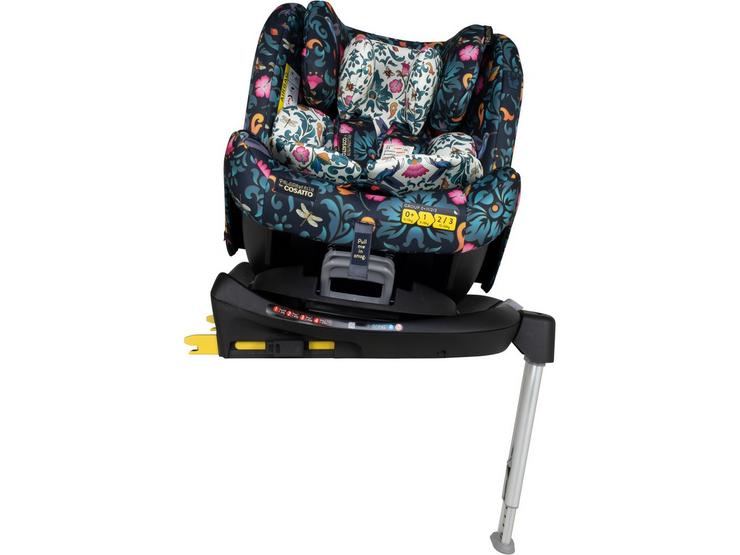 10 people are viewing now
5 purchases during last 48 hours
Cosatto All in All Rotate Group 0+/1/2/3 Car Seat - Wildling
Easy Access Rotation
Extended Rear Facing
Suitable from birth up to 36kg (approx. 12 years old.)
Cosatto All in All Rotate Group 0+/1/2/3 Car Seat - Wildling
Group 0/0+/1/2/3 car seat.
Suitable from birth up to 36kg (approx. 12 years old.)
Extended rearward-facing 0-18kg (approx. 4 years old)
Forward-facing 9-36kg (approx. 12 years old)
Complies with R44/04
Evolves with your child. Adjustable multi position shoulder and headrest heights for the perfect fit.
When you are stationary you can rotate the seat for easy access to your child from the car door. Always drive with seat in fixed position. Seat rotation is for stationary use only.
Side impact protection – contoured seat shape with deep side wing panels, built to absorb forces.
Includes patented 5 point plus anti-escape system. (Group 1 only).
5 position seat recline for comfort
Quick release 5 point safety harness distributes forces over the body.
Padded removable seat liner & newborn seat insert.
Anti-slip chest pads and tummy pad included.
Removable washable soft goods. You'll thank us.
Industry leading free 4 year guarantee.
Wondering which car seat does it all? The
Cosatto All in All Rotate Group 0+/1/2/3 Car Seat - Wildling
is here. With ISOFIX fitting options and suitable throughout all stages up to 36kg (approx. 12 years old), the All in All Rotate comes with all the great features of the All in All + including side impact protection as well as an excellent rotate feature for easy access.
Extended Rear Facing.
The All in All Rotate is ISOFIX from Group 0+ and includes Extended Rear Facing (ERF). Scientifically proven it's safer to travel rearward for longer, our All in All Rotate ERF mode is suitable up to 18kg (approx. 4 years old) for excellent value and safety.
Easy Access Rotation.
All in All Rotate can be rotated to side-facing for easy access from a car door with the simple push of a button. No more stretching and leaning in when lifting baby out or when doing up the harness. All in All Rotate locks easily into the position you need.
Multi-Fit.
The All in All Rotate is suitable for a wide variety of cars whether they have ISOFIX anchorage points or not. Rearward-facing up to 18kg (approx. 4 years old) and forward-facing up to 36kg (approx. 12 years old). Suitable when belted in all Groups (0/0+/1/2/3), ISOFIX mode for group 0/1 & ISOFIT for group 2/3.
Extra Security.
With exclusive 5 point plus Anti-Escape system and an adjustable flip-out side impact protection system, plus even more padding, All in All brings added in-car safety.
Comfy and Easy.
An easily adjustable harness is one of the new features we've added to improve the comfort and ease of your All in All Rotate experience. All in All Rotate then locks into position either forward or rear facing when you're on the move. Plus, with one hand easy-adjust, multiple recline options and a design that's great for transportation, All in All Rotate has you covered.
Find out if this seat fits in your car
Where can I fit this car seat?
Group 0+ rearward facing, fitted using the vehicle belt with support-leg only
Group 0/ 1 rearward facing, fitted using the ISOFIX low anchorage points with support-leg only
Group 1 forward facing, fitted using the ISOFIX low anchorage points with support-leg only
Group 1 forward facing, fitted using the vehicle belt with support-leg only
Group 2 forward facing, fitted using the ISOFIX low anchorage points only (ISOFIT)
Group 3 forward facing, fitted using the vehicle belt only
Group 2 forward facing, fitted using the vehicle belt only
Group 3 forward facing, fitted using the ISOFIX low anchorage points only (ISOFIT)
Group 2/3 forward facing,fitted using the vehicle belt only
Group 2/3 forward facing, fitted using the ISOFIX low anchorage points only (ISOFIT)