Cybex Solution Z i-Fix Group 2/3 Car Seat - Deep Black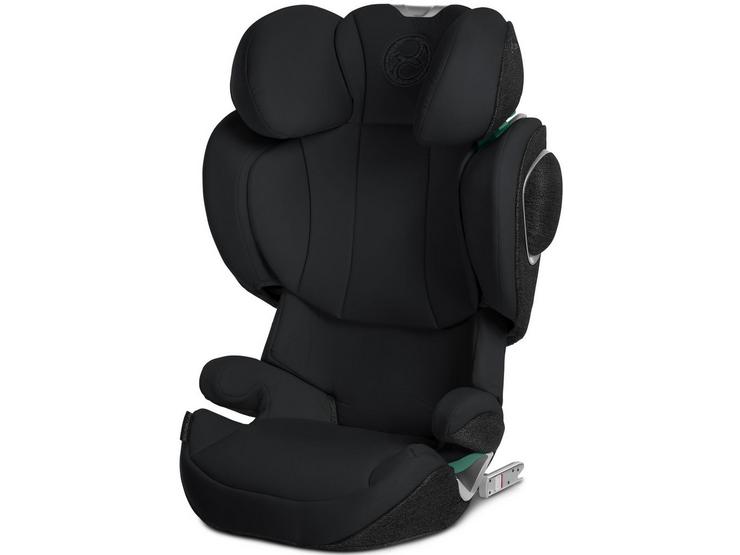 10 people are viewing now
5 purchases during last 48 hours
Cybex Solution Z i-Fix Group 2/3 Car Seat - Deep Black
Age Range : 3 - 12 Years
I-Size : Yes
Adjustable Headrest : Yes
Cybex Solution Z i-Fix Group 2/3 Car Seat - Deep Black
Isofix compatible

3 Year Warranty
Energy-absorbing shell

L.S.P. System
Adapts to your growing child
Designed to grow with your child, the Cybex Solution Z i-Fix Group 2/3 Car Seat - Deep Black has been tested to the latest (UN R129/03) safety standard - incorporating enhanced testing procedures for side collisions.
Equipped with 12 height settings and automatic width adjustment, the head and shoulder protectors can be easily adjusted with one hand to meet each child's individual space requirements.
The patented reclining headrest keeps your child's head in the safety zone of the car seat, and the seat's air ventilation system keeps the seat at a cool temperature for your child's comfort on hot days.
The reclining headrest is a patented technology which prevents the child's head from tipping forward while sleeping. It ensures that the child's head remains in the safety zone at all times, which is especially important in the event of a side-impact collision.
Features & Benefits:
Suitable for children between 100cm and 150cm (from approx. 3 up to 12 years)

Crash tested to latest (UN R129/03) safety standard

The Solution Z i-Fix grows with your child from 3 to 12 years, a long timeframe with lots of growth. Offering 12 positions, the head and shoulder protectors can be adjusted in height with automatic width adjustment to meet the individual space requirements of the child. The smart one-handoperation makes it quick and easy for the parent to adjust

The air ventilation system provides a comfortable seat temperature for your child even on hot days

L.S.P. System Plus offers increased safety in the event of a side-impact collision. It reduces the force of a side-impact in combination with the energy-absorbing shell by approximately 25%

ISOFIX for easy installation and extra stability

Cybex Safety Pads actively guide the head into a safe position during an accident

Energy-absorbing shell

3 Year Warranty
Care Instructions:
Under no circumstances should a car seat be used on a passenger seat where there is an active airbag.
Correct fitting of all car seats and boosters is of paramount importance to make them most effective in the event of an accident. Not all car seats fit all cars and it is important to check for fitting suitability on all cars you intend fitting the seat to, as well as re-checking if you change your car.
Always read the instruction booklet which comes with your car seat to achieve a safe and correct fitting, retaining the guide for future reference. We recommend fitting your car seat in advance of first using it.
We recommend that babies shouldn't be left in Group 0/0+ car seats (infant carriers) for prolonged periods.
Please see the manual provided here for further details
Size guide
| Car Seats | Baby | Toddler | Child |
| --- | --- | --- | --- |
| Weight (kg) | 0 - 19kg | 9 - 36kg | 15 - 36kg |
| Weight (lbs) | 0 - 42 | 20 - 80 | 33 - 80 |
| Height (cm) | 40 - 105 | 70 - 135 | 100 - 135 |
| Height (Inch) | 1' 4" - 3' 6" | 2' 4"- 4' 5" | 3' 4" - 4' 5" |
| Age | 0 months - 4 years | 9 months - 12 years | 4 - 12 years |