BMX bikes can be great fun and are often smaller and more robust than road and mountain bikes. BMX bikes are designed for either urban riding or pulling off stunts and tricks on the flat or on ramps at the skate park. Here's our guide to BMX bikes and some of the key features to look out when choosing.
What does BMX stand for?
BMX stands for Bike Motocross. Taking cues from the big jumps seen on dirt bikes by the likes of Evel Knievel in the 70s, bike manufacturers decided to create lightweight bikes with smaller frames and wheels that would be easier to jump over ramps or ride quickly over or around obstacles. BMX bikes are suitable for a wide variety of rides and surfaces, but mostly they're used for vert riding (getting big air off halfpipe ramps), freestyle riding, jumping over ramps and kickers, or even racing over dirt or urban courses.
BMX Key Features
BMX bikes look quite different from other bikes you'll see out there. The biggest differences are:
Frame
BMX frames are much smaller than mountain or road bike frames, and they're often chunkier. The important part here is that the frame is easier to move around, especially when doing impressive tricks on the flat or moving the bike around in the air on a big jump. However, as the frame needs to be able to handle more punishment on hard landings and when jumping over obstacles, thicker tubes and more durable build techniques mean that BMX bikes aren't necessarily lighter despite being smaller. Frame sizes tend to be 'one size fits all', but there are smaller frames for children who want to get in on the action.
Wheels and Tyres
BMX bikes also have smaller wheels to match the smaller frame. BMX riding is all about short bursts of speed on the flat or on the way to a ramp, rail or kicker, so smaller, slicker tyres that provide grip on smoother surface like concrete or polished wood mean you'll be able to go faster. You can however change out the tyres on your BMX for something with a bit more grip if you're going to be riding on loose surfaces, so keep an eye out for knobbly tyres with ridges if you're going to be going off road. Our most popular wheel size is 20 inches, but you'll find smaller 16 inch wheels for kids all the way up to 24 inch wheels for nippier freestyle or urban rides.
Brakes and Gears
As BMX bikes are designed to be ridden on the flat and in short bursts, simple single-gear systems tend to be favoured by BMX riders, so you'll see these on all of the BMX bikes we sell. As well as allowing riders to build up enough speed to do things like jumps, single gear systems require little maintenance.
Brakes are important on BMX bikes, as they'll help riders to stop in a hurry if a trick goes wrong or even do freestyle tricks where the front or back wheel needs to stay in place as the rider balances on it. Many BMX bikes use a standard V-Brake, with 'blocks' that squeeze against the sides of the tyres to create friction that slows the bike down, but you'll also find U-brakes that take up less space on the bike and offer more powerful braking. Many BMXs feature both front and back brakes, but some models that focus on trick riding may only have a back brake.
A huge difference you'll see on BMX bikes compared to normal braking systems is a gyro braking system. As the handlebars of the BMX often need to be rotated 360 degrees on certain tricks, the brake cable that goes from the handlebars to the brake itself needs to be much more flexible, as a standard cable would simply twist around the handlebar post and prevent the handlebars from turning. A gyro system uses a clever locking mechanism to allow the handlebars to rotate freely without the cable getting in the way.
The Best BMX Bikes
Halfords have a range of fantastic BMX bike options for your kids to show off their tricks and stunts! Here are some of our top picks for the best BMX bikes:
Hyper Nitro Circus Jet Fuel BMX Bike - 20" Wheel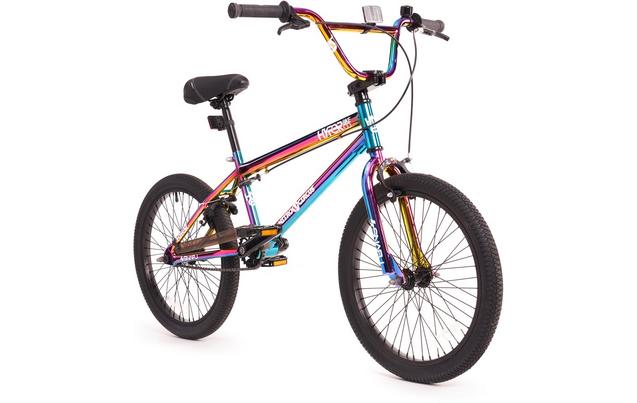 For kids that love to stand out, the Hyper Nitro Circus Jet Fuel BMX Bike is the bike for them. Built with a robust steel frame, the vibrant jet fuel spray design replicates the bikes ridden by the Nitro riders.
Shop now
---
X-Rated Spine BMX Bike - 20" Wheel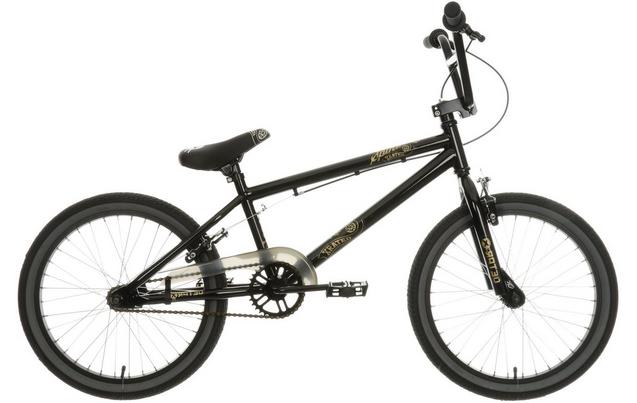 The X-Rated Spine BMX Bike is perfect for adventurous souls who love to show off their tricks. Designed for kids 7 and over, this is an ideal option for kids looking to take their skills to the next level.
Shop now
---
X-Rated Shockwave Kids BMX Bike - 20" Wheel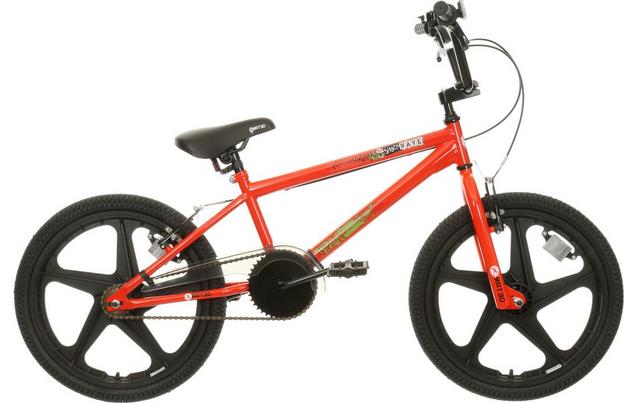 The X-Rated Shockwave Kids BMX Bike is a great choice for kids looking to take their first step into the BMX world. The V brakes make for reliable braking and its single speed makes for a simple, hassle-free ride.
Shop now
---
X-Rated Mesh Dirt Jump Bike - 26" Wheel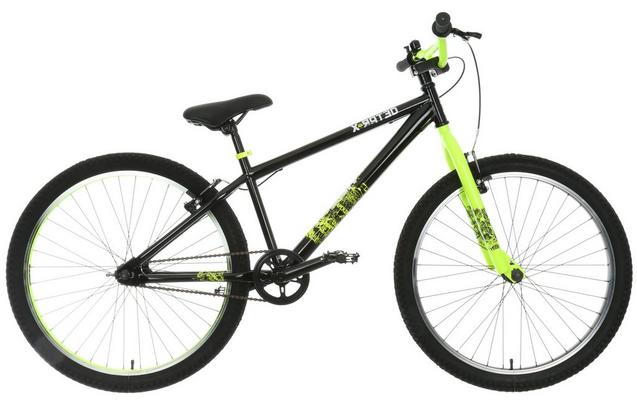 Kids will wow their friends with the X-Rated Mesh Dirt Jump Bike! With robust V brakes and aluminium pedals, kids will love showing off their latest jumps and tricks. The double wall alloy rims provide additional force while jumping.
Shop now
---
Mongoose Switch R50 BMX Bike - 20" Wheel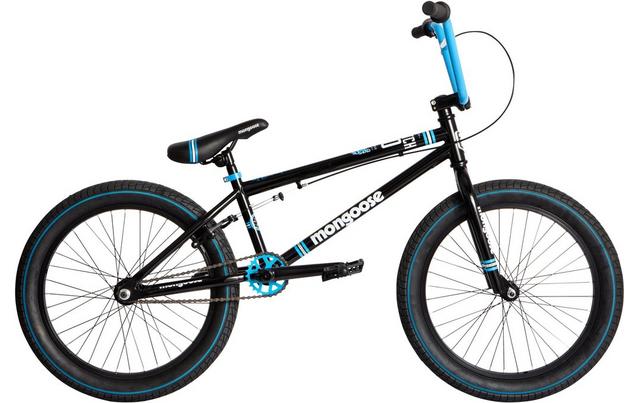 The Mongoose Switch R50 BMX Bike allows kids to unleash their skills! The lightweight frame makes it easy to whizz away while the single speed makes for a no-fuss cycling experience.
Shop now
---
X-Rated Flair BMX Bike - 20" Wheel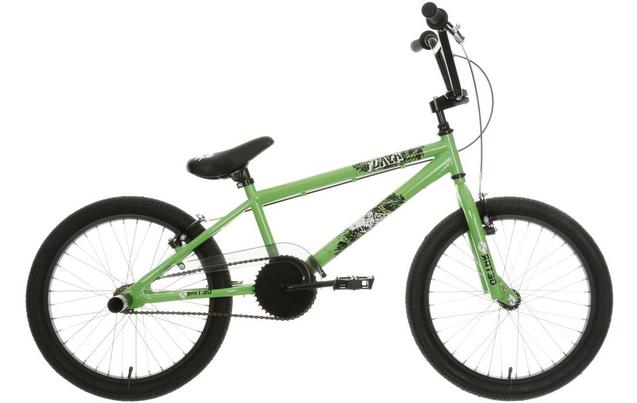 The X-Rated Flair BMX Bike is a great option for kids looking to take their first step into BMXing. Robust and lightweight, the V brakes allow for superior stopping power, giving kids the confidence to work on their tricks!
Shop now
---
Should I get a BMX Bike or a Mountain Bike for my child?
This one is down to their personal preferences, but if you aren't sure of the advantages of each type of bike, then you should check out our BMX vs Mountain Bike Buyer's Guide. It's got plenty of information on the advantages and disadvantages of each bike type.
BMX Bike Accessories
Kitting out a BMX with a few must-haves can allow riders to pull off more impressive tricks, or even just make riding safer.
If you're riding at night or even on dull afternoons, then a set of lights are a must have. We'd recommend a Lezyne LED Lemto front and bike light kit, as they're light and easy to fit on any type of bike, plus they won't come off as easily on tricks and jumps.
For rail grinds and freestyle tricks, a pair of stunt pegs are an absolute must. Stunt pegs attach to the axle of the front or rear wheel (or both) and provide an extra bit of bike that riders can stand on or use to slide down rails. A pair of X-rated stunt pegs are easy to fit and are super cheap, perfect for riders who are just starting out.
For adventurous riders, 'wipe outs' (BMX speak for falling off) will happen frequently, so a helmet is an absolute must. For younger riders, a Harsh Pro EPS Helmet is a great shout, with lightweight yet super-strong EPS foam offering additional protection.
To protect hands, knees and elbows, a set of pads are recommended if the plan is to hit the verts and ramps at a skatepark. An X-rated pad set will do the job without getting in the way.
BMX Bike Build and Additional Servicing
We guarantee that whoever is riding their new BMX will want to get straight out and start riding! Don't create any unwanted delays by getting your bike fully built by one of our expert technicians. Our BMX bike experts will put your new BMX together and even get rid of the packaging for you. For bikes £350 and over, this is completely free of charge, and for those that are less than £350, one of our expert technicians will build the bike and complete a full safety check for only £10.
Looking after BMX bikes is critical too, especially if they're going to be subject to plenty of hard landings, crashes and rail grinds. We'll happily check over any of our BMX bikes completely free if you bring them to your local Halfords store, and we also offer our CycleCare services. From brake cable replacement to wheel repairs, just select the service you need, and we'll make sure your BMX stays in top condition.
You should now be up to speed with BMX bikes! Remember, but if you're still not sure which one to buy or can't decide between several models, then you can always ask one of our BMX experts at your local Halfords store, or even take a few bikes for a test ride. We'll be happy to give recommendations and even explain the differences between models.
Cycle Services
Back to Buyers Guide